Bad news for 2020 BECE graduates as WAEC releases results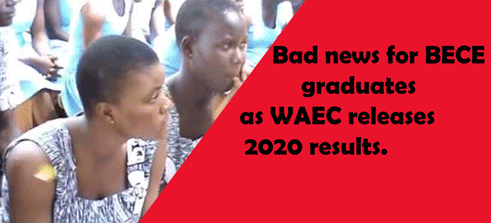 There is bad news for some 1438 BECE graduates after the West African Examination Council released the 2020 BECE results.
According to the council, out of the 531707 candidates who sat for the examination, some engaged in different examination infractions for which reason WAEC has taken a series of actions against them. This represents some 1438 candidates.
READ: 2020 BECE results released by WAEC – Check Now
Out of the number, 417 students engaged in the act of bringing foreign materials to the exams hall, whiles others were involved in collusion. These students had respective subjects affected by their illegal acts cancelled. For these students going to a secondary school in January 2021 is out until they resit the cancelled papers in the private BECE in 2021.
Another 44 students had their entire results cancelled by WAEC for bringing mobile phones into the examination hall. Foreign materials such as mobile phones come with severe punishment, hence the decision taken by WAEC.
WEAC has also withheld the results of some 977 candidates for several other alleged examination malpractices during the examination.
WEAC has indicated that upon completion of its investigation it will either release or withhold the results of students.
The Bad news for 2020 BECE graduates will have implications on their dreams of enjoying the Free SHS.
Source: GhanaEducation.Org