2023 BECE HOME MOCK Registration Fee
For any candidate to take part in our BECE Home Mocks for 2023, he or she must first register for the mock. The registration is a GHS20.00 non-refundable fee.
You can pay here.
The 2023 BECE Home Mock starts in February 2023. For a potential BECE candidate to participate in any of the Mock examinations, he or she would have to pay a one-time registration fee of GHS20.00
To pay the registration fee – Go here or chat with us here [CHAT TO REGISTER OR MAKE ENQUIRIES]
To pay for the mock fee per month, go here.
Note that Only CORE SUBJECTS costs GHS65.00
This payment will cover the mock fee for 6 subjects thus
Mathematics
Integrated Science
English Language
Social Studies
To pay for only CORE SUBJECTS MOCK, go here 
CORE SUBJECTS PLUS ICT AND RME costs GHS85.00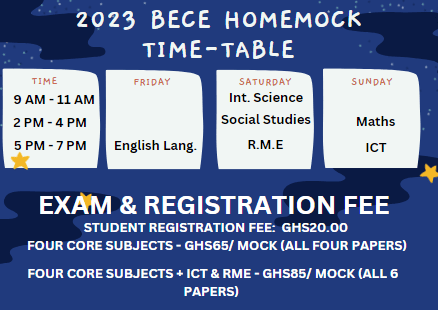 This payment you are about to make will cover the mock fee for 6 subjects thus
Mathematics
Integrated Science
English Language
Social Studies
ICT
RME
To pay for only CORE SUBJECTS plus RME and ICT MOCK, go here