Verified Google My Business: How to get verified in Ghana
A Verified Google My Business (GMB) is an important addition to marketing your business, products, and services online. Today nearly everyone googles to search for a service provider or answers for difficult to answer questions.
How easy is it to get a Verified Google My Business in Ghana?
It is not easy to get verified because, when you apply, google tells you to wait for 14 days to receive a verification code. That code will never arrive hence your profile will never go live.
Which businesses can own one?
Any legal business, churches, NGOs, Companies, Schools, Malls, etc. The list is endless.
Who can help me get a verified Verified Google My Business?
To get a Verified Google My Business, CHAT with SERVICE PROVIDER for a cost-effective service.
Information required to help us get a Verified Google My Business in Ghana
Business name:
Industry: MEDIA, SPORTS, NGO, etc
Email:
Business location:
Business Logo:
Contact address:
Website URL if you have:
4 other images that show what you do, your office interior or exterior
With this, the service provider can help create a verified profile for you.
Service Fee: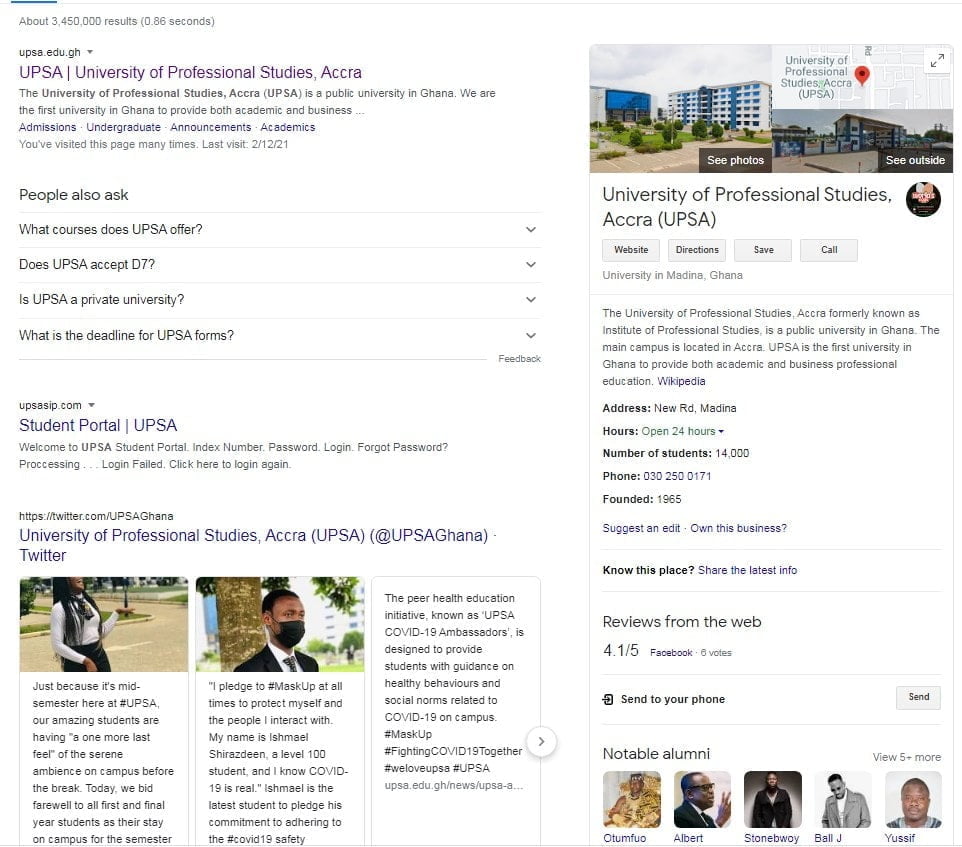 The (GMB) enables your business to be discovered in search engines, maps, and directions or destination routes.
Thanks to Google My Business, such questions can be answered for customers and businesses. But haven a verified account is a challenging task for many businesses in Ghana.
(GMB) is a free feature provided by Google to businesses that help to manage the online presence of the business. But the difficulty in creating one and getting verified means you need those with the special skills to carry your burden for you at a fee.
Today, no matter how big or small your business, the type of service or product you provide, not being noticed online is like lighting your candle and hiding it under a bushel.
ALSO READ: How to rank using Search Engine Optimization and Google Search Console
The Benefits of a Verified Business Account
Your profile on (GMB) matters a lot because it helps to optimize your business and share updates on products, services, and events among others.
For small businesses, it helps your business stand out, official and professional when people make queries online, search or type keywords related to your product, service, or business name.
It enables so many people around the world to notice your product, service, and business services.
Again, it is a cost-effective way of listing your business on the world's biggest search engine for free at no cost to you.
Although there are directories online to get listed, pay an annual fee to keep your slot active.
ALSO READ: Making money online in 2021–Don't remain broke after reading
Since today's customers are online and world-wide, Google My Business permits you to show your website, contact, and map so that customers can reach you and get service from your business.
With the amazing features of google my business, you can create posts about your service, events, share tips, make discounts and special offers, share pictures and videos of your services and products.
These get indexed and make it easy for customers to find you.
Google will show these in search results and drive traffic to your profile, business, and website.
These leads can end up in sales or receiving calls from potential customers.
For more knowledge about this topic go to>>> FIND MORE ABOUT GMB
Don't waste time. To get a Verified Google My Business, CHAT with SERVICE PROVIDER for a cost-effective service.
Source: Ghanaeducation.org
Post Publications || Join us on Whatsapp || Post Disclaimer
---
SEND A STORY: Do you have a story for us or need a promotion/advertisement? Submit them via our email [email protected]
JOIN OUR EDUCATION NEW GROUPS (WHATSAPP)
Join one of our Whatsapp/Telegram Groups for current Ghana Education Service News Updates:
JOIN ONLY ONE... THANKS
Group 7 >>New Group> [JOIN]
Group 6 >>New Group> [JOIN]
Group 1 >>New Group> [JOIN]
Group 2 >>> [JOIN]
TELEGRAM PAGE >>> [JOIN]
Only websites that give us a URL backlink can repost our content on their sites.
---
The information contained in this post is for general information purposes only. The information is provided by GhanaEducation.Org and while we endeavour to keep the information up to date and correct, we make no representations or warranties of any kind, express or implied, about the completeness, accuracy, reliability, suitability or availability with respect to the website or the information, products, services, or related graphics contained on the post for any purpose.
||About Us|| Contact Us
---