Youth in Afforestation Demo on Friday over 5 months unpaid allowances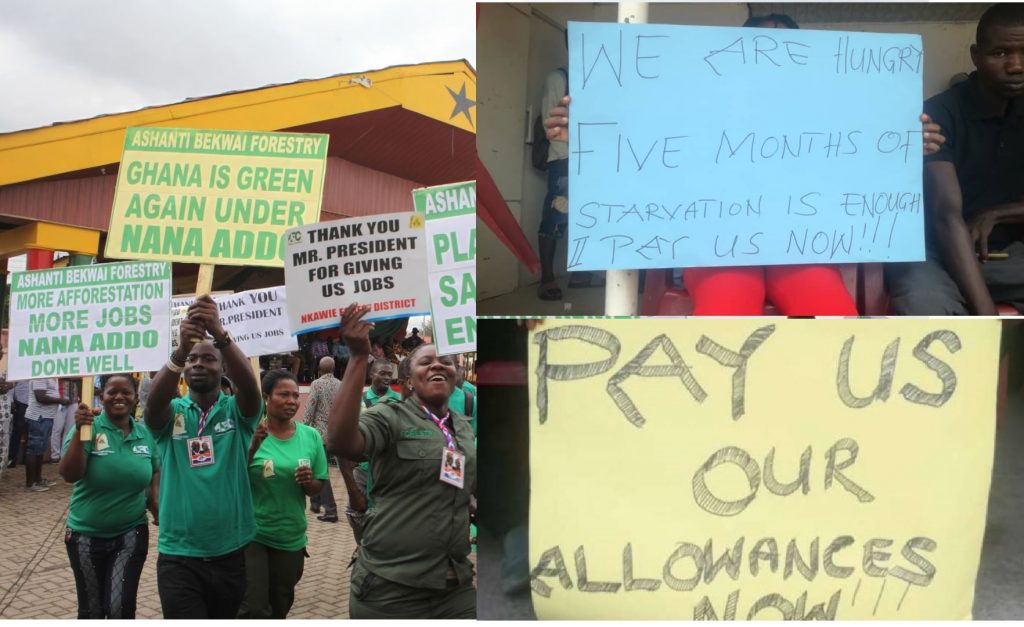 The Youth in Afforestation beneficiaries have issued a circular showing they have resolved to embark on a nationwide demonstration to press home their demand for unpaid allowances. 
The circular dated Monday, May 3, 2021, hinted that the nationwide demonstration will be held on Friday, May 7, 2021, in Accra.
Mr. Bossman Adu-Twum Anin, a worried supervisor of the module with the Youth Employment Agency (YEA) disclosed that they have not been paid their allowances in excess of 5 months
He added that they have not been paid since December 2020.
It would be recalled that the Youth in Afforestation beneficiaries in December 2020 threatened to stage a similar demonstration to demand better conditions of service.  
The leaders of the beneficiaries have directed members to embark on a sit-down indefinite industrial strike following their demonstration that is scheduled to take place on Friday.
The NPP s 2016 manifesto birthed the policy after the party won the 2016 general elections. The policy aimed among other things to ensure forest rehabilitation, and forest protection activities. This led to the official launching of the Youth in Afforestation Programme was on August 13, 2018, at the Jubilee Park in Kumasi.
The key social intervention agenda of the policy was to provide jobs and reduce unemployment. About 20,000 youth were brought on board as beneficiaries. 
It is an initiative to help reduce the rate of youth unemployment while building more trees.
Details of the circular: Youth in Afforestation Demo
This is to inform all Youth in Afforestation Beneficiaries in all regions across Ghana that, Our Demonstration is coming off Friday 7th May 2021 at Accra.
We will first meet at Obra Spot before hitting the streets of Accra at exactly 7:00 am.
We are doing this once and for all please all should endeavor to be present! Come with your uniforms and be ready to observe all covid protocols.
ALSO READ: 2020 WASSCE results: Free SHS did not compromise quality – VP
As we embark on this Nationwide Demonstration, all those who won't make it should sit home! We are not going to work until further notice!
Source: Ghanaeducation.org
Post Publications || Join us on Whatsapp || Post Disclaimer
---
SEND A STORY: Do you have a story for us or need a promotion/advertisement? Submit them via our email [email protected]
DOWNLOAD OUR>>> MOBILE APP
JOIN OUR EDUCATION NEW GROUPS (WHATSAPP)
Join one of our Whatsapp/Telegram Groups for current Ghana Education Service News Updates:
JOIN ONLY ONE... THANKS
TELEGRAM PAGE >>> [JOIN]
Group 1 >>New Group> [JOIN]
Group 6 >>New Group> [JOIN]
Group 3 >>New Group> [JOIN]
TELEGRAM PAGE >>> [JOIN]
Only websites that give us a URL backlink can repost our content on their sites.
---
The information contained in this post is for general information purposes only. The information is provided by GhanaEducation.Org and while we endeavour to keep the information up to date and correct, we make no representations or warranties of any kind, express or implied, about the completeness, accuracy, reliability, suitability or availability with respect to the website or the information, products, services, or related graphics contained on the post for any purpose.
||About Us|| Contact Us
---