POOR Brilliant 18-year-old orphan who scored Seven A1s and two B2s in WASSCE will NEVER become a doctor without HELP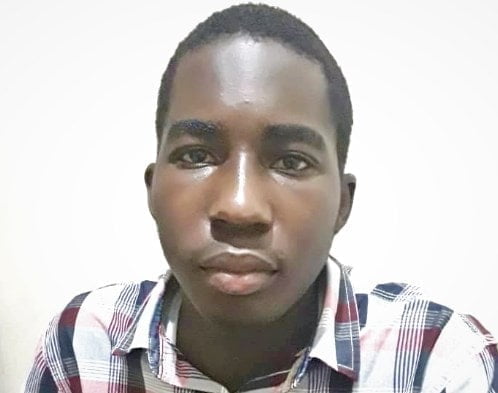 Brilliant Orphan who Scored Seven A1s and two B2s in WASSCE 2020 will never become a doctor because of financial problems.
The Ghanaeducation.org attention has been drawn to a brilliant orphan who scored seven A1s and two B2s in the WASSCE. His ambition to pursue medicine and become a doctor in the future is hanging on a thin rope of hope due to financial problems.
Elorm, the 18-year-old genius must cross the red line and break the financial hindrance attempting to hold him back but who will help and where shall help come from?
Edward Elorm Gbanaglo is a graduate of Presbyterian Boys' Senior High School (PRESEC). He gains admission to the University of Health and Allied Sciences at Ho in the Volta Region. 
All he was able to financially take care of was his admission fee. The financial huddle that lies before him is enormous.
Elorm the brilliant orphan who scored Seven A1s and two B2s in WASSCE is hunted by the fear of dropping out as there is no reliable source of funding for his university education. His admission fees were the effort of a benevolent friend of his late mother. 
Elorm lives with the brother who is dependent on their grandmother, who is currently indisposed. 
He has seen the challenging side of life just after his mother and father passed on in 2010 and 2019, respectively. His chilling story and ordeals need to be taken off by benevolent individuals and organizations to help him realize his dream.
"I want to save lives to ensure that parents do not die and leave their children behind like we are suffering now. My mother died in 2010 and my father died in 2019, while I was in PRESEC and I do not want any child to go through such trauma," he said.
He personally visited the Daily Graphic and appealed for their support
Elorm commended President Akufo-Addo for the Free SHS programme,  stressing that "without that, I could not have even completed the SHS. My brother who comes after me is currently in the SHS and the one after him is also about to enter the SHS, courtesy of the Free SHS.
"Indeed, I'm grateful to the President for the Free SHS programme because but for that intervention, I would not have been able to complete SHS as well as my brothers.
"I need support while In the university so that when I am able to complete the medical school, I will also be able to impact on society in the health sector," he pleaded.
"I'm appealing to President Akufo-Addo and all well-meaning and benevolent Ghanaians to help me and my brothers to enable us also to come out as useful citizens to contribute our quota to national development.
ALSO READ: GES Teachers Promotion Exams Quiz 10 (General Knowledge of Education)
"We promise we will not disappoint anyone who invests in our education," the first-year Medicine Student promised.
The time to help Elorm the brilliant orphan who scored Seven A1s and two B2s in WASSCE 2020 and his younger siblings and oil their dreams is now. Individuals and organizations that want to help cant speak directly to the Daily Graphic on the matter on 0543465403 | 0242202447 | 
Source: Ghanaeducation.org
Post Publications || Join us on Whatsapp || Post Disclaimer
---
SEND A STORY: Do you have a story for us or need a promotion/advertisement? Submit them via our email [email protected]
JOIN OUR EDUCATION NEW GROUPS (WHATSAPP)
Join one of our Whatsapp/Telegram Groups for current Ghana Education Service News Updates:
JOIN ONLY ONE... THANKS
Group 7 >>New Group> [JOIN]
Group 6 >>New Group> [JOIN]
Group 1 >>New Group> [JOIN]
Group 2 >>> [JOIN]
TELEGRAM PAGE >>> [JOIN]
Only websites that give us a URL backlink can repost our content on their sites.
---
The information contained in this post is for general information purposes only. The information is provided by GhanaEducation.Org and while we endeavour to keep the information up to date and correct, we make no representations or warranties of any kind, express or implied, about the completeness, accuracy, reliability, suitability or availability with respect to the website or the information, products, services, or related graphics contained on the post for any purpose.
||About Us|| Contact Us
---