5 groups of 2021 BECE candidates who may fail the examination if they do not change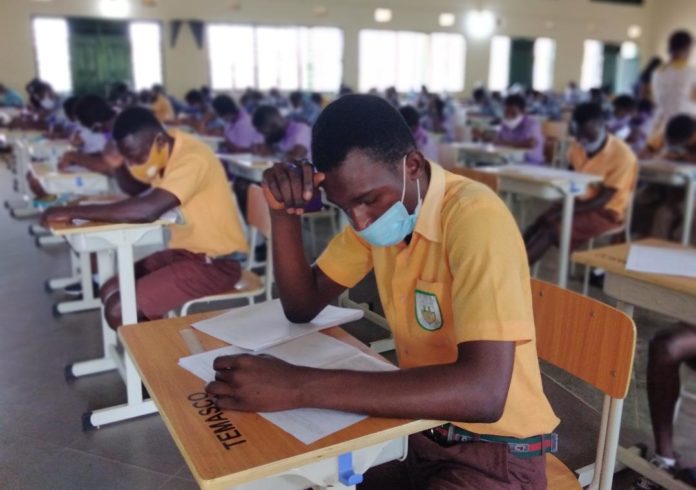 There are five (5) groups of 2021 BECE candidates who may fail the examination if they do not change from their poor preparation practices and mindset.
If you are a BECE candidate take this article very seriously. Teachers, we are sure can relate to the issues we will put forth here and should continue to offer their dedicated support to candidates.
This article is not to put fear in candidates but to wake them up and help them make the right choices as they prepare for the examination.
It is the desire of every candidate to be ready for the examination and to do well to gain admission into one of their chose schools and programmes however there are a few categories of students who may not do so well if they continue to hold on to their poor choices and habits.
The Five (5) Groups of 2021 BECE candidates who may fail the examination are as follows.
Topic/Subject Specialist Candidates
Candidates who decide not to prepare very well and be all-round per subject are more likely to fail or not do very well in the examination.
Specializing by mastering a few selected topics and or subjects means that in instances where questions from other topics you did not learn are asked in the examination, you will not be able to answer them very well.
Failure to answer such questions would surely have a negative impact on your final score for the subject.
Again there are students who learn the same subject nearly all the time, leaving little or no time for others, Such students are advised to give every subject equal attention.
Spend additional time on topics and subjects that give you problems and get help from your teachers and colleagues for explanations and assistance.
Leaked Exam/Apor Conscious Candidates
Unfortunately, there are a bunch of lazy students out there who want to use illegal means to pass the examination.
They are constantly thinking about where and how to get Leaked Exam questions/Apor instead of working hard and preparing for the examination.
Such students get obsessed with hence rely on it and get deceived by apor selling individuals and groups. Should the apor fail to "drop" in the examination, they are bound to fail since they did not prepare very well for the examination.
Students who want to pass the BECE are advised to concentrate on their preparation and not on apor to avoid suffering disappointment.
Exam Instruction Ignoring Candidates
Candidates who fail to follow the rules of the examination and those who do not read the subject and question specific instructions are more likely to fail their exams.
Teachers continue to tell candidates to read instructions in the examination hall and follow laid down rules however sometimes students are in a rush to start answering questions and therefore, fail to read the instructions of the paper.
The chief -examiner's report on BECE from 2017-2019 has indicated that students writing the BECE fail to follow laid down instructions within questions and for the paper and even subsections.
Once a candidate does not follow instructions, examiners marking the script will penalize them by giving less or no marks for answers provided.
For example, if there are three subheadings and three questions per section and students are to answer one question each and three questions in all, if a student answers two questions from one of the sections, the second question answered may not be scored at all.
Poor-Lazy Learning Candidates
These students are always preparing themselves to fail. Candidates who are preparing for the BECE but are so lazy and do not sit down to learn are bound to be working towards a failed examination experience.
Often such students do not want to challenge themselves; they allow less important things to occupy them when they should be busy with their books.
They are never serious with learning don't understand the reasons why their dedicated teachers and parents are constantly asking them to be serious with their education. Failing to prepare for the BECE is as good as preparing to fail the examination.
How will you feel if the results are out and everyone is happy, smiling, and sharing with others their grades and schools they have been offered yet you have failed and never got placed in school. It is important that students who are lazy sit up.
For some of these candidates, they feel free SHS will surely get them placed in a school and so they are not challenged to push themselves and prepare very well.
The guys are often busy in game centres and other less important places. The girls are so much concerned with dressing and looking good in the latest fashionable clothes. Well, sit up before it is too late.
Fear Gripped-Low Confident Candidates
Some candidates who can do very well in the examination may suffer setbacks because they fear examinations and the mere mention of the BECE.
Others are gripped by fear too late and in the examination hall making them lose concentration and time recovering from the experience.
Such students need to build on their self-confidence and master how to overcome fear before and during the examination.
Low confidence can be very deadly hence candidates who do not believe in themselves need teachers and parents to counsel them.
READ: All BECE 2021 Mocks and Marking Schemes from Best Brain and Others
It is possible that a BECE candidate may be affected by more than one of the above issues.
Teachers, parents, and school management need to constantly play their role in ensuring they help students to over their challenges and put up a very good performance in the upcoming examination.
READ: Best Brain Integrated Science Mock for September 2021- Q&A Download 
It is time for students who find themselves described in the five (5) groups of 2021 BECE candidates who may fail the examination to seek help, take steps to deal with the challenges they face.
Source: Ghanaeducation.org
Post Publications || Join us on Whatsapp || Post Disclaimer
---
SEND A STORY: Do you have a story for us or need a promotion/advertisement? Submit them via our email admin@ghanaeducation.org
DOWNLOAD OUR>>> MOBILE APP
JOIN OUR EDUCATION NEWS GROUPS (WHATSAPP)
Join one of our Whatsapp/Telegram Groups for current Ghana Education Service News Updates:
JOIN ONLY ONE... THANKS
TELEGRAM PAGE >>> [JOIN]
Group 1 >>New Group> [JOIN]
Group 1 >>New Group> [JOIN]
Group 1 >>New Group> [JOIN]
TELEGRAM PAGE >>> [JOIN]
Only websites that give us a URL backlink can repost our content on their sites.
---
The information contained in this post is for general information purposes only. The information is provided by GhanaEducation.Org and while we endeavour to keep the information up to date and correct, we make no representations or warranties of any kind, express or implied, about the completeness, accuracy, reliability, suitability or availability with respect to the website or the information, products, services, or related graphics contained on the post for any purpose.
||About Us|| Contact Us
---