How can you fumigate this thing? Is this a school or a death trap? Ghanaians quiz govt
How can you fumigate such a horrible school building? Ghanaians quiz the government for neglecting schools in remote areas.
Fumigation of Ghana's horrible school structures ahead of school reopening has sent social media crazy as they chastised the government for not taking basic public education school edifices serious.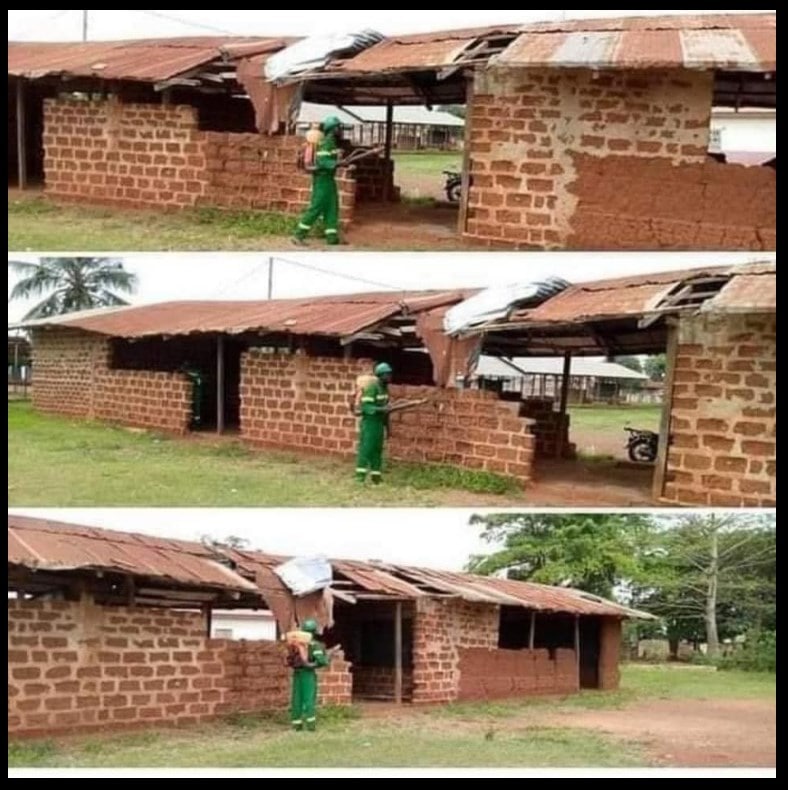 The picture of the schools first popped up on the
IGraphics.
According to the IGraphics post, the picture gives a vivid picture of the fumigation exercise ongoing in Camp 15 Junction E/A Primary school, Bia East District, Western North Region, Awaiting School Re-Opening.
Is this a school or a death trap?. Whiles the walls are weak with cracks, the roofs are gone and pose more danger to learners who will be returning to the classrooms. Is this the "Go back to school" crusade this nation is screaming about?
What is so nice about such structures? Of what use is a curriculum we spend so much to produce to learners whose lives are threatened by traps like these called school buildings.
The picture tells it all that our education system and learners at the basic schools in deprived areas are suffering from everlasting neglect by the government.
How can you fumigate this type of building? We joke too much. A commentator asked. Teachers in deprived schools who commented on the dilapidated structure indicated that they teach in worse classrooms than this. If these are the schools we can boast of after 63 years of independence, we should bow down our heads in shame.
Come to my school n see, We're also in a similar structure, Hmmmmmm Ghana.
This is a clear indication of leadership failure at the Ghana Education Service and the Ministry of Education. The nature of the school building defeats the fumigation exercise.
And we have a DCE who's drawing monthly salary another commentator said.
Others were of the view that government should allocate teacher training allowances to deal with the life-threatening structure that will accommodate learners and teachers.
Nkwa******m sei…And teacher training allowances being paid….SMH…Ghana Ne Gyim***…Because of power…
For others, the members of the communities where these schools are situated deserve what they are getting. They think that the MPs in those constituencies buy voters with GHS10. and they continue to vote for them.
MPs in these areas pay 10cedis to voters to have their votes in elections, can't these MPs put up structures for these communities?:
Eiiiii yes oooo is true I was posted to this school during my national service time fortunate I was posted to JHS. It is camp 15 primary, not camp junction.
Some Ghanaian commentators said pupils who learn in such structures do not have a future.
If this is a school structure, then I don't think the students have future from this structure. The government must close this school than fumigating because this is dangerous than the corona virus. It's can kill all the students within seconds while corona virus can not keep them within seconds.
Some sampled comments from the public.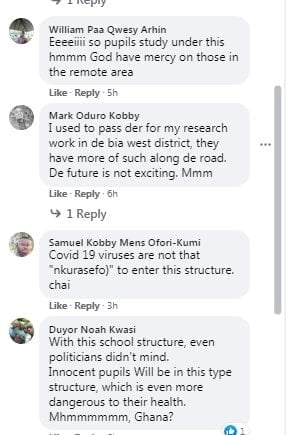 Source: GhanaEducation.org
Post Publications || Join us on Whatsapp || Post Disclaimer
---
SEND A STORY: Do you have a story for us or need a promotion/advertisement? Submit them via our email [email protected] or WhatsApp + CHAT NOW 
JOIN OUR EDUCATION NEW GROUPS (WHATSAPP)
Join one of our Whatsapp/Telegram Groups for current Ghana Education Service News Updates:
JOIN ONLY ONE... THANKS
Group 1 >>> [JOIN]
Group 2 >>> [JOIN]
Group 3 >>> [JOIN]
TELEGRAM PAGE >>> [JOIN]
Only websites that give us a URL backlink can repost our content on their sites.
---
The information contained in this post is for general information purposes only. The information is provided by GhanaEducation.Org and while we endeavour to keep the information up to date and correct, we make no representations or warranties of any kind, express or implied, about the completeness, accuracy, reliability, suitability or availability with respect to the website or the information, products, services, or related graphics contained on the post for any purpose.
||About Us|| Contact Us
---