Education for private schools and teachers by NaSIA, NTC, National Tripartite Committee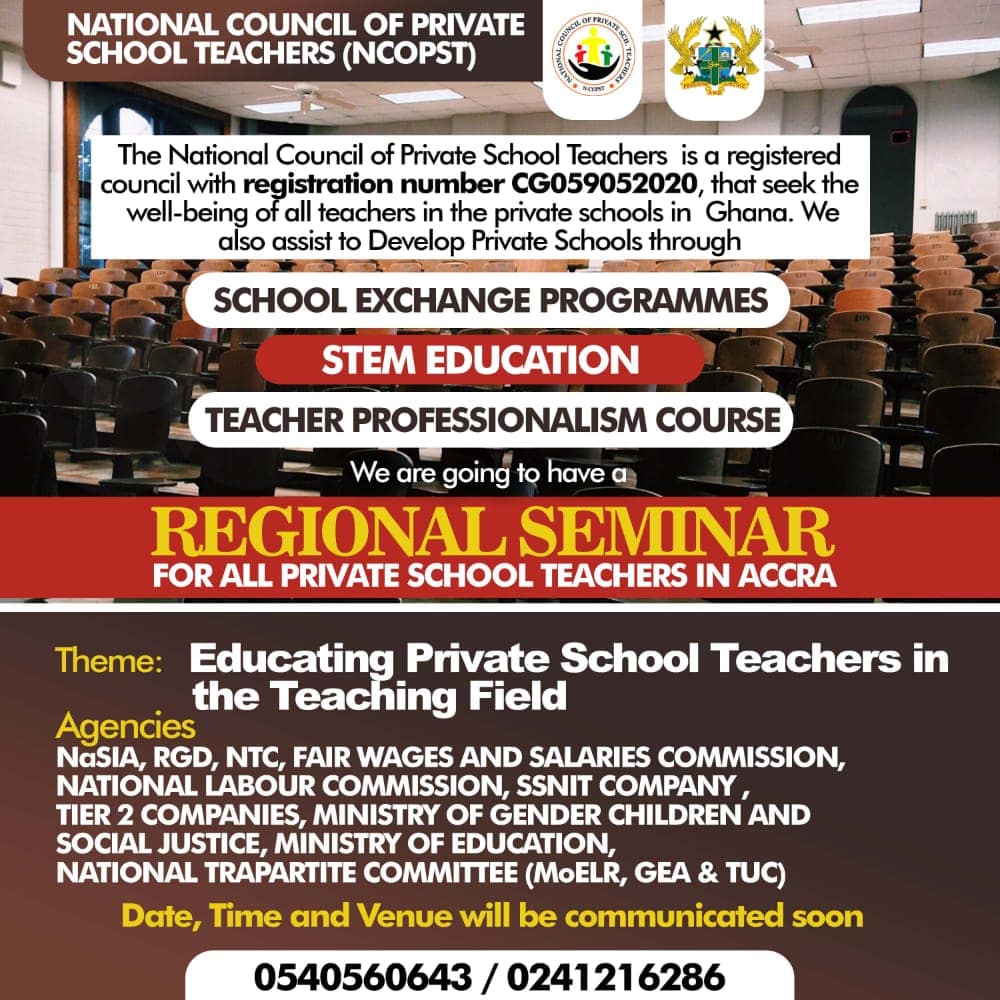 The upcoming NCOPST training on SSNIT, NTC Et al. for private schools, teachers is long overdue looking at the challenges that confront private schools. The lack of information and the struggles of COVID-19 make this training even more important.
According to NCOPST, the private school teachers, edupreneurs and school administrators need up-to-date education from and on NTC, NaSIA, Labour Commission Department, Fair Wage Salary Commission, SSNIT company, Tier 2 companies, Ministry of Gender, Children and social protection and RGD to ensure schools meet all basic statutory regulations.
READ: SSNIT hunting private schools for Covid-19 period contributions
NCOPST training on SSNIT, NTC Et al.
The Executives of the National Council of Private School Teachers (NCOPST) is collecting data from private school teachers who are non Professionals for NTC to work on their temporal Teacher License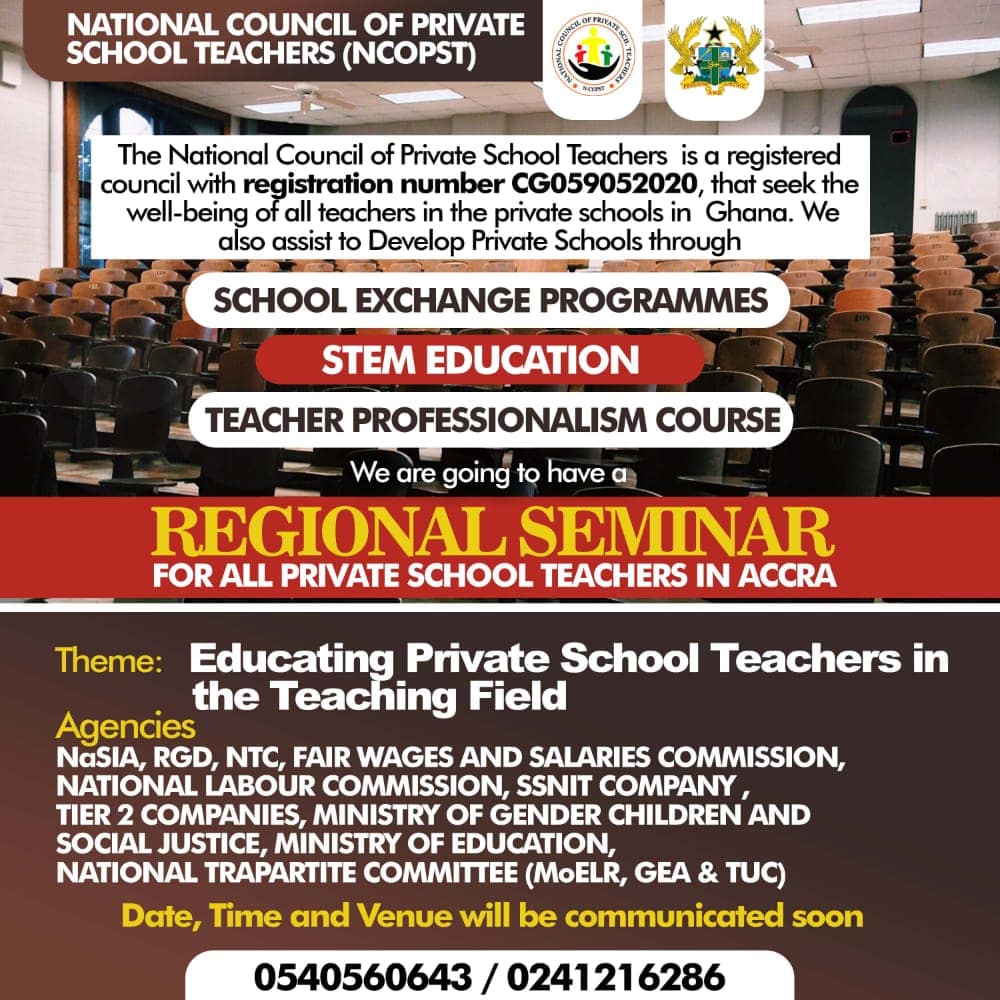 The NTC Director of License and Registration has agreed to educate private school teachers through workshops NCOPST will organize. I will hold the second workshop for all private school teachers in Accra in the 3rd week of April 2021.
READ: How your SSNIT Retirement (Pension) Benefit is Calculated
NCOPST is inviting Labour Commission Department, National Schools Inspectorate Authority, SSNIT company, Fair Wage Salary Commission, Tier 2 companies, and Registrar General's Department to educate private school teachers about their duties and how they affect our work as private school teachers as well as the schools/institutions we work for.
Private school teachers are crying for better conditions of service and therefore call on all government agencies, private school Associations, and all that matters to come to our aid. We feel we deserve equal benefits as the public school teachers.
Thank you
James Ackon
NCOPST
Executive Director
0540560643
Post Publications || Join us on Whatsapp || Post Disclaimer
---
SEND A STORY: Do you have a story for us or need a promotion/advertisement? Submit them via our email admin@ghanaeducation.org
DOWNLOAD OUR>>> MOBILE APP
JOIN OUR EDUCATION NEW GROUPS (WHATSAPP)
Join one of our Whatsapp/Telegram Groups for current Ghana Education Service News Updates:
JOIN ONLY ONE... THANKS
TELEGRAM PAGE >>> [JOIN]
Group 1 >>New Group> [JOIN]
Group 6 >>New Group> [JOIN]
Group 3 >>New Group> [JOIN]
TELEGRAM PAGE >>> [JOIN]
Only websites that give us a URL backlink can repost our content on their sites.
---
The information contained in this post is for general information purposes only. The information is provided by GhanaEducation.Org and while we endeavour to keep the information up to date and correct, we make no representations or warranties of any kind, express or implied, about the completeness, accuracy, reliability, suitability or availability with respect to the website or the information, products, services, or related graphics contained on the post for any purpose.
||About Us|| Contact Us
---