How to remove Whatsapp Hackers and Scammers forever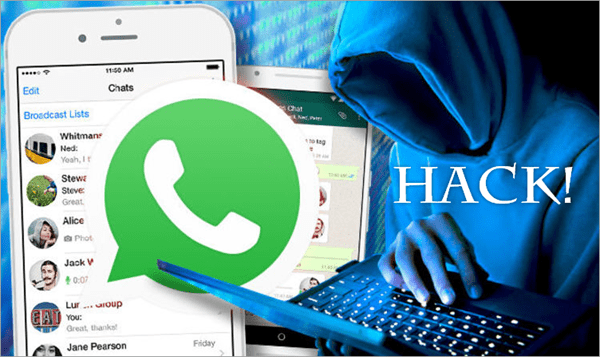 If there is anything social media users want to achieve, then it is mastering how to remove Whatsapp Hackers and Scammers forever.
The safety of social media users is under threat, and Whatsapp users are not an exception. The hacking of Whatsapp accounts for fraud and other illegal activities have been on the increase in the last few months.  
Many have gotten their accounts hacked and other users are not aware of the tricks such persons use.
From henceforth, WhatsApp users must stay alert and be able to detect hackers who chat with them on WhatsApp or even call them.
Currently, when a hacker or scammer calls you, he or she will ask if you belong to a particular WhatsApp group.
The hacker would often go on to tell you then want to confirm that you are a member and that you belong to the group. What they do after this call is to attempt to reinstall your WhatsApp using an app that permits the use of WhatsApp on a desktop, laptop, or a phone without directly have the SIM.
They also do the same thing by chatting with you. Avoid clicking links saying a prize is being given, covid-19 cash is being shared, US Visa Lottery among others. They are all fake and will make you vulnerable if you click.
Read: How to form a Robotics Club (Roboclub) in your school
Once they succeed, they may begin to send scam-related messages to people. They will automatically join all WhatsApp groups you are in. 
To avoid being hacked, if you suspect a number block the number and report it to WhatsApp. 
Many of the hackers use business accounts on Whatsapp called Whatsapp Business, and that makes reporting them even easier. Do not be fooled to send a code you received on your phone to anyone.
Read: How to backup WhatsApp on Google Drive  
How to remove Whatsapp Hackers and Scammers in a

Whatsapp

 group and get the number removed forever? 
If a group thinks that there is a hacker in the group who is posting scam messages, the group must unite to take action against that number.
All members should agree to send a message like the one below. Use the name of the person on WhatsApp and the group name in the message. Assuming the name of the person spamming the group is Seth Anka, The message to him should read Seth Anka, we the members of the group XYZfriends are not happy with the way you spam the group with scam messages and offensive messages.
Read: 8 easy steps to install Whatsapp Web on computers
This message should be sent to the person as a private message by all group members.
After every member sends the message, they should block the number from whatsapping them. When you click on the Block button on WhatsApp. Whatsapp will ask you for the reason why you are blocking the accounts. There are several options that will pop up if the account of the scammer is a business account.
No longer needed
Didn't sign up
Spam
Offensive Messages
Other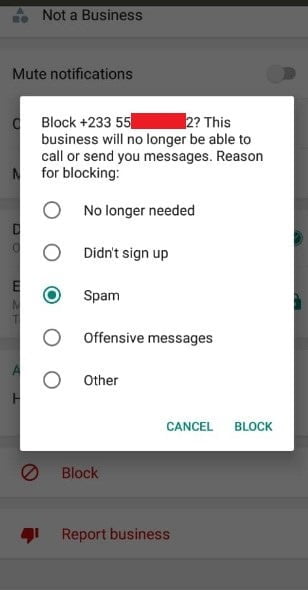 We recommend either Spam or Offensive Messages for you. Choose one of then click block.
The next step to take is to report the number to Whatsapp.
If at least ten dedicated members do this, WhatsApp is more likely to remove this number from Whatsapp and that means he or she will be logged out of all WhatsApp groups at least on the scamming number.
If the number is not a business number, the above options will not come but the group members can go ahead and block the number scamming or attempting to scam.
Let us protect the social media community by being responsive and proactive.
Source: Ghanaeducation.org
Please follow and like us:
Post Publications || Join us on Whatsapp || Post Disclaimer
---
SEND A STORY: Do you have a story for us or need a promotion/advertisement? Submit them via our email [email protected]
DOWNLOAD OUR>>> MOBILE APP
JOIN OUR EDUCATION NEW GROUPS (WHATSAPP)
Join one of our Whatsapp/Telegram Groups for current Ghana Education Service News Updates:
JOIN ONLY ONE... THANKS
TELEGRAM PAGE >>> [JOIN]
Group 1 >>New Group> [JOIN]
Group 6 >>New Group> [JOIN]
Group 3 >>New Group> [JOIN]
TELEGRAM PAGE >>> [JOIN]
Only websites that give us a URL backlink can repost our content on their sites.
---
The information contained in this post is for general information purposes only. The information is provided by GhanaEducation.Org and while we endeavour to keep the information up to date and correct, we make no representations or warranties of any kind, express or implied, about the completeness, accuracy, reliability, suitability or availability with respect to the website or the information, products, services, or related graphics contained on the post for any purpose.
||About Us|| Contact Us
---