WAEC result upgrade – The Crime Lazy Students Pay For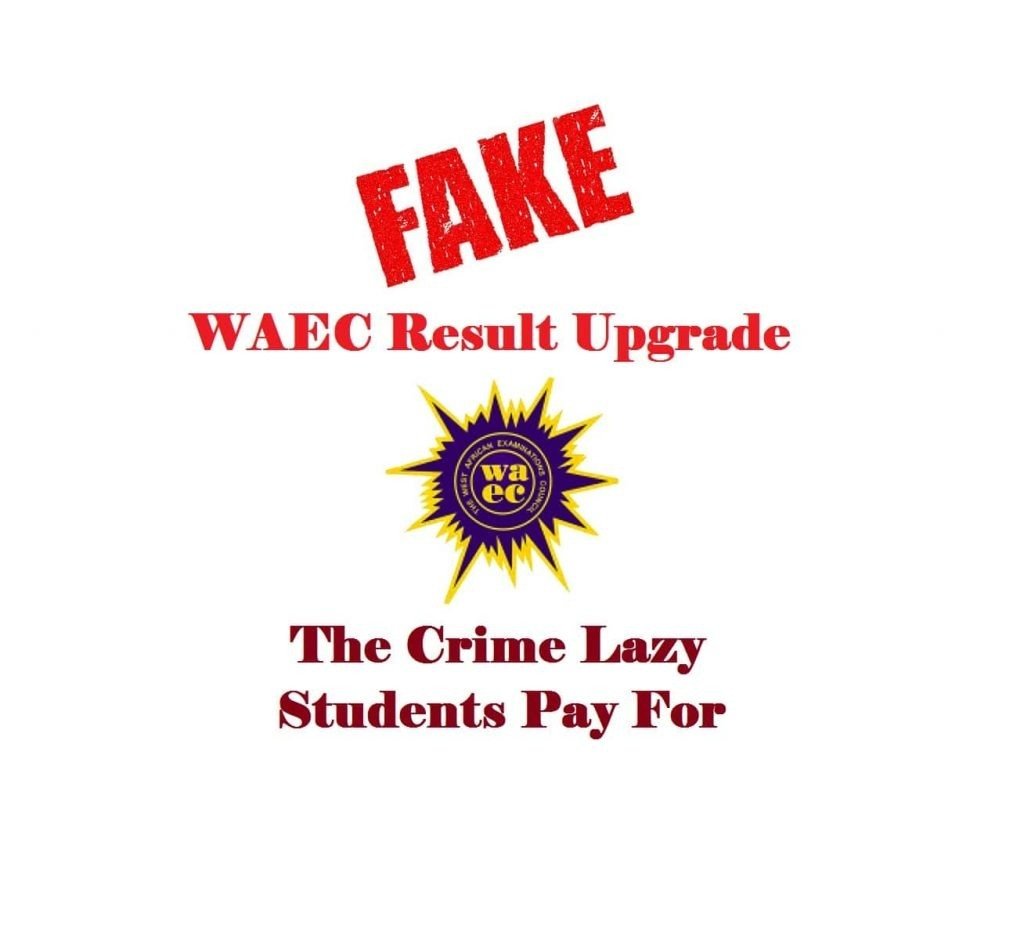 Students who make poor grades at the WASSCE never stop to amaze as they find quick ways to get a WAEC result upgrade.
WASSCE candidates who do not prepare adequately for the exam or for some other reasons did not make the grades would always fall prey to criminals who promise to get their results upgraded.
Today, this scam has permeated our education system in West Africa. The more WAEC comes out to debunk the possibility of anyone who failed the WASSCE getting an upgrade of his or her results, the more sophisticated the scammers become.
Come to think of it, have we considered the dangers of the activities of these criminals on the quality of our human resources across Ghana and the five West African countries that write the WASSCE?
If they succeed in using dubious means to alter a poor WASSCE grade, the student may end up in a university and graduate with a degree, then end up on the job market or in employment.
How sure are we that such students will be fit for the job and purpose? It does not look as though WAEC is very committed to the fight to make the illegal WAEC or WASSCE result upgrade business unattractive.
Today, those providing the illegal service do not only upgrade WASSCE results, but they also indicate through their adverts that they change bad results for students who sat for the BECE, NOV/ DEC, NAPBTEX, SSCE, ACCA, and GBCE as well.
Strangely, ACCA, which is a foreign chartered accountancy certificate awarded in the UK, can be upgraded here in Ghana illegally.
These crooks promise to change results for students within 48 hours from F9 to A1 at very outrageous fees. However, when they make the changes for you, you cannot access the new result from WAEC's portal but rather they send hard copies of the certificate and or a soft copy. This is a clear indication that the result is fake yet, desperation makes students fall for this.
One of the reasons why this criminal activity continues to flourish in the face of the law is that most employers do not audit and cross-check certificates submitted by persons seeking jobs.
All they need is someone holding a paper as proof of qualification and then they conduct an interview and offer the job.
Both public and private secondary schools and tertiary institutions seem not to be helping matters. How many of them cross-check with WAEC, or awarding institutions to verify the authenticity of the results or certificate of the student offered admission?
There is a very high possibility that there are students who have gained admission into secondary schools and tertiary institutions with some of these fake certificates. Others are drawing monthly salaries in both private and public institutions with these fake results or certificates.
There is also a high possibility that there are employees and students in Ghana who are using certificates that do not belong to them to access education and employment.
The more we do little to nothing about this canker, the more we empower crooks to take over official duties of WAEC and other certificate awarding institutions.
It is time for WAEC and all educational institutions to be a thousand times vigilant and proactive. We need our educational institutions to do what is needed before or after admitting students. Public and private employing institutions must sit up and cross-check the certificates employees submit to their outfits.
Those who are engaged in this criminal WAEC result upgrade need to be nabbed in the basket and dealt with just as their customers who often are lazy students seeking to rise high above hardworking colleagues through the backdoor.
The best and approved ways to get your WASSCE result upgraded are by rewriting the WASSCE / WAEC exam you failed.
Another thing you can do is to call for your papers to be remarked or get your results cross-checked by WAEC.
Anything apart from these is criminal and the law will catch up with you soon. If you are thinking of a WASSCE result upgrade as an alternative for a poor show at the 20201 WASSCE, let this write-up discourage you from attempting. 
ALSO READ: WAEC Result Upgrade Scam – How The Illegal Results Are Generated
Hard work pays, focus, work hard, and pass the examination ahead of you.
Let us block the loopholes and make this crime more dangerous to consider for the student who is tempted to opt for it.
Source: Ghanaeducation.org
Post Publications || Join us on Whatsapp || Post Disclaimer
---
SEND A STORY: Do you have a story for us or need a promotion/advertisement? Submit them via our email [email protected]
DOWNLOAD OUR>>> MOBILE APP
JOIN OUR EDUCATION NEW GROUPS (WHATSAPP)
Join one of our Whatsapp/Telegram Groups for current Ghana Education Service News Updates:
JOIN ONLY ONE... THANKS
TELEGRAM PAGE >>> [JOIN]
Group 1 >>New Group> [JOIN]
Group 6 >>New Group> [JOIN]
Group 3 >>New Group> [JOIN]
TELEGRAM PAGE >>> [JOIN]
Only websites that give us a URL backlink can repost our content on their sites.
---
The information contained in this post is for general information purposes only. The information is provided by GhanaEducation.Org and while we endeavour to keep the information up to date and correct, we make no representations or warranties of any kind, express or implied, about the completeness, accuracy, reliability, suitability or availability with respect to the website or the information, products, services, or related graphics contained on the post for any purpose.
||About Us|| Contact Us
---