BREAKING: Freezy Macbones loses to Senegalese boxer in 2024 Olympics Games qualifiers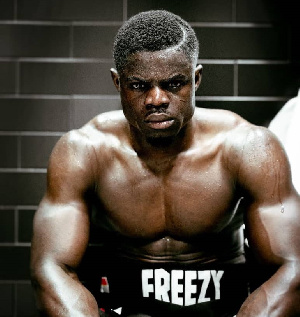 In a stunning turn of events at the 2024 Paris Olympics Games qualifiers held in Dakar, Ghanaian middleweight boxer Seth Gyimah, popularly known as Freezy Macbones, faced a challenging defeat in his bout against the formidable Senegalese opponent, Seydou Konate.
The match marked a pivotal moment in both athletes' careers, and its outcome left fans and pundits alike in awe.
Seth Gyimah, renowned for his strength, agility, and impressive track record, entered the ring with high hopes of securing a spot at the prestigious Olympics. However, the path to Olympic glory is never an easy one, and Seydou Konate, a talented boxer hailing from Senegal, proved to be a fierce adversary.
The match showcased exceptional sportsmanship and determination from both sides. The boxers displayed their prowess, trading punches, and striving for supremacy in a bout that had spectators on the edge of their seats.
As the rounds progressed, it became evident that this was a contest for the ages, a battle of wills and skills.
Ultimately, the judges' scorecards were unveiled, and it was Seydou Konate who emerged victorious, securing his place in the 2024 Paris Olympics.
While the loss was undoubtedly a setback for Freezy Macbones, it is crucial to remember that setbacks are an inherent part of any athlete's journey.
They often serve as opportunities for growth and self-improvement, pushing athletes to strive for greater heights in their chosen sport.
The world of boxing is known for its unpredictability, and the Olympics are a stage where dreams are both realized and shattered. Despite this recent setback, Freezy Macbones has demonstrated his resilience and commitment to his craft throughout his career. While he may not have secured a spot in the 2024 Olympics, his journey in the world of boxing is far from over.
As fans, we must continue to support our athletes, whether they win or lose, as they inspire us with their dedication and passion. Freezy Macbones, with his impressive skills and determination, will undoubtedly continue to be a prominent figure in the world of boxing, and we eagerly await his future endeavors.
In the world of sports, victories and defeats are intertwined, and it is the unwavering spirit of athletes like Freezy Macbones that reminds us that true champions are defined not only by their wins but also by how they rise after a fall. We look forward to witnessing the next chapter in the remarkable journey of this Ghanaian boxing sensation.
More to follow…
ALSO READ: Does sperm cure pimples?
BOOKMARK GHANAEDUCATION.ORG FOR MORE!