2020 SHS Placement FACTS from GES You Must Know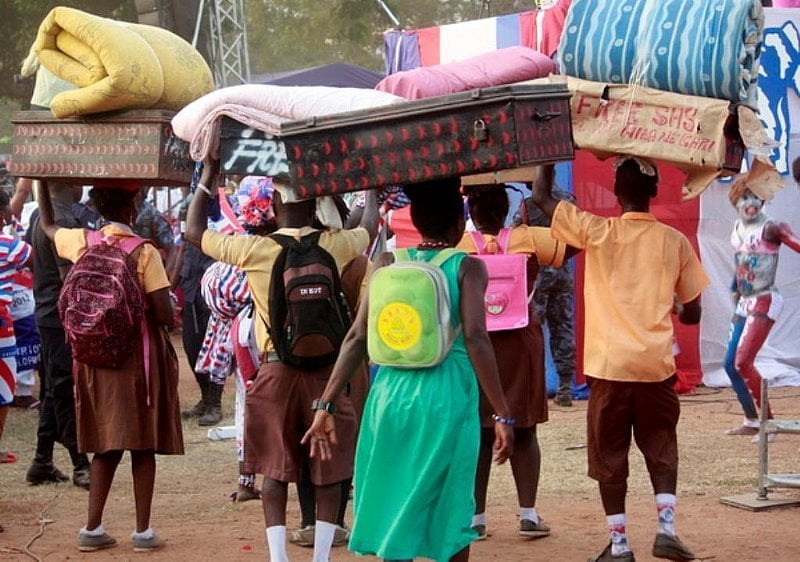 The Ghana Education Service has made available facts about the 2020 SHS Placement, which are worth knowing.
There seemed to be many unanswered questions about the 2020 SHS Placement however, the Ghana Education Service has provided some answers ahead of the release of the 2020 school placements.
The service has answered three critical questions, which include
1. What people must know about the Placement
In an instance where a candidate did not get any of the five school choices selected through the AUTOMATIC PLACEMENT, he or she should proceed to the self placement portal.
What is Self Placement?
It is the process that offers candidates who were not placed in any of their choices, an opportunity to use the CSSPS portal to select a school from the vacancies. Vacancies here refer to schools that have slots for admission and have been added to the database.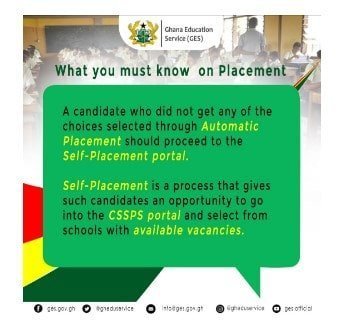 READ: Are SHS 1 Students Reporting On March 10 After 2020 SHS Placement Delays?
2020 SHS Placement FACTS: What is the Self Placement Process?
To get placed through the self placement
STEP 1: The candidates not placed must log into the system using their INDEX NUMBER.
STEP 2: Choose a residential preference or type [  ] Boarding    or [   ] Day
After making a residential preference all schools with that kind of facility and with vacancies will display. For example, if a candidate chooses boarding, all schools with boarding vacancies will be displaced from the data.
All schools with vacancies for day students will show if a candidate selects Day residence.
If a candidate selects DAY, there will be a drop-down menu for the candidate to chose whether the day school should be close to him/her (within) catchment area or a Day school outside the catchment area.
Candidates doing the self placement are to note that, when they choose the option
A. Day within catchment area, it will display schools that have vacancies and are located about 16km from the JHS they attended.
B. Those who choose a Day School outside their catchment area will have Day schools that are more than 16 KM away but have vacancies displayed. The 2020 SHS Placement system will require a candidate to confirm he or she intends to attend the day school outside the catchment area as a Day Student.
STEP 3: Select the programme you want to study: Options available may include General Science, Agricultural Science, General Arts, Visual Arts, Home Economics etc depending on the programmes with vacancies in the school selected so far in the self placement module.
#STEP 4: After this process, the 2020 School placement system would process the choices made by the candidate and return to a page where the candidate can print the Placement Form AND PROCEED to the school enrolment.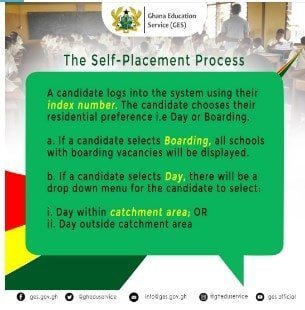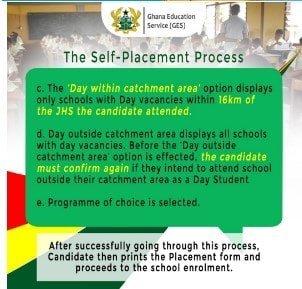 2020 SHS Placement FACTS: What are the 4 Features of the SELF PLACEMENT Process
A. The system only displays schools with available vacancies in the placement module.
B. Schools that pop up from the database for a candidate depends on his or her aggregate obtained at the 2020 BECE.
C. Each time a school is shown on the system, the location and resident option(s) available are displaced.
D. Candidates can change schools as many times as possible depending on available spaces.
E. Changes CEASE immediately a candidate enrols in a school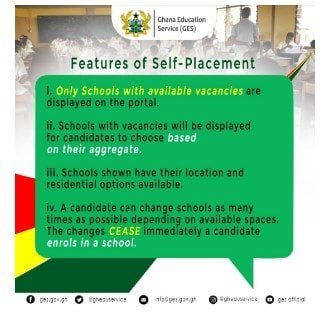 All you need to know about the 2020 SCHOOL PLACEMENTS
Source: Ghanaeducation.org
Post Publications || Join us on Whatsapp || Post Disclaimer
---
SEND A STORY: Do you have a story for us or need a promotion/advertisement? Submit them via our email admin@ghanaeducation.org
DOWNLOAD OUR>>> MOBILE APP
JOIN OUR EDUCATION NEW GROUPS (WHATSAPP)
Join one of our Whatsapp/Telegram Groups for current Ghana Education Service News Updates:
JOIN ONLY ONE... THANKS
TELEGRAM PAGE >>> [JOIN]
Group 1 >>New Group> [JOIN]
Group 6 >>New Group> [JOIN]
Group 3 >>New Group> [JOIN]
TELEGRAM PAGE >>> [JOIN]
Only websites that give us a URL backlink can repost our content on their sites.
---
The information contained in this post is for general information purposes only. The information is provided by GhanaEducation.Org and while we endeavour to keep the information up to date and correct, we make no representations or warranties of any kind, express or implied, about the completeness, accuracy, reliability, suitability or availability with respect to the website or the information, products, services, or related graphics contained on the post for any purpose.
||About Us|| Contact Us
---