Achimota SHS admits Tyrone Marhguy, he takes end of semester exams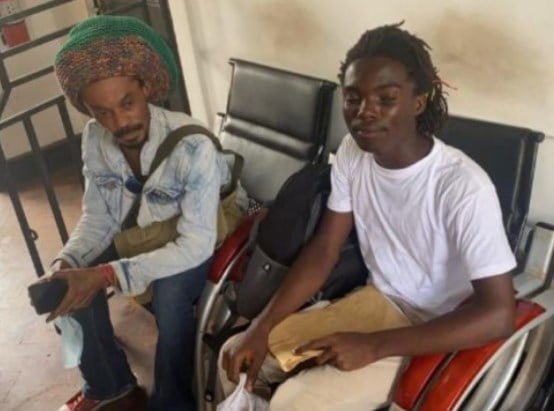 The father of Tyrone Marhguy one of the Rastafarian students, placed in Achimota through the School placement but denied admission, reported to school on 4th June 2021 with his son.
Achimota SHS admitted Tyrone Marhguy today. The student joined his colleagues right after the admission to take the end-of-semester examination as a science student. 
Achimota SHS admits Tyrone Marhguy
Tyrone Marhguy is the second Rastafarian student admitted into Achimota SHS in the last 48 hours.
Earlier on Thursday, Tereo Marghuy, the father of the student in an interview with Radio Univers on monitored by Ghanaeducation.org indicated they were likely to report to school on 4th June.
He indicated during the interview that the return of his son to school was delayed because they wanted to secure a copy of the court ruling and psych him up due to what they had to endure since he was denied admission until the court's verdict.
Tereo Marghuy added that the court ruling was a good thing. "It is really a good thing, I hope they (Achimota school) withdraw so that the kids can have their education."  Where are we drugging this up to? He quizzed.
He added that what was going on was not good for the two students who are minors. "What is going on makes us look tribalistic and prejudice and things have to be straightened."
In his view, it would be good if Achimota SHS finally withdraws. Quizzed, if he is not worried his ward would be victimized, he disclosed that that was going to be rare and that there are teachers and students in Achimota SHS who see nothing wrong with the Tyrone Marhguy and Oheneba Nkrabea who are Rastafarians being admitted in Achimota Senior High.
Read: Be careful what you say about free SHS – Adutwum warns Naana Jane
He furthered that the thoughts of the NAGRAT leadership on the ruling were unfortunate. "Children who go to school are not vagabonds in school but their upbringing determines that while students do not always change from good to bad in secondary schools.
Please follow and like us:
Post Publications || Join us on Whatsapp || Post Disclaimer
---
SEND A STORY: Do you have a story for us or need a promotion/advertisement? Submit them via our email [email protected]
DOWNLOAD OUR>>> MOBILE APP
JOIN OUR EDUCATION NEW GROUPS (WHATSAPP)
Join one of our Whatsapp/Telegram Groups for current Ghana Education Service News Updates:
JOIN ONLY ONE... THANKS
TELEGRAM PAGE >>> [JOIN]
Group 1 >>New Group> [JOIN]
Group 6 >>New Group> [JOIN]
Group 3 >>New Group> [JOIN]
TELEGRAM PAGE >>> [JOIN]
Only websites that give us a URL backlink can repost our content on their sites.
---
The information contained in this post is for general information purposes only. The information is provided by GhanaEducation.Org and while we endeavour to keep the information up to date and correct, we make no representations or warranties of any kind, express or implied, about the completeness, accuracy, reliability, suitability or availability with respect to the website or the information, products, services, or related graphics contained on the post for any purpose.
||About Us|| Contact Us
---