Ghana, France sign partnership agreement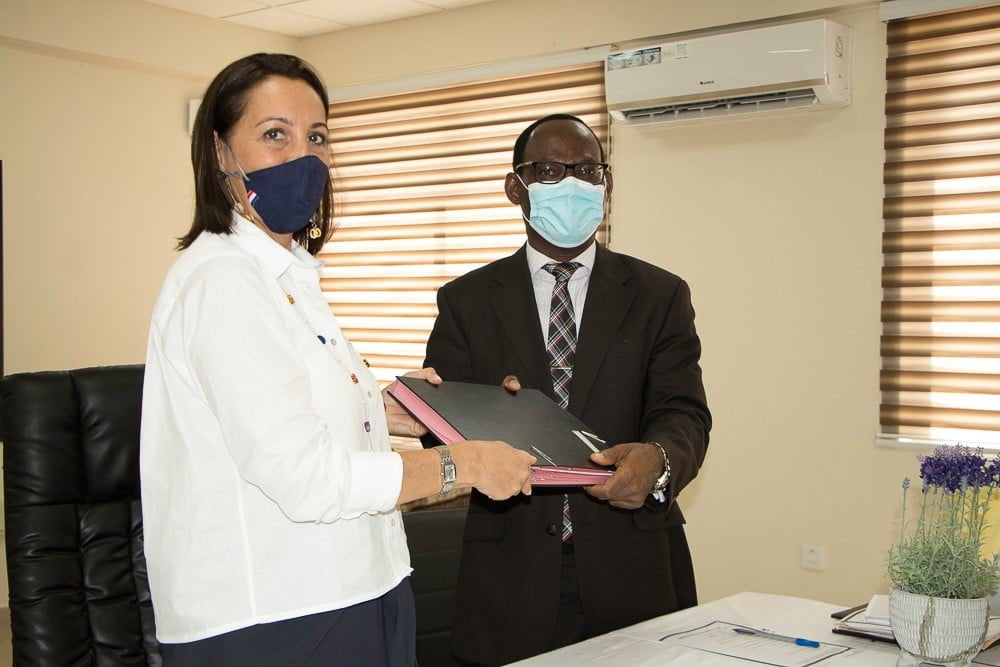 The Project of Reinforcement of French language and Francophonie in Ghana (PROFF) that will take place in 2021 and 2022 has been signed between Ghana and France.
This project aims at strengthening the presence of the French language in Ghana; supporting the implementation of the Linguistic Pact between the Organisation Internationale de la Francophonie (OIF) and Ghana of May 2018; and contributing to the development of high-quality French language teaching and learning in the public system at all levels.
The Minister for Education, Dr. Yaw Osei Adutwum, in his address, stated that over the years, France had supported Ghana in its effort to promoting the teaching and learning of French and its usage in Ghana.
He said that the project being launched was therefore special in its kind since it reaffirms Governments' commitment to reinforcing the Francophone environment in the country.
Dr. Adutwum indicated that Ghana's ultimate goal was to establish a model bilingual school with a fully equipped language laboratory, a library and a qualified teaching staff, noting that it would be the beginning of a new generation of bilingual Ghanaian entrepreneurs, scientists, engineers, medical doctors, diplomats, market negotiators, etc. who will be ready to practice anywhere in the world.
The Minister stated that Ghana, as a member of La Francophonie, needed to create a Francophone environment in order to take full advantage of the opportunities that exist out there, and that the promotion of the French language was in the economic interest of Ghana.
H.E. Anne Sophie AVÉ, Ambassador of France to Ghana stated that the agreement was meant to reaffirm their commitment to equitable popularization of the French language in Ghana's educational system and especially in the promotion of STEM.
She noted that a new French curriculum for Science, Mathematics, Home Economics, Agriculture, Visual Arts subjects, dubbed "non-specialist SHS" will be developed for non-General Arts students adding that will afford them the opportunity to study French in their area of specialisation.
The Ambassador indicated that as part of its objective of regional integration, i.e., economic, cultural and political, the French Embassy was in support of Ghana in the promotion of the French language within its borders in order to reinforce its link with its direct and undirect neighbours of the West African region.
She outlined some of the major activities being undertaken as Drafting of a French-as-a-Foreign Language textbook for primary and middle schools; Reinforcement of the initial training of future French teachers in the six Colleges of Education that train them in Ghana; Creation of languages labs in the 6 Colleges of Education; Semester abroad in France for the 8 best students of Colleges of Education; Continuing education and training for 200 teachers in 2019 and 2020 of the Regional Centres for the Teaching of French (CREF).
Please follow and like us:
Post Publications || Join us on Whatsapp || Post Disclaimer
---
SEND A STORY: Do you have a story for us or need a promotion/advertisement? Submit them via our email [email protected]
DOWNLOAD OUR>>> MOBILE APP
JOIN OUR EDUCATION NEW GROUPS (WHATSAPP)
Join one of our Whatsapp/Telegram Groups for current Ghana Education Service News Updates:
JOIN ONLY ONE... THANKS
TELEGRAM PAGE >>> [JOIN]
Group 1 >>New Group> [JOIN]
Group 6 >>New Group> [JOIN]
Group 3 >>New Group> [JOIN]
TELEGRAM PAGE >>> [JOIN]
Only websites that give us a URL backlink can repost our content on their sites.
---
The information contained in this post is for general information purposes only. The information is provided by GhanaEducation.Org and while we endeavour to keep the information up to date and correct, we make no representations or warranties of any kind, express or implied, about the completeness, accuracy, reliability, suitability or availability with respect to the website or the information, products, services, or related graphics contained on the post for any purpose.
||About Us|| Contact Us
---