9 Strategies for BLOCKING F9 in WASSCE Core Subjects, 8 is a CHARM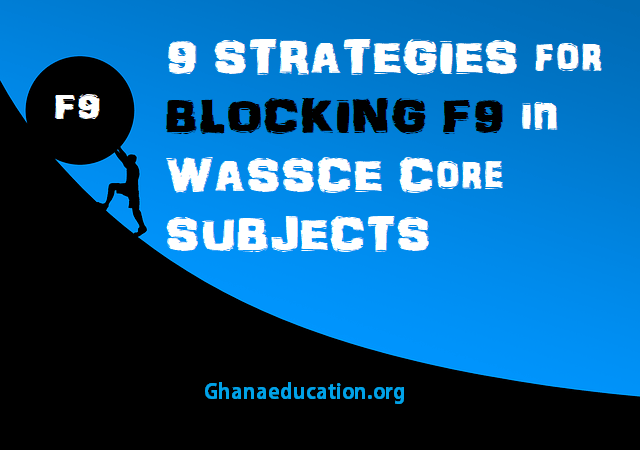 Share This Education News
Are you thinking of how to pass WASSCE Core Subjects? Do you believe you have what it takes to avoid F9 in WASSCE Core Subjects? Let us learn how to halt WAEC resit now.
Whatever your answer, by the time you are done reading this, be sure to grab the 9 strategies for blocking F9 in the four WASSCE Core Subjects.
How to pass WASSCE Core subjects remains a secret to many students.  It still beats my mind how many students do well in their elective subjects at the WASSCE yet fail to pass their core subjects. There must definitely be keys to passing the WASSCE core subjects and unlocking the good grades that have eluded many. 
Failing any one of the core subjects can block your chances of progression to the tertiary level for at least one year. Passing the Core Mathematics, Integrated Science, Social Studies, and English Language is not negotiable and you can do it in one seating as a school candidate or a private WASSCE candidate. 
Many WASSCE students are not able to pass their core subjects because they are yet to discover how to pass  WASSCE core subjects and very often the signs are boldly written on the walls if you watch their class exercises, class tests, and their end-of-term examination results.
Many students who have the potential to do well in these core subjects mess up way before they start preparing for the examination. This is because, somehow, they lose interest in one or two core subjects and focus on their electives as though their lives depend on them.
Focusing all time and effort on elective subjects does not help. Balance your commitment on all subjects.
Develop a positive attitude toward all core subjects especially Mathematics and integrated science.
If WASSCE candidates are to excel in their core subjects, they need guidance and support so as not to end up like many of their predecessors. We hope the nightmare of Mathematics, Integrated Science, and sometimes English and Social studies will be taken care of and you will be ready and focused to begin redeeming your core subject grades by doing the right things.
Take this from me, you are good enough to make good grades in your core subjects and that realization will begin now.
Reasons why you have to pass your core subjects at the WASSCE
How to pass WASSCE core subjects cannot be explained without identifying good reasons why you must put in your best effort to excel. Let us look at some of the top reasons.
a. If you are to further your education after the WASSCE, all institutions will be interested in your core subjects and the grades you obtained. Any grade worse than C6 is impede your progress. Passing your core subjects is compulsory and you need to remind yourself that you can do well, sit up and orchestrate or plan how to study diligently and pass these core subjects.
b. Whether you want to attend one of the main Universities, Technical Universities, Teacher Training College or Nursing Training College, you need excellent core subject grades.
c. In case you want to join any of the security services such as Ghana Immigration Service, CEPS, Police, Ghana Army, The Prisons Service, or The Ghana National Fire Service you would have to obtain a good grade in the four core subjects to stand a chance of being recruited fro training.
Although there are programmes and institutions that may consider worse grades, why would you spend three or two and a half years in school just to make a D7 grade in a core subject?
The most intelligent students don't always score an A in mathematics and the outstanding eloquent English Language student does not always make an A in English. This is so because passing core subjects demands workable and result-driven strategies. If the worse student masters this strategy he or she can excel. With the right strategy, your core subject grade must be between A1 and B3 and these are the grades the article is targeting.
Follow the 9 Strategies for BLOCKING F9 in WASSCE Core Subjects and your grades will show.
The following 9 strategies will together teach you how to pass your WASSCE core subjects.
1. Create A Burning Desire Pass
The first of the 9 Strategies for BLOCKING F9 in WASSCE Core Subjects is to create a burning desire to pass. What you think, you will become. Think of failing the core subjects and trust me, it will very often play out at the end. Tell yourself you will pass these papers. Write down the three subjects and the grade you want to obtain in each. Keep yourself reminded about the burning desire to make good grades in the core subjects. As you remind yourself about the grades you want to make, change your attitude towards the subjects. Find a pen and paper and write down the grade you genuinely want to make and begin to visualize the possibility. This is one of the how to pass WASSCE Core Subjects strategies. Everything starts from the mind.
2. Train your mind to be positive about the target
Again, the 9 Strategies for BLOCKING F9 in WASSCE Core Subjects include training your mind to be positive about the target you set for your WASSCE core subjects.
Thinking of how to pass WASSCE Core Subjects? It is important you remind your mind that you can do it.
You have to believe in your inner strength. Have a very strong conviction about smashing every core subject and hitting A1 in each. A very strong belief that you have what it takes to make good grades is the starting point of discovering your power of thought about yourself.  When you are positive, it will compel you to start initiating steps and efforts towards succeeding. Change your pessimistic beliefs about yourself and the subject.
Do not entertain the thought that you are not good in maths, that science is difficult, that English is complicated. These are all lies. You are only telling yourself the opposite of the truth.
If you have friends who feel they cannot pass the core subjects, stop them from saying that. If possible, exit their company and join those who believe. Build your self-confidence, keep reminding yourself that you can make it. I will learn hard and pass my core subjects just as my electives. I will give my best and study hard etc.
3. Get good core text-books and start working
There are always very good books that can make students make good grades. Find out from your teachers the books they will recommend for the various core subjects. Get to know the books the best core subjects students use and get a copy. Be humble and seek help from your friends who are good in the various core subjects to help you. Learn from them, solve questions and show the answers to them. Let them explain things you find difficult. Ask them to permit you to explain it in your own words. As you do this, keep your focus and believe you can make it. You need to be very strong-willed to keep working hard to pass the core subjects. Do not be overly excited when you begin to see improvement, keep working at it and even harder.
4. Do not hate the subject
So what do you want the Mathematics or Integrated Science subject to do for you when you hate it? Do not dislike any subject, not even core subjects. Do not hate or dislike the teacher either. But hate the fact that, you are not making progress or you are failing each time and start making amends. One poor core subject grade is all you need to shatter your dreams so keep watch and work hard. Cultivate a new love for the subjects, put away the fear, and block grade F9 from the WASSCE results. Help yourself by finding easy ways to understand the difficult concepts. If you are doing well in some particular subjects, employ the same in-born abilities you use to excel at your favourite subjects to help you to grasp as many concepts in the core subjects you are struggling with.
5. Get and Use WAEC Core Past Questions
Past questions with answers are the best materials to use for preparing for the core subjects part from your notes and textbooks. Solved pasco go straight to the point and provide the specific answers required. Use them effectively in your learning. Check the past WASSCE Mathematics questions with solutions here and use them as well. Past papers can be useful if used properly. Solve the questions, compare your answers and resolve them again or join a serious learning group to learn from your friends. This is another answer to the question how to pass WASSCE Core Subjects.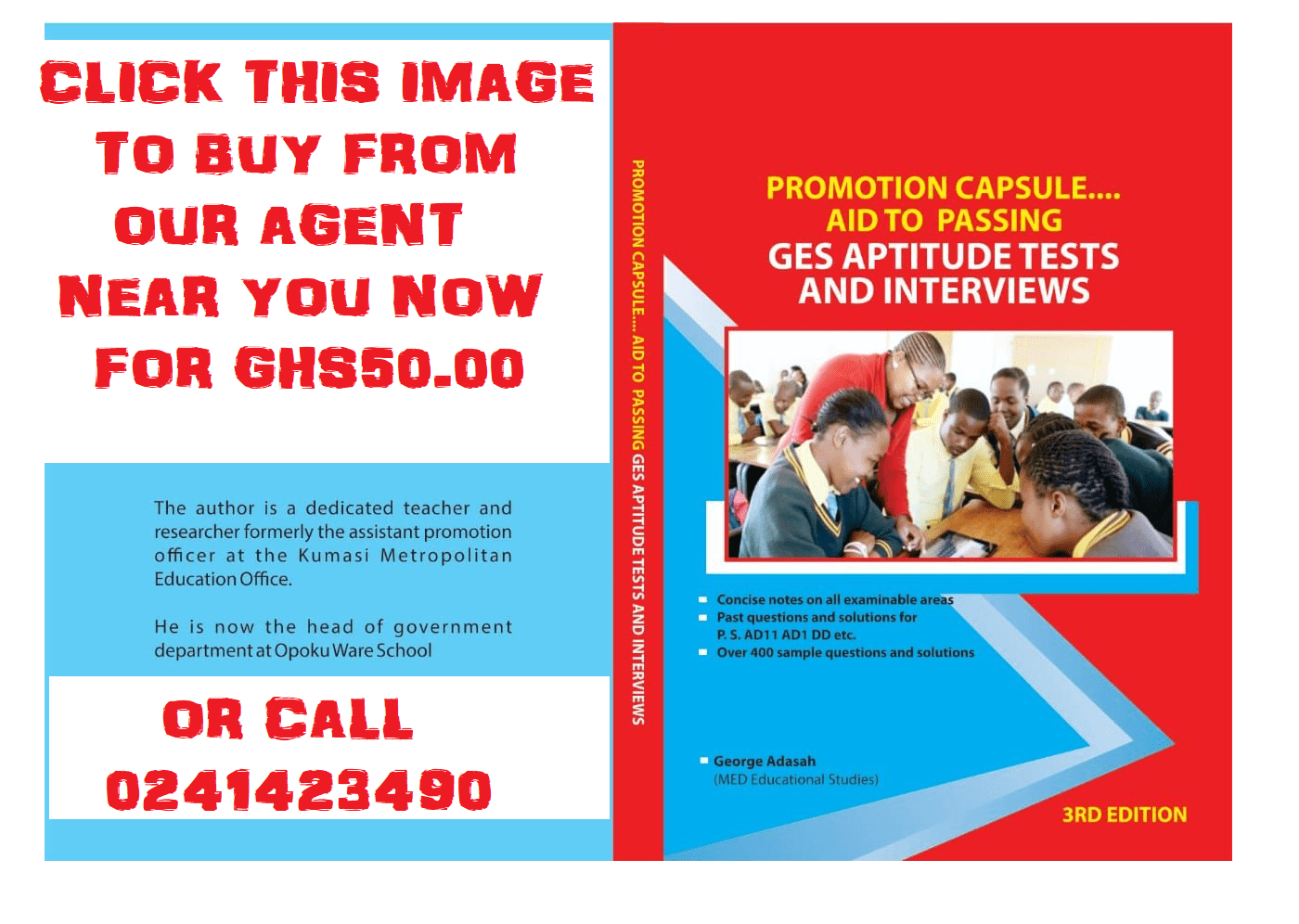 As part of the 9 Strategies for BLOCKING F9 in WASSCE Core Subjects, Practice answering the past questions. Then compare your solutions to those in the textbooks. Do this as often as possible.
Ask around. These days, it is getting more difficult to obtain WAEC past questions. Your teachers, fellow students, seniors and older siblings might just be the right source for getting the Maths past questions you need.
Download WAEC Maths past questions online.
Buy a WASSCE Core Questions and Answers book. You may consider Aki Ola and Approachers in making such a choice.
6. Do not Skip lessons
Passing your core subjects at the WASSCE requires that you are always in class and ready for lessons. Be on time and be seated before the teacher starts the class. This will ensure you do not miss any vital information during the lesson. Skipping class for useless reasons and not reporting on time can make the effort very frustrating. Be attentive and ask questions to get better clarification. Try your hands-on questions given by the teacher and present your answer for his or her assessment. Look for other similar questions and try to solve them then show them to the teacher. His or her feedback should help you measure your progress.
7. Learn to spell the keywords and definitions of every topic
To pass your core subjects, you must know all the concepts in each chapter but also master the spelling of the keywords in each chapter. The challenge for many students is they learn topics without learning how to spell the vocabulary in such topics. Once you learn these words and definitions, you would increase your ability to express yourself in the examination and use the right words. This is one interesting study strategy that I used while in school and still continue to use today. This will surely help in improving the spelling and usage of terms in your answers.
8. Teach others to help you retain, start a Teach-Me-I-Teach group
I told you that of all the 9 Strategies for BLOCKING F9 in WASSCE Core Subjects, no. 8 works like charm. Now read it very well. Let us find out how to pass WASSCE Core Subjects using this strategy.
The protégé effect is a psychological phenomenon in which a person learns something by teaching, appearing to teach, or preparing to teach it to others. A student studying for an exam, for example, may take advantage of the protégé effect and increase their grasp of the content by teaching it to their peers.
When you learn something, the best way to keep it in memory or test your understanding is to teach others the same thing. Have you wondered why the so -brilliant students in your class continue to shine and perform well academically? The truth is, they teach others after learning and this helps them to retain more of what they have learned. Do the same thing. Your teachers are examples of the good in teaching others. They can remember nearly all the concepts they teach because they keep sharing their knowledge with students.
Many research has proven that learning-by-teaching is a great way to retain knowledge. Those who spend time teaching what they've learned demonstrate greater comprehension and information retention than students who merely re-study.
Teaching others can provide extra benefits in addition to boosting your capacity to understand the content, such as enhanced communication skills, more confidence, and improved leadership ability.
You can look out for very serious friends and form a Teach-Me-I-Teach you group and compete by learning and teaching the group. This should be followed by questions and answers time when you all try as a group to help orally answer the questions related to the topic. The leader or the student teaching a particular topic or concept must be given the chance to answer more of the questions. The truth is this strategy helps to motivate you to learn, it makes you devise better strategies to explain the concept to others, it improves your competencies, and improves your learning and retention process.
9. Do not limit yourself to one part of the syllabus.
It is important that you have a copy of the syllabus on your phone. Know the syllabus. Know the topics that have been treated and revise your lessons on a daily basis. Do not pile up your notes. Know your suitable learning time and a timetable. Apart from mathematics, the rest of the courses are reading subjects hence cultivating the habit of reading. Do not focus on just some topics. Some students can keep learning one topic all the time because they love it. That is wrong. Give equal attention to all topics. When learning, make notes and revise them.
READ: 16 BECE Essay Questions to Watch in 2022, Attempt the LAST 5 First
BONUS strategy on how to pass WASSCE Core Subjects.
Learn to answer questions and master how to explain points. Essay questions must have examples to support them. In explain, remember the point you are explaining, indicate how important the point is, and show why the point is relevant.
Conclusion:
It is my fervent hope that you would put the 9 Strategies for BLOCKING F9 in WASSCE Core Subjects into practice and after the WASSCE, you would be proud of your effort.  Take your destiny into your own hands and love these core subjects.
Free free to leave a comment and ask a question if the points explained here are not clear. Again, share this post so that others will benefit.
Finally, note that the knowledge shared in this write-up can be used for all core and elective subjects as well and the results can be massive. Do well read my write-up on 8 Keys to unlocking 8As in WASSCE: No. 6 alone can help "Blow" WASSCE. You better check it out now.
Source: Wisdom Hammond | Ghanaeducation.org
Share This Education News
Post Publications || Join us on Whatsapp || Post Disclaimer
---
SEND A STORY: Do you have a story for us or need a promotion/advertisement? Submit them via our email admin@ghanaeducation.org
DOWNLOAD OUR>>> MOBILE APP
Facebook  Group> [JOIN Facebook]
JOIN OUR EDUCATION NEWS-GROUP (WHATSAPP)
Join just one of our Whatsapp/Telegram Groups for current Ghana Education Service News Updates:
JOIN ONLY ONE... THANKS
TELEGRAM PAGE >>> [JOIN]
Group 1 >>New Group> [JOIN]
Group 2 >>New Group> [JOIN]
Facebook  Group> [JOIN Facebook]
TELEGRAM PAGE >>> [JOIN]
Only websites that give us a URL backlink can repost our content on their sites.
---
The information contained in this post is for general information purposes only. The information is provided by GhanaEducation.Org and while we endeavour to keep the information up to date and correct, we make no representations or warranties of any kind, express or implied, about the completeness, accuracy, reliability, suitability or availability with respect to the website or the information, products, services, or related graphics contained on the post for any purpose.
||About Us|| Contact Us
---