Multiple-Choice Test Strategies: How To Always Choose Correct Answers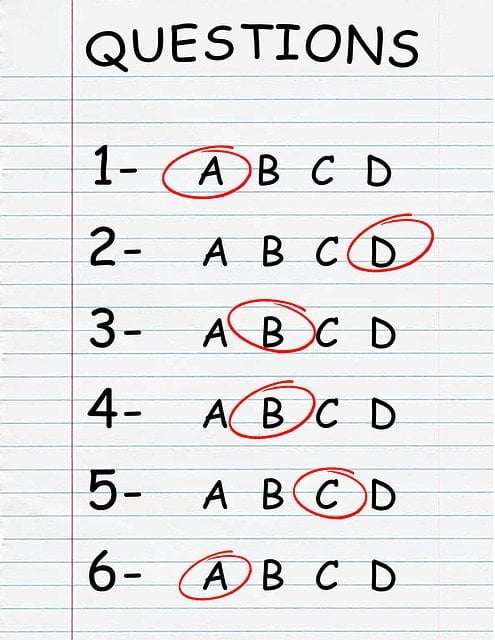 This is a Multiple-Choice Test Strategies: How To Always Choose Correct Answers. We share 9 Proven Multiple-Choice Test HIGH SCORING Tips and Strategies For Students
Most examinations have both Multiple-Choice Tests or Questions and Subjective Test; not having good Multiple-Choice Test Strategies often, leads to poor performance in the objective test.
In this well-planned and researched study tips content, we will share with you some steps to follow to answer even the most difficult multiple test questions and get them right.
This write-up is good for students at the university, colleges, SHS, and JHS who always have objective test questions to answer in their examination at a point in time. WASSCE and BECE candidates must find this content even more useful.
Multiple-Choice Test Strategies: How To Always Choose Correct Answers
Follow these multiple-choice test-taking strategies and shoot your grades/scores.
1. Always read the full question.
Students are advised to read the objective test question from the beginning to the end.
Read a multi-choice question in its entirety before glancing over the answer options. Students often think they know what a question is asking before reading it and jump straight to the most logical answer. This is a big mistake and can cost you dearly on multiple-choice exams. Read each question thoroughly before reviewing answer options.
2. Use your mind to answer it first as part of the Multiple-Choice Test Strategies
After reading a Multiple-Choice test or objective test question, do your best to answer the question in your mind then examine your choice and the other options logically, mathematical, etc depending on the question/topic. Such an approach helps ensure you make the right choice in the long run.
3. Eliminate all possible wrong answers.
When you read Multiple-Choice Test, look closely at the alternatives and cross out the obviously wrong answers before you attempt to choose the correct answer from the remaining options. Even if you know the correct answer, do this to ensure your eye and mind have seen all the alternatives. You may be familiar with the wording of a question, yet a little trick from the examiner, and you may be fooled into choosing the wrong answer.
Focus on the remaining answers and peruse them very well. By eliminating the wrong answers, will ensure your ultimate answer or choice is the correct option.
4. Go for the best answer.
Two alternatives may look so right in an objective test, making it difficult to make a final choice. Always go for the best choice and avoid gambling as often as possible with the remaining options. One way to deal with such a challenge is to put the remaining answers to test. What makes or does not make them right?
5. Read every answer option
As we said earlier, let your mind and eye see every alternative answer. Thus read each of them carefully before you choose a final answer. I quick choice may prevent you from choosing the right answer.
6. Answer easy questions first.
Objective tests are often a blend of easy to solve and difficult questions. We recommend that you skip tough questions and answer the rest. After that, come back to the unanswered. This can buy you more time to face the tough questions later with more time on your side.
EXAMINATION TIPS: How to Pass Ghana Teacher Licensure Examination GTLE Test Tips
7. Multiple-Choice Test Strategies include shading or ticking correct answers carefully
Many students choose the correct answers but think or shade the wrong one because they might have lost concentration or were not extra careful or did not go through their work. Always double-check if the answer you chose for a particular question is the one you have shaded. Check the question number against the answer always.
8. Make an educated guess.
There are instances where you still cannot choose the right answer. When faced with this, make an educated guess and choose wisely.
9. Pay attention to these words…
Words that must engage your attention when you are answering Multiple-Choice Tests or Objective Test Questions are not, sometimes, always, and never.
When a question includes the word always, the answer must be one that cannot be contested.
Assume that in a particular question, you find another answer that is a counterexample, then the answer is not correct.
If a question has the keyword, never one other counterexample in will render the answer incorrect.
STUDY TIPS: Examination Passing Strategies and Study Tips For Serious Students
"All of the above" and "None of the above"
Questions with these keywords as one of the answers can confuse students if they do not understand them.
An objective test with the words "All of the above" should be answered this way. DO NOT choose "All of the above" as an answer if one of the alternatives is not correct.
"None of the above" in the answers suggests that all the other alternatives are wrong. If one answer is right, DO NOT choose "None of the above" as an answer.
But if there are two answers which are correct in the alternative test and you have "All of the above" option as part of the answers, then you may go for All of the above" as your answer.
We hope these tips on how to answer Multiple-Choice Tests using the suggested Multiple-Choice Test Strategies were useful and will help you in your study and taking of such examinations. Always practice with these tips to master how to use them in proper examination situations.
Source: Ghanaeducation.org