Support Twifo Kotokye D/A Basic School – Chief and residents to government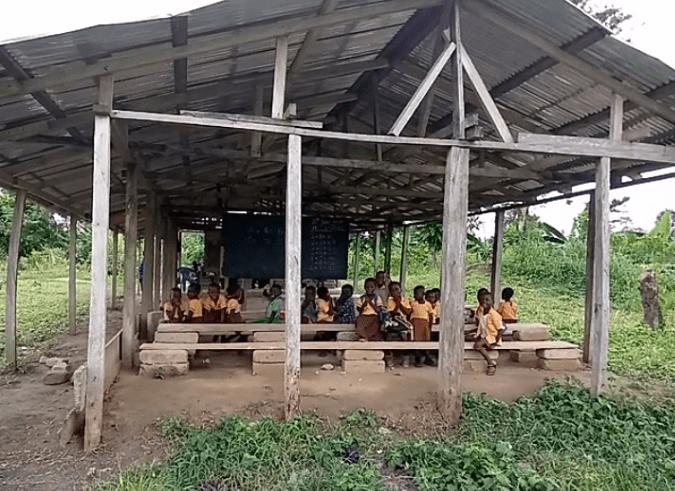 The Chief and the residents of Twifo Kotokye  in the Twifo Ati-Morkwa District of the Central Region are calling the government to support their school as pupils and teachers
are under serious threat as academic work is conducted in an old, ramshackle building.
It is feared that the structure, exposes the lives of the pupils and their teachers to danger since it could collapse at any moment.
Speaking in an interview with Mohammed Radiu Dinn Rasko Solar FM news reporter, Nana Akwasi Asamoah IV the chief of Twifo Kotokye whose also double as Benkumhene of Twifo Atti-Morkwa traditional area says, The pupils and teachers are under serious threat as academic work is conducted in an old ramshackle building.
"We have drawn the attention of Twifo Atti-Morkwa District Assembly and Ghana Education Service the issue on countless occasions"
According to him, the building was still in use because they did not have anywhere to keep the students, as an effort to stop them from coming to school would distort the academic calendar.
He therefore urgently appeal to Individual, government, and NGOs to reconstruct the dilapidated school building which is in the verge of collapse.
The unit committee chairman of Twifo Kotokye electoral area, Mr. Adomako Gabriel says, The students sit on blocks before they can learn due to palpably inadequate furniture in the school.
The furniture deficit in the school has culminated in "first come first service struggle" for the students in the school. Four to five students are now compelled to share one desk while others will have to sit on the blocks.
He revealed that Twifo Kotokye D/A basic is one of the best schools in the circuit.
He used the opportunity to appeal to the government and well-being individuals to come to their aid.
Meanwhile, Some of the students in Twifo Kotokye D/A basic appeal to the government, individuals and NGOs to come and support the school.
Source:
Mohammed Radiu Dinn Rasko
Solar fm 91.1MHz
Dunkwa on Offin.
Please follow and like us:
Post Publications || Join us on Whatsapp || Post Disclaimer
---
SEND A STORY: Do you have a story for us or need a promotion/advertisement? Submit them via our email [email protected]
DOWNLOAD OUR>>> MOBILE APP
JOIN OUR EDUCATION NEW GROUPS (WHATSAPP)
Join one of our Whatsapp/Telegram Groups for current Ghana Education Service News Updates:
JOIN ONLY ONE... THANKS
TELEGRAM PAGE >>> [JOIN]
Group 1 >>New Group> [JOIN]
Group 6 >>New Group> [JOIN]
Group 3 >>New Group> [JOIN]
TELEGRAM PAGE >>> [JOIN]
Only websites that give us a URL backlink can repost our content on their sites.
---
The information contained in this post is for general information purposes only. The information is provided by GhanaEducation.Org and while we endeavour to keep the information up to date and correct, we make no representations or warranties of any kind, express or implied, about the completeness, accuracy, reliability, suitability or availability with respect to the website or the information, products, services, or related graphics contained on the post for any purpose.
||About Us|| Contact Us
---