Under 17 rising football star gains historic admission into KNUST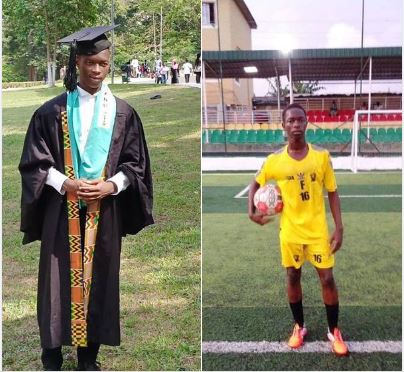 Ghanaeducation.org
has sighted a fulfilling story of an under 17 rising football star, Maxwell Atawanbisa who has gained admission into
KNUST 
to pursue a 4-year degree program.
Many young lads who have decided to play football as professionals and are undergoing training do not see the need to combine education and football.
The move and the aspiration of this young lad inspired the Ghana Education News team to carry this news. We wish him the best in his academic and football careers.
The news was made public by Wiaga United Fc Official in a post on its Facebook page.
The highly talented Wiaga United 17-year-old midfielder, Maxwell Atawanbisa gained admission into KNUST to pursue a 4-year degree program.
The young midfielder who played the first two matches of this season's second division league before departing for school was among first-year students who had their matriculation today, on Tuesday, 8th March 2022 at KNUST.
Wiaga United Fc, being a community youth development agency club, always prides itself in safeguarding the holistic development of their players, with education, skills development, and jobs prioritized. We have a no-school-no-football policy for our juvenile and second division player under 18 years of age. Over the years our players have found careers not only in football but other sectors such as teaching, Army, and police, etc.
 We are, therefore, elated that one of our young players is combining football with education and wish him well. It is our hope that many players will follow suit and seek knowledge that will help them in their future career development.
Ghanaeducation.org will keep readers updated about the under 17 rising football star who has gained a historic admission into KNUST.