WhatsApp is introducing 4 new amazing features for channels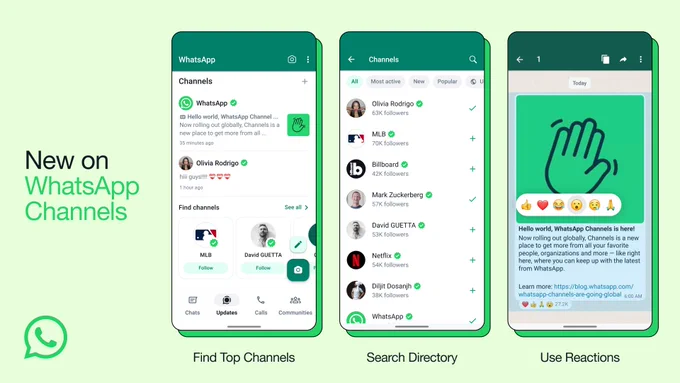 WhatsApp is introducing several improvements to channels for all users. This will make the use of channels on WhatsApp an amazing and better one with an improved user experience.
WhatsApp Channels is a new feature that allows users to broadcast messages to a large audience. It is currently available in the following countries:
Singapore
Colombia
Egypt
Chile
Malaysia
Morocco
Ukraine
Kenya
Peru
To create a WhatsApp Channel, open the WhatsApp app and go to the Settings menu. Tap on Groups and then Create a Channel. Enter a name for your channel and select the audience you want to broadcast to. You can also add a description and a profile photo for your channel.
Once you have created your channel, you can start broadcasting messages to your audience. To do this, tap on the Channel tab and then tap on the Broadcast Message button. Enter your message and then tap on the Send button.
WhatsApp Channels is a great way to share information with a large audience. It can be used by businesses, organizations, and individuals to communicate with their customers, members, or followers.
It is important to note that WhatsApp Channels are not available in all countries yet. WhatsApp is gradually rolling out the feature to more countries. If you are in a country where WhatsApp Channels is not yet available, you can still create a channel, but it will only be visible to users in countries where the feature is available.
WhatsApp is introducing the following 4 new amazing features
1) Enhanced Directory: With this feature, users can now explore new channels by using advanced filters and options made possible by WhatsApp
2) Reactions: Users of WhatsApp will be able to react to channel updates to express their opinions regarding the content shared within channels by both users and admins of such channels.
3) Message forwarding feature: Forwarded messages now include a link back to the channel, making it easier for users to join it. This will help owners of such channels to easily get new members to join their channels
4) Delete update for everyone: Channel creators now have the ability to delete a message for everyone within 30 days.