Why Education Director (Sekyere Kumawu District) Would Spend His Teachers' Snack Money For Free?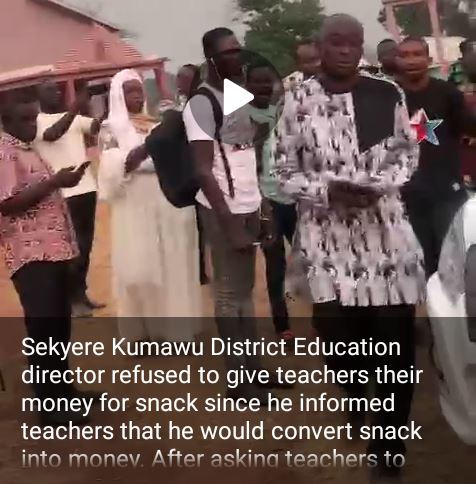 Why Education Director (Sekyere Kumawu District) Would Spend His Teachers' Snack Money For Free? This question demands answers from the GES and the Education Director (Sekyere Kumawu District).
The government through Ghana Education Service is organizing training workshops for teachers at the basic level on the new curriculum has suspended its implementation at the JHS level over the years.
During the 3 day workshop, the participants were to be given snacks and transport allowance after the workshop. However, the district education director of Sekyere Kumawu District impressed his teachers to forgo any organized snack and rather collect the money allocated for the snacks.
Things turn a twist after the last day of the workshop when 'agreement is no longer agreement'.
The director decided he was ordained by whatever authority given him to refuse the participants their snacks money. The bold teachers decided to block the director's vehicle in a group as a human shield/blockade with resistance words/voices yet the director ordered his driver to drive over the teachers blocking his way. 
The driver refused as properly raised but in an infamous manner, the director ordered to take the driver's seat himself to drive over the teachers.
As if it was a child's play, the director drove at top speed to fulfill his threats but for the timely dodging of the pickup by the teachers, worse things could have happened.
The question then is, what had boldened the director to act the way he did?
The answer is simple. Lawyer accessibility and lawyer affordability to fight future victimization of any person. Any director knows very well he/she can victimize any teacher without any fight back, legally.
The best they can do is give it to God. As you read this, can you afford a lawyer for whatever reason in Ghana? The only reason the director would act the way he did is that almost all teachers can not rely on their salaries to fight any legal case because of the lawyer's availability and the cost of hiring lawyers.
Until legal education is opened up for the country to have enough lawyers, abuses like what the education director has displayed would continue until thy kingdom comes.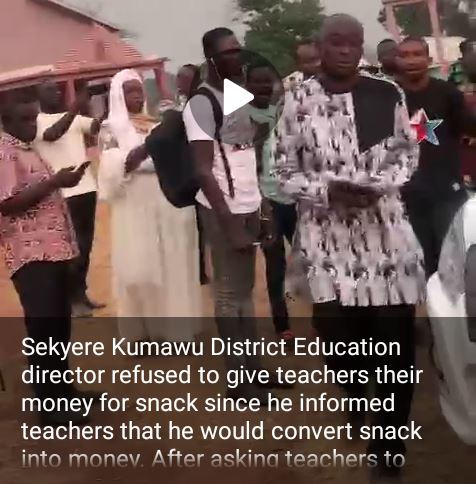 READ: Single Track SHS 2022 Academic Calendars Out – Check here
It is not just only this director who is playing games with allowance to be given teachers during this 3-day CCP workshop.