10GB Internet Bundle To Alan Kyeremanten's Supporters? – Here Is The Truth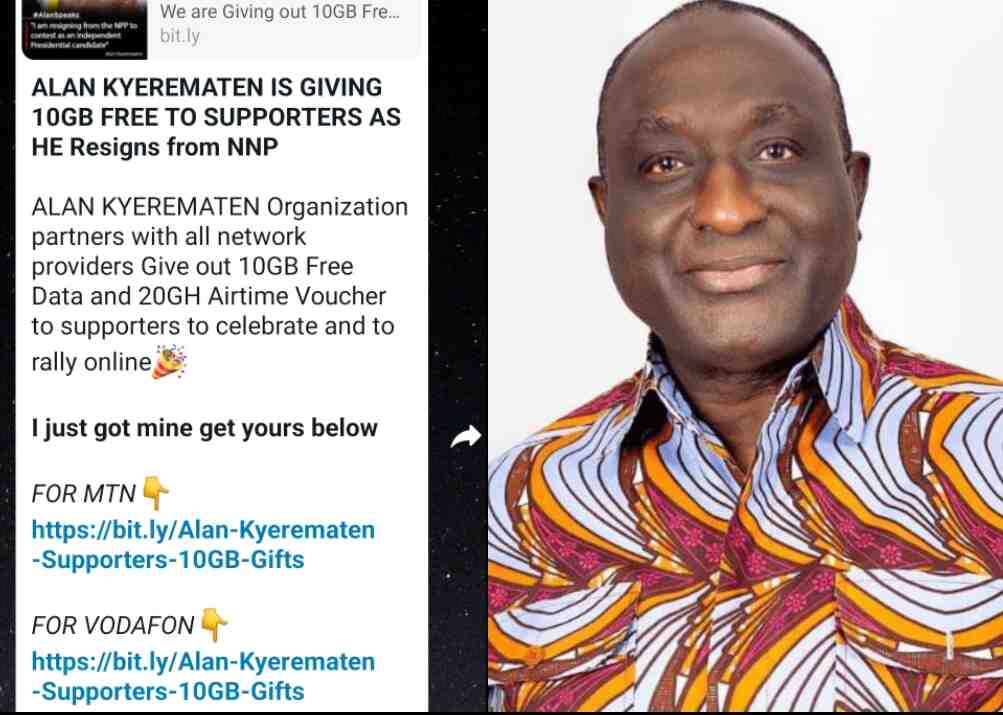 There has been some circulations on social media, especially on various Whatsapp platforms were Alan Kyeremanten is reportedly giving out free internet bundle to all his supporters. In such circulations, Alan Kyeremanten is said to give 10GB internet bundle to all his supporters.
THE TRUTH
Ghanaeducation.org has made its research and has come out with the truth in these data bundle offers are not from the camp of Alan Kyeremanten. The truth is that Alan Kyeremanten is not giving out free 10GB internet bundles to any supporter using such circulating links on WhatsApp .
The links shared on the WhatsApp platforms are not in any form connected to Alan Kyeremanten. Such links are usually created to get information from persons who fall victim.
READ ALSO: 5 tips to take good care of your smartphone battery
The general public is here by advised to ignore such messages whenever they see them on their internet platforms.
HOW TO BUY INTERNET BUNDLE OR DATA IN GHANA
MTN
MTN customers who wish to buy internet bundle can use their short codes such as *138# or *141# or *135# to purchase one. Customers can also use the MTN app to buy their internet bundles. Aside this, any other internet link that promises to give customers free internet bundle is fake.
10GB Internet Bundle To Alan Kyeremanten's Supporters? – Here Is The Truth
VODADONE
Vodafone users should also dial *700# and follow the prompt. They can also dial *530# and view other amazing offers.
AirtelTigo(AT)
Dial *111# to bundle any of #AirtelTigo's data. bundles and enjoy your online moments on the go.
BACKGROUND
Alan Kyeremanten has officially resigned from the New Patriotic Party. He announced that he will be contesting the 2024 General Elections as an Independent Candidate.
Alan Kyeremanten made this revelation while addressing the media on Monday at the Movenpick Ambassador Hotel in Accra. Alan Kyeremanten added that the party has treated his supporters as outcasts and has designed to resign from the party. He will contest as an Independent candidate with a Butterfly logo
Alan Kyeremanten's run as an Independent Candidate is going to make it difficult to the NPP in the Ashanti region which remains its world bank in terms of votes