86 Mobile Phones Retrieved From Candidates In The Ongoing WASSCE – WAEC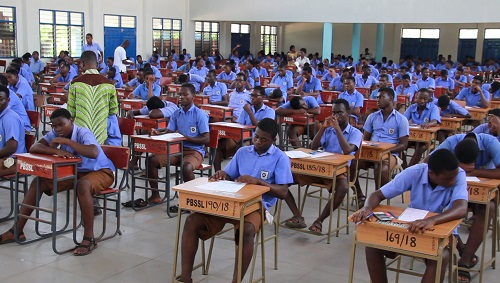 Head of Public Affairs of WAEC, John K. Kapi has revealed that 86 Mobile Phones have been retrieved from candidates in one examination center in the ongoing West African Secondary School Certificate Examination.
Addressing media in Accra, Mr John Kapi expressed his disappointments in some schools who are preventing WAEC officials from entering their school during exam hours.
He added that several candidates have been caught with mobile phones on them in the examination halls.
According to him, during the Government paper, eighty-six mobile phones were seized from the candidates at Otoo Memorial SHS Bibiani.
READ ALSO: Five Most Popular Programmes In Ghana Universities
John K. Kapi indicated that at Otoo Memorial senior High school, Bibiani their monitoring team was kept at the gate for close to ten minutes, where the team has to use an alternative route to gain access into the school. It was at this centre that eighty-six mobile phones were picked up from the candidates.
Mr John K. Kapi further disclosed that at Only Believe SHS , Kukurantumi, a national service person attempted to write the Government paper for one of the candidates but he run out of luck as he was apprehended by the WAEC staff and handed over to the police.
WASSCE 2023: Elective Mathematics Final Projected Topics And Questions
Aside this, he also revealed that some schools are charging ¢1,000 to help their students pass their exams. He added that all suspects have been arrested and will make sure they face the wrath of the law.
"It is sad to note that some of the schools have devised grand schemes for cheating at their examination centres. Information reaching us indicates that some of the schools charge their candidates ranging between GH¢500 and GH¢1000 each to enable them to get assistance during the examination and this practice has given some of the students a certain sense of entitlement, and they want to be allowed their way."
Mr Kapi opined that the council has caught quite number of candidates with prepared notes, text books and pages torn from their textbooks with intention of using them to their advantage in the examination hall.
He assured Ghanaians that the council will stop at nothing to ensure that sanity continues to prevail in the ongoing examination.