Another Demonstration To Hit Ghana On October 3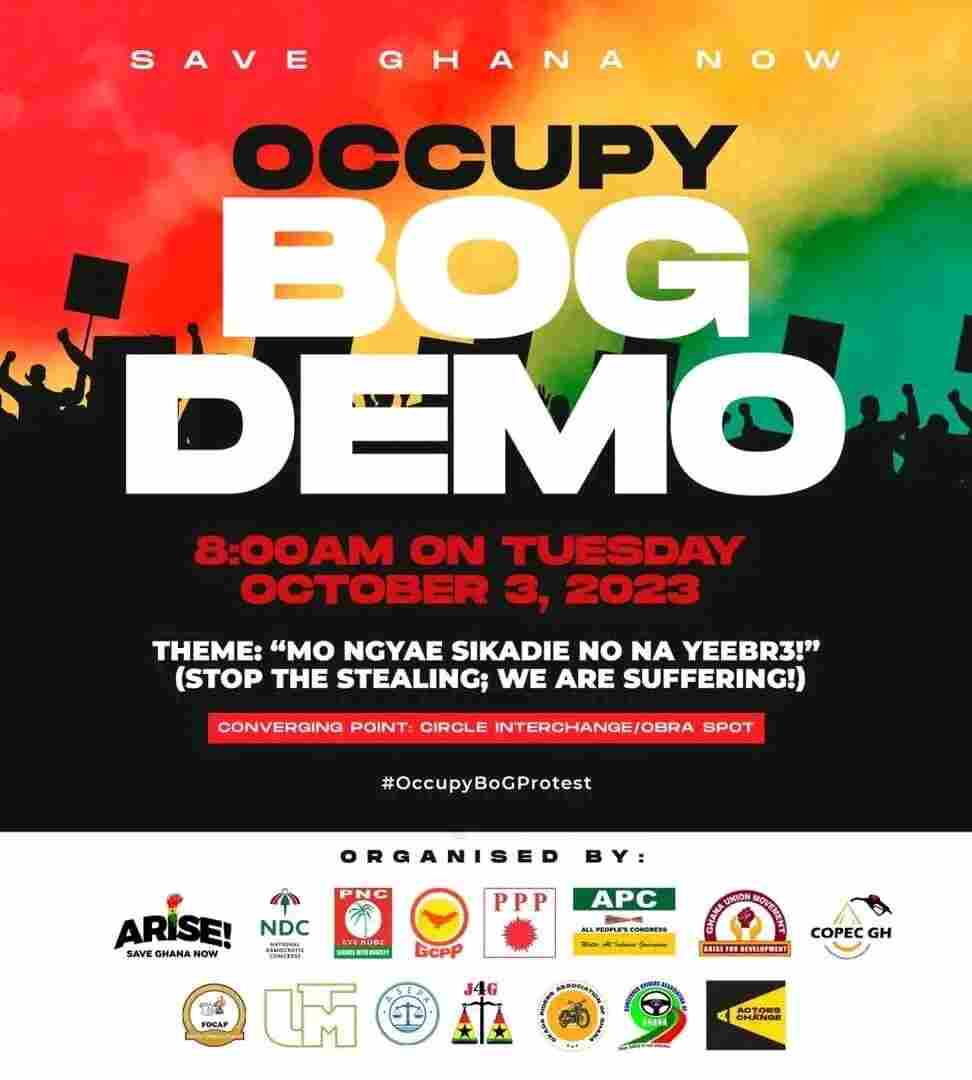 Another Demonstration is set to hit Ghana few days after the #OccupyJulorbiHouse demonstration. According to report, the demonstration will be staged on Tuesday, 3rd October, 2023.
The agenda for this demonstration is to occupy the Bank Of Ghana. The theme for the demonstration is "Mo Nigyae Sikadie No Na Yeebr3". This comes few days after the Jubilee House protest.
Check Out The Reopening Date For Next Term For Basic Schools
ABOUT THE #OCCUPYJULORBIHOUSE
#OccupyJulorbiHouse began on 21st September, 2023. The agenda of the demonstration is to move close to the Jubilee House and protest in front of the presidency. The demonstration, dubbed  #OccupyJulorbiHouse is being organized by Democracy Hub, a group of young activists.  On that day, the police rounded up 49 protesters who were marching to demand action on the prevailing economic crisis and corruption.
Profile Of Rev Father Anomaa Kodie Yeboah; Age, Education, Songs, Achievements
The arrests, especially how they were conducted by the police, triggered harsh criticisms of impeding the constitutional right to protest and deploying highhandedness on the part of the police.
Police sent the detainees to the regional headquarters before splitting them up into about eight police stations dotted across the capital, even as colleague protesters and lawyers worked to secure bail for the detained persons.
In this process, other journalists and protesters who massed up, especially at the Accra Regional Police Command, encountered some amount of police violence, including shoving, forced detention, seizure of phones, and, in the case of others, physical assault.
In their first of two statements on the day, police said the arrests were justified because protesters were defying a court injunction served on them, which they (protesters) denied had been properly served. The second statement addressed the purported arrest of a BBC journalist and his cameraman, which the police dismissed as untrue.
Some celebreties including Stonebwoy, Efya, Efia Odo,  Kwaw Kese, EL, etc were present.