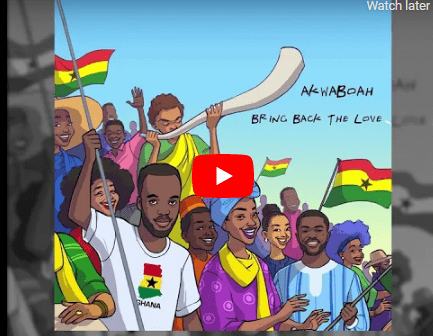 Black Stars Qatar 2022 World Cup Song: Bring Back the Love by Akwaboah (VIDEO)
A powerful jamming song has been released by Akwaboah for the Senior National Men's Team, the Ghana Black Stars is already catching fire and hyping the fever for the 2022 Qatar World Cup.
Ahead of the FIFA Qatar 2022 World Cup, Highlife and Afrosound sensation Akwaboah releases this Black Stars theme song for Team Ghana.
The support for the Black Stars' song was released on nearly all streaming sites including YouTube.
Ghanaians are already calling for the song to be adopted by the Ghana Football Association (GFA) as the official song of the Ghana Black Star for the world football Mundial to be staged in Qatar from November 2022.
In the song, Akwaboah called on all Ghanaians to forget the past and support the Ghana Black Starts.
"My faith of the song will make black stars come out with victory I swear… This music is too hot wow. One love Ghana, we Nigerians are proud of you. "Maxwell Azuka said in a comment on YouTube.
"This song should be the official song for Ghana at the World Cup. There is huge power in this song…



" Official Kofi Turnsion
READ: How To Watch Brazil vs. Ghana Live: World Cup Friendly
"Akwaboah🇬🇭: talent be from elsewhere, that part where the beat transposed is sweeeeeeeeeet! Vocals too heavy




To everyone listening, you will be successful in everything you do in Jesus's Name, let me see your Amen!!!!": JarViz Foru stated
Only 1:20 mins into the song and I couldn't sit still. Whaaaat a masterpiece. Qatar is just not ready for us


" Rocky said.
READ: Under 17 rising football star gains historic admission into KNUST
The song is already getting the needed attention and if you have not listened, get on to the YouTube video and start enjoying the Black Stars Qatar 2022 World Cup Song, Bring Back the Love by Akwaboah.
READ: Asamoah Gyan has many World Cup goals than Brazil's legends combined
Black Stars Qatar 2022 World Cup Song: Bring Back the Love by Akwaboah (VIDEO)
Check the song out at
Stream here https://bfan.link/bring-back-the-love Ahead of the FIFA Qatar 2022 World Cup, Highlife and Afrosound sensation Akwaboah releases this Black Stars theme song for Team Ghana
Apple Music – https://music.apple.com/us/artist/akw…
Spotify – https://open.spotify.com/artist/6v01k…
Audiomack – https://audiomack.com/akwaboahmusic/s…
Follow me on Twitter – https://bit.ly/2OGndY8
Like my Facebook Page – https://bit.ly/2OHzv2x
Follow me on Instagram – https://bit.ly/38oQL4gw