BoG Foreign Exchange Rates Released for Wednesday, November 9th 2022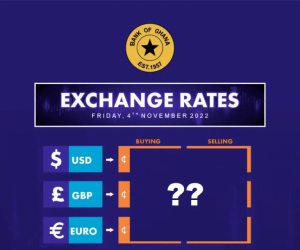 The Bank Ghana (BoG) Foreign Exchange Rates for today, Wenesday, 9th November, 2022 are officially out.
The released rates are for the Dollar, Pounds and Euro which are Ghana's three main foreign currencies that drive trade.
The rates made available on 9th
November were the average interbank rates used by commercial banks for
transactions as of the close of business on
Tuesday,8th November 2022.
Per the Bank of Ghana, $1 is worth
Ghs13.0314 when you are buying and
GHS13.0444 when selling. This means if
you need Dollars, to exchange for your
cedis, you will get $1 at Ghs13.0314 but if
you have a dollar and want to change it
into cedi, you will get a cedi equivalent of
GHS13.0444 per dollar.
READ:I Will Help You To Lose Your Seat In 2024; Kelvin Taylor To Cassiel Ato Forson
The Pound is buying at 1 pound at
GHS15.0890 and selling at GHS15.1054
whiles the Euro is buying at GHS13.1380
and selling at GHS13.1512
The Exchange Rates for 8th, Check the details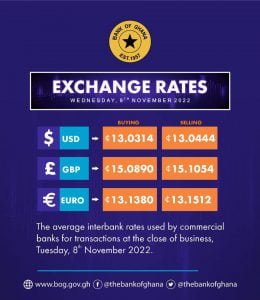 $ USD 1 – ¢13.0314(buying), ¢13.0444(selling)
£ GBP 1 – ¢15.0890(buying), ¢15.1054(selling)
€ Euro 1 – ¢13.1380(buying), ¢13.152(selling)