COP George Alex Mensah To Contest Bekwai MP Seat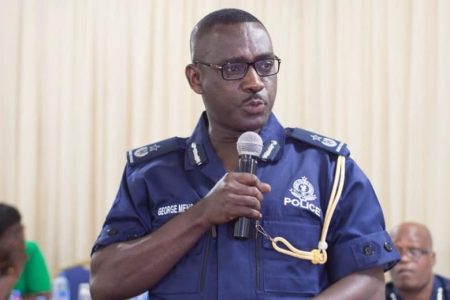 Commissioner of Police(COP), Alex George Mensah, has declared his intention to contest the Asante Bekwai parliamentary seat in 2024.
He made this revelation on Sunday September 17, 2023 at Angel FM. According to him, it has always been his dream to be a member of Parliament and to be in that position for a long time.
COP George Alex Mensah To Contest Bekwai MP Seat
"I have harbored the intention of going to Parliament for a very long time and I it is time for me to make it manifest."
Despite having stated in an earlier interview that his family is NPP, he chose not to reveal the party's ticket.
COP Alex Mensah has held a number of posts within the Ghana Police Service, most recently serving as the Director-General, Technical.
READ ALSO: How to use foreign exchange rates from bloomberg to make economic decisions as a business or individual
COP Alex Mensah has served in various positions within the Ghana Police Service and was the Director-General, Technical until his recent retirement.
He became a household name after he and others were allegedly caught on a leaked tape plotting to remove the current Inspector General of Police (IGP).
Check Out The Reopening Date For Next Term For Basic Schools
He has since appeared before a bipartisan parliamentary ad-hoc committee to defend himself and criticize the IGP for allegedly mismanaging the service and restricting information flow within the service.
COP George Alex Mensah To Contest Bekwai MP Seat
As he retires from the Ghana Police Service, congratulatory messages have been pouring in for him. He is scheduled to meet with the parliamentary committee probing the leaked tape on October 2, 2023.
Background
On Tuesday, July 11, an audio recording allegedly involving a police commissioner and a politician discussing a plot to remove IGP George Dampare from office leaked into the media.
As a result, the Minority Caucus in Parliament demanded an investigation into the clandestine plot contained in the audio.
The Speaker of Parliament, Alban Sumana Kingsford Bagbin, eventually appointed a seven-person bi-partisan committee on July 25, 2023, to investigate the audio in question.
The Committee constitutes three members each from the Majority and Minority sides of Parliament, and a technical person.