Profile Of COP Alex George Mensah; Age, Wife, Children, Education, Career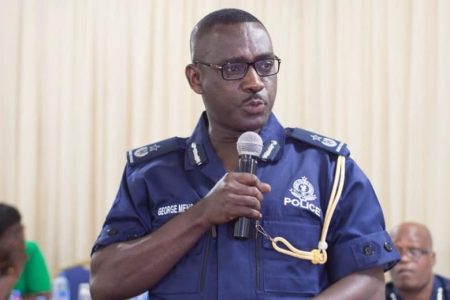 Alex George Mensah has served in the Ghana Police Service for over 30 years. Let's take a look at his profile; Age, Wife, Children, Education and career.
FULL NAME
Alex George Mensah
AGE
He was born on 17th September, 1963. He is currently 60 years. He is now retired.
WIFE AND CHILDREN
Details about his wife and children are not currently not available.
PLACE OF BIRTH AND HOMETOWN
He was born in Asante Bekwai in the Ashanti region. That is his hometown.
READ ALSO: How to use foreign exchange rates from bloomberg to make economic decisions as a business or individual
PARENTS
The late Obaapanin Adwoa Tabuah, also known as Agnes Darko or Aunty Tabuah is his mother. She died on December 9, 2020 at the age of 80. Details about his father is currently unknown.
Profile Of COP Alex Mensah; Age, Wife, Children, Education, Career
EDUCATION
He is well educated and completed his schooling at Wioso-Nerebehi Basic School and completed his college at a Private college.
CAREER
He has served in various positions in the service, held the position of Director-General of Operations until his retirement. He was the Eastern regional commander of the Ghana Police Service. He has severed as a district commander and has rose through all levels in the Ghana Education Service.
He is also a lawyer and a chartered accountant. Alex George Mensah was also a member of the Eoco Board
Check Out The Reopening Date For Next Term For Basic Schools
Donations Made By COP Alex Mensah
He donated items worth ¢20,000, to the Nerebehi M/A Basic School in the Bekwai Municipality to aid academic activities. The GH¢20,000 worth of items included mathematical sets for final years students who are due to sit for their Basic Education Certificate Examination (BECE), a lawn mower, and an undisclosed amount of money, which is to help the pupils sit their mock examinations.
Profile Of COP Alex Mensah; Age, Wife, Children, Education, Career
He also donated an undisclosed amount of money to the National Health Insurance Authority (NHIA) of Bekwai to register about 2,000 kids in the Municipality, including his hometown, Wioso-Nerebehi.
He donated 60 pieces of Mathematical sets, Scannable sheets, official papers, pens and pencils to Senfi M/A JHS final year students.
He is also reroofing Queen Elizabeth Day Nursery at Bekwai and provided Free Health Insurance Scheme to 1000 kids within the Area.