"Do Not Text Camila Anymore": Mum Warns Little Boy Over Her Daughter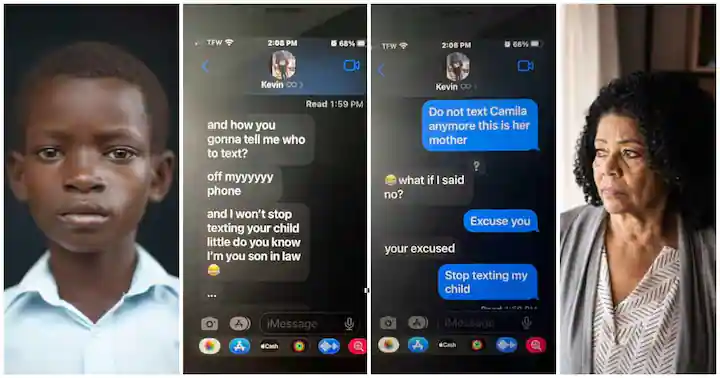 A young boy has been warned not to chat her little lover again. The mother of the girl texted the boy and warned him to stay away from her daughter.
Internet users went into a frenzy after a woman's leaked text with a young boy who wouldn't stay away from her daughter was published.
The mother grabbed her daughter's phone and yelled at the boy to stay away from her, but he responded angrily.
The young boy asked the woman in a disrespectful manner what she would do if he didn't respect her daughter's privacy.
The response of a young boy when confronted by the mother of a girl he was texting stunned online users.
The boy's text conversation with the girl's mother was revealed on Twitter by the girl's sister, @kailanjisselle, who claimed that her mother had combed through her sister's phone.
Unexpectedly, the boy made fun of her by asking what she would do if he declined. She warned him once more to stop texting her child, but the boy responded angrily.
Kevin, the young man, warned her to leave his phone and claimed he might be her daughter-in-law. He claimed that she was not in a position to direct his texting habits.
"Do not text Camila anymore," the woman said via text as she introduced herself as the mother.
See the lady's tweet below: 
https://twitter.com/kailanjisselle/status/1660000321907703811?ref_src=twsrc%5Etfw%7Ctwcamp%5Etweetembed%7Ctwterm%5E1660000321907703811%7Ctwgr%5E6a522c7e8d44f119223a7a41bccb169c190f9975%7Ctwcon%5Es1_&ref_url=https%3A%2F%2Fwww.legit.ng%2Fpeople%2Ffamily-relationship%2F1535778-text-camila-anymore-mum-warns-boy-daughter-epic-replies-chat-leaks-online%2F
Read some reactions on social media
@ThatYoungKid33 said: "He's so young for the audacity he has."
@Detolanny said: "Very simple. I'll just whitelist a couple of numbers on my child's line and it's only whitelisted numbers that can call or text her. It's the boy's right to text whoever he likes and it's my right to decide who calls or texts my child (at that age). 
@baggalmami said: "This gon him talkin to his mama cause ur mama told his mama about "dem lil text messages" he sent her."
@_realJAG said: "They gone say she's "disrespecting boundaries." That baby is 10. She needs to be getting her phone checked regularly. This how we have kids getting caught up in dangerous things and people now."
@DeeDee_frm19 said: "Now don't chew me up because I know how y'all like to tussle, but I must be old because I missed the funny part about children disrespecting adults…especially on a phone that Mom most likely pays for…"
READ ALSO: Hungry Our Lady of Lourdes Girls' SHS Students Chanting "We Want Food" Video Goes Viral