Do You Know That NTC Changed All the Duration For Each Paper In The Just-Ended Licensure Exams? Check It Out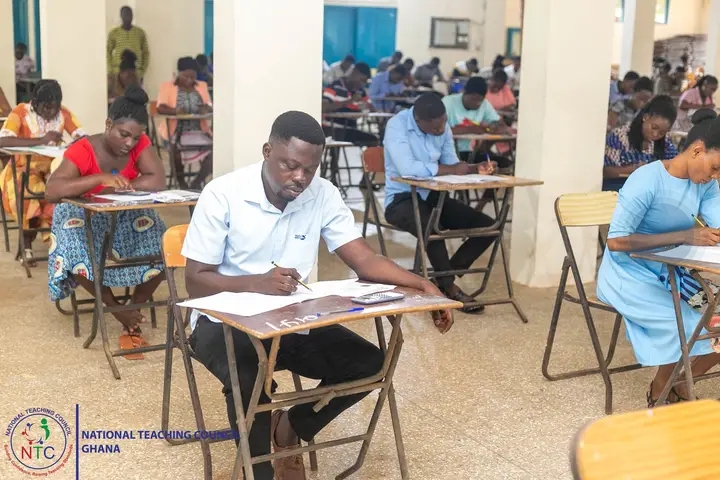 Check Out The Duration For Each Paper (GTLE)
The Ghana Teacher Licensure Examination has come to stay. It is therefore now a requirement that anyone who wants to enter the teaching field to become a well a well professional teacher and therefore a permanent teacher is expected to sit for the Ghana Teacher Licensure Examination.
After the examination is written, NTC will award an official National Teaching Council Certificate to all candidates who were able to obtain a pass mark of 50% out of 100 marks.
In the just-ended 2023 September Ghana Teacher Licensure Examinations, we have observed that each paper carries its duration. That is to say, the schedules for all the papers were different from each other. The 2023 September Ghana Teacher Licensure Examination was conducted on three (3) subjects namely  General Professional Knowledge (GPK), Pedagogy, and Field of Specialization.
On the printout format for all candidates across the country, each paper was tagged with a duration of two (2) hours.  However, an attached notice with the caption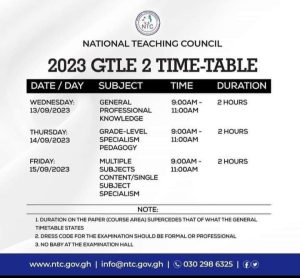 "Duration of each Paper (Course Area) supersedes that on the General timetable". With this notice, the duration of the three (3) papers indeed varies from each other. 
For the first paper which happens to be the General Professional Knowledge,  candidates were allowed to use a maximum of Two (2) hours and Twenty-five (25) minutes. The General Professional Knowledge paper commenced at exactly 9 a.m. and ended at 11: 25 a.m. The General Professional Knowledge paper comprises three different courses Essential Skills, Numeracy, and Literacy. With the combination of these courses, the time or duration for the paper was raised.
The Second Paper, Pedagogy was only written at a time frame of only two (2) hours. Pedagogy Paper began at exactly 9 a.m. and ended at 11 a.m. 100 solid questions was designed for the Pedagogy.
The third paper in the field of Specialization also got a different duration altogether. Mathematics students did sixty (60) solid objective questions with a time frame of two (2) hours fifteen (15).  Candidates finished the paper at exactly 11:15 a.m. because they started at exactly nine (9) a.m.