Gold Track SHS2 Students: Check the correct reopening date for Students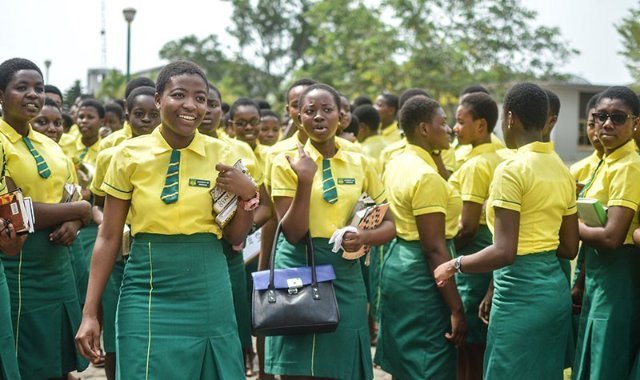 Gold Track SHS2 students and their Green Track Counterparts will not be in school at the same time.
There seems to be confusion in town when the Gold Track SHS2 students will return to school.
Per the 2021 school calendar for Senior High School released by the Ministry of Education, Gold SHS Students in their second year will go to school on 10th March 2021.
Free SHS Students and parents are to note this to ensure Form Two (2) students Thus Gold SHS 2 students do not report to school on 18th January 2021.
MORE INFORMATION: SHS2 Double Track Calendar–Check it here
The government has announced the cancellation of double track for SHS1 and SHS3 students. They will therefore return to school together when schools reopen on their respective reopening dates.
When the Green Track students in SHS2 students vacate with their SHS 3 counterpart in March, their Gold counterparts will return to school with the new Free SHS1 students.
JOIN OUR WHATSAPP GROUP FOR ACCURATE EDUCATION UPDATES
We hope the questions:
When will SHS 2 gold track resume?
They will resume on 10th March 2021
When will SHS 2 Students reopen?
10th March 2021 is the reopening date for such students.
When will the gold track go to school in 2021?
There will not be any SHS1 Gold Track students when school reopens. They will all report to school on 10th March 2021.
JOIN OUR WHATSAPP GROUP FOR ACCURATE EDUCATION UPDATES
Post Publications || Join us on Whatsapp || Post Disclaimer
---
SEND A STORY: Do you have a story for us or need a promotion/advertisement? Submit them via our email [email protected] or WhatsApp + CHAT NOW 
JOIN OUR EDUCATION NEW GROUPS (WHATSAPP)
Join one of our Whatsapp/Telegram Groups for current Ghana Education Service News Updates:
JOIN ONLY ONE... THANKS
Group 1 >>> [JOIN]
Group 2 >>> [JOIN]
Group 3 >>> [JOIN]
TELEGRAM PAGE >>> [JOIN]
Only websites that give us a URL backlink can repost our content on their sites.
---
The information contained in this post is for general information purposes only. The information is provided by GhanaEducation.Org and while we endeavour to keep the information up to date and correct, we make no representations or warranties of any kind, express or implied, about the completeness, accuracy, reliability, suitability or availability with respect to the website or the information, products, services, or related graphics contained on the post for any purpose.
||About Us|| Contact Us
---