2020 school placement: How to change a school you don't like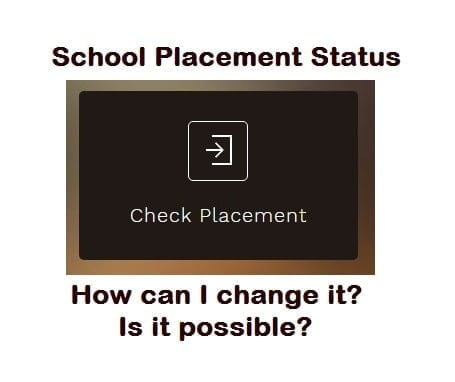 How to change 2020 school placement status if you don't like the school. Are you a parent or student thinking about this? Read on.
The 2020 school placement for BECE graduates who sat for the 2020 Basic Education Certificate Examination is yet to be released. The 2020 Free SHS placement by the Computerized School Selection & Placement System (CSSPS) is expected to be released before the end of February 2020.
However, the question "How to change 2020 school placement status if I don't like the school I have been placed in?" is one of the frequently asked questions by students each year the Ghana Education Service releases the school placement status of candidates.
In this write-up, we shall demystify this question and provide answers.
Students and parents need to know that they can be placed in any of the five (5) schools they choose during the school selection phase of the 202 BECE registration.
This implies choosing schools that your ward would attend, considering the school location, facilities, and his or her academic strength are key in making the decision.
Just choosing a school without enough knowledge about its location and facilities and student's academic strength may not help when the placements are finally out. 
Students and parents waiting for the BECE 2020 School placement status must know that the rules on school placement are clear when it comes to changing the school you have been placed in.
Related Articles: 
Conditions that may merit a change of your 2020 school placement
1. When you are automatically placed in a school you chose, you CANNOT change it because you don't want it. For instance, if your first choice was Labone Senior High in Accra and your second choice was West African Senior High (WASS) at Adenta. In case you are placed in WASS but you wanted to be placed in Labone SHS, you cannot get it changed. It is possible to get it changed if you are on a protocol list.
2. There are students who do not get placed in any of the schools they choose; they are required to do a self placement. After doing the self placement, a student may not be able to change the school at the cafe if his or her parents want it changed. Often GES will not do such a change unless there are genuine reasons. The change will often be effected at the regional centres created to help resolve such issues. 
Join our Whatsapp for more Education updates and downloads >>> JOIN NOW
3. When the 2020 Free SHS placements are released, it is possible for some boys to be wrongly posted to girls' schools and vice versa, although in recent times this hardly happens. In such an instance, the obvious action by the officer in charge of the placement is to effect the change.
4. Again, it is possible for a student who is not physically challenged and visually impaired to be placed in a special school for such special Junior High School graduates. In this case, the student may have his or her school changed by the officers at the regional centre in your region.
Parents and students must, however, note that there are schools for "normal" students that also have facilities for special students.
In such an instance, a student is not by mistake placed in such a school. An example is Ho Mawuli School, which has facilities for physically challenged and visually impaired students. In such an instance, the placement may not be deemed to be an error.
5. Sometimes after the 2020 school placement results are released, students may be placed in a school they never chose. When such errors occur, the student/parent and his or her basic school must prove that the student never made such a choice. It is only after this is done and approved that such a student may be offered a new placement. 
Related Articles: 
When this happens, the basic school head must write a letter confirming the school the student has been placed in was not part of the schools chosen. A photocopy of the schools' sheet (final) for the entire school will have to be attached to the letter. The list of schools chosen for the student must also be added and sent to the Computerized School Selection & Placement System (CSSPS) centre/ office for action. 
We hope this article helped to answer many of your questions.
Source: GhanaEducation.Org
Post Publications || Join us on Whatsapp || Post Disclaimer
---
SEND A STORY: Do you have a story for us or need a promotion/advertisement? Submit them via our email [email protected] or WhatsApp + CHAT NOW 
JOIN OUR EDUCATION NEW GROUPS (WHATSAPP)
Join one of our Whatsapp/Telegram Groups for current Ghana Education Service News Updates:
JOIN ONLY ONE... THANKS
Group 1 >>> [JOIN]
Group 2 >>> [JOIN]
Group 3 >>> [JOIN]
TELEGRAM PAGE >>> [JOIN]
Only websites that give us a URL backlink can repost our content on their sites.
---
The information contained in this post is for general information purposes only. The information is provided by GhanaEducation.Org and while we endeavour to keep the information up to date and correct, we make no representations or warranties of any kind, express or implied, about the completeness, accuracy, reliability, suitability or availability with respect to the website or the information, products, services, or related graphics contained on the post for any purpose.
||About Us|| Contact Us
---