Effects of overstudying & how to prevent It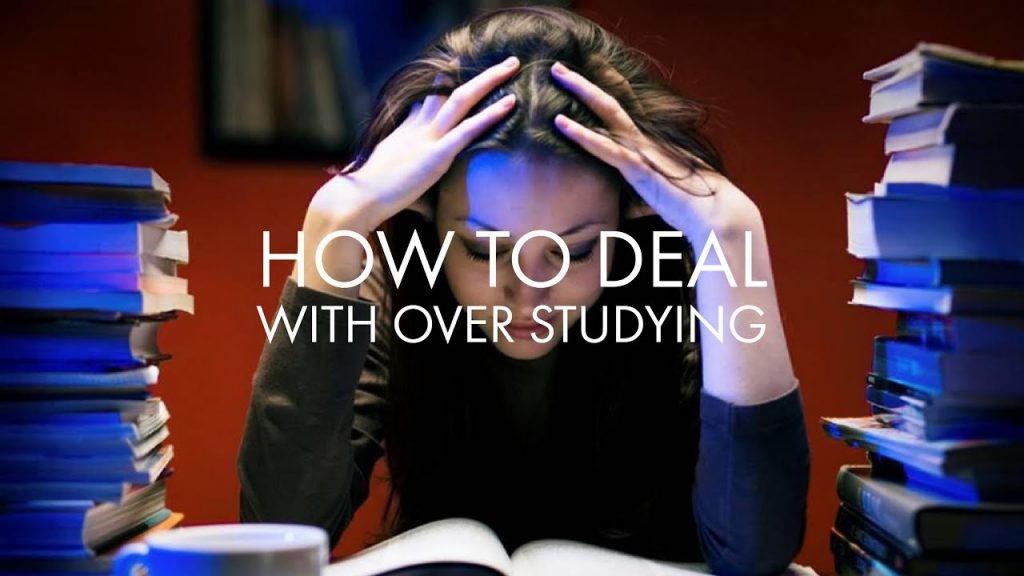 Too much of everything is bad and so it overstudying. To overstudy means spending too much time studying.
It may sound strange that although studying for good grades in school is not an easy task, there are students who overstudy and suffer the negative consequences.
When you study, you increase your chances of obtaining high grades. The effects of overstudying can be very harmful to the student. Physical, mental, and academic-related disadvantages exist for over-learning.
Learning must be carefully done, along with healthy study habits to avoid being burned out.  There are many effects of over-studying that confront students who virtually learn their lives away.
The question is "How Much Studying Is Too Much"? We will share with you, four top effects overstudying has on students and also provide some helpful tips for you to break the harmful habit.
Effects of overstudying on students
#1 Mental distractions and low retain ability
When a student exceeds his or her maximum learning capacity, the mental strength and ability to retain enough of what they studied drops. Such students may realize that although they are spending more hours on a particular subject or course, they are faced with the difficulty of retaining the knowledge. This affects their grades in the long run. When they are expected to outperform their colleagues, they fail to even break even in terms of grades or scores.
As a student, when you notice your grades are dropping although you are working extra hard, it is a sign that you are studying too much or you are not studying properly.
#2 Withdrawal from Social Activity and gatherings
Often, students who are over engulfed with their studies turn to be anti-social beings. They may even have no friends other than their books. Studying is always encouraged, but it must not become 100% of your life in school.
When a student spends more hours locked off in their room or study space, they stop engaging in socialization. Participating in other activities is little or nonexistent.
Research has proven that these are symptoms of overstudying. Such learners need to take breaks. Parents and teachers must encourage them to socialize and have a little fun. One hour of games a day will not in any way negatively affect a student's grades in an exam but rather help improve their health, alertness, and performance.
#3 Sleeping habits change
When a student is denied sleep over a period, his or her academic performance can be affected. We all know the old saying "Burn the midnight oil" Yes we have to learn at dawn to prepare for examinations or study late into the night however, if you over sacrifice your sleep, it may be harmful. Sleep is an important medication for the body and the brain. If you are constantly putting study ahead of your sleep, you are probably overstudying and need to check it.
If you deprive yourself of sleep, you reduce the brain's ability to focus and process information. If this continues over a long period, your grades will not depict your hard work and late-night sleep studies.  If care is not taken, you may become easily irritated, frustrated, and stressed.
#4 Complaints Of Headaches Or Stomach Aches
When a student engages in overstudying, he or she may suffer real physical signs including but not limited to headaches and digestive issues. When you suffer constant stress, it may be a sign of overstudying and may lead to long-term physical (and mental) issues.
Steps to take avoid the effects of overstudying
Students can reduce or avoid entirely the dangers associated with over studying by taking the following steps.
#1 Manage your time properly
Students are encouraged to plan their study times. This requires a good, well-spaced timetable that prevents over studying and constant night after night study periods.
#Prioritize your sleep to avoid the effects of overstudying
Sleep is natural and if you cheat nature, it will come after you. Know that sleep is not an option but a necessity. You need between 7 and 10 hours of sleep as a student. When you take enough rest, it deals with stress. Therefore make an effort to have a good sleep, reduce your time spent watch TV or movies, and channel that into studying during the day so that you can have enough sleep at night. Do not study for more than 3 hours at night. Hence if you start studying at 7 pm, end the longest session at 10 pm and go to bed. Or go to bed early and wake up at dawn to do 2 to 3 hours of study. Do not spend the whole night learning. Get enough exercise and avoid the use of caffeine to inducing strength and alertness to study at night.
#Have Study Breaks
Per our exam and study tips shared with our readers, we have encouraged learners to take study breaks to avoid overstudying. It is recommended that learners have a 5 to 15 minutes break. This helps refresh the mind. Use the break to take a walk, observe nature, have a nap to cool down and relax. These breaks if well managed can contribute to effective and productive study periods.
Read:  Covid-19 lessons: Permit SHS students to use Mobile Phones in School
#Set Achievable Goals
There are students who want to win a jackpot in the next examination, and so they would want to go on learning without a break. How can you learn for instance from morning to evening without breaks and other important social activities? The best students do not learn hard, they learn smart. When you set goals that are not realistic, you are forced to overwork yourself. For instance, an average student scored 50 out of 100 in an exam. Instead of targeting a score between 55 and 65, he or she is targeting 90-100. This will only lead to a fruitless overstudy period.  Consider gradual progress ad celebrate the little successes to keep you going.
ALSO READ: 7 Reasons Why Students Fail WASSCE and BECE Each Year: 8 Rules On How To Avoid Exam Failure
By putting these simple but useful titbits in action, students who are suffering from overstudying can help themselves. The effects of overstudying are real. Let's stop it now.
SOURCE: Ghanaeducation.org
Post Publications || Join us on Whatsapp || Post Disclaimer
---
SEND A STORY: Do you have a story for us or need a promotion/advertisement? Submit them via our email [email protected]
DOWNLOAD OUR>>> MOBILE APP
JOIN OUR EDUCATION NEW GROUPS (WHATSAPP)
Join one of our Whatsapp/Telegram Groups for current Ghana Education Service News Updates:
JOIN ONLY ONE... THANKS
TELEGRAM PAGE >>> [JOIN]
Group 1 >>New Group> [JOIN]
Group 6 >>New Group> [JOIN]
Group 3 >>New Group> [JOIN]
TELEGRAM PAGE >>> [JOIN]
Only websites that give us a URL backlink can repost our content on their sites.
---
The information contained in this post is for general information purposes only. The information is provided by GhanaEducation.Org and while we endeavour to keep the information up to date and correct, we make no representations or warranties of any kind, express or implied, about the completeness, accuracy, reliability, suitability or availability with respect to the website or the information, products, services, or related graphics contained on the post for any purpose.
||About Us|| Contact Us
---