Final BECE 2021 sample questions for Basic Design and Technology (Pre Tech Skills)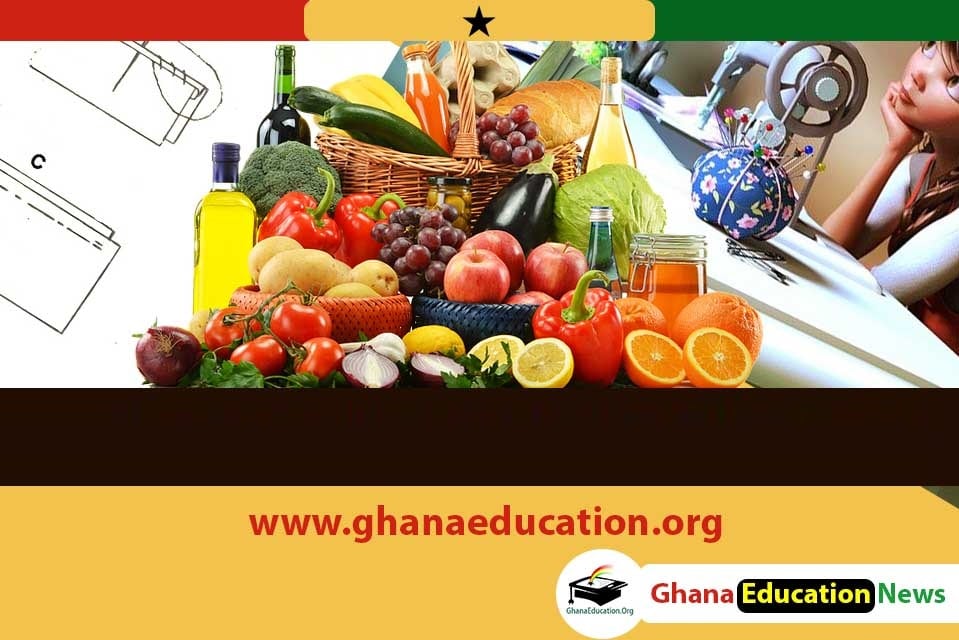 Ghana Education News Final BECE 2021 sample questions for Basic Design and Technology.  One of the easy-to-pass subjects at the BECE each year is the Basic Design and Technology paper. There are options such as Home Economics, Pre Technical Skills, and Visual Arts within it. 
The question provided here are Pre Technical Skills focused section A Questions for schools and candidates who opt for the Pre technical Skills under the BDT subject.
The purpose of making these available is to help students access their final readiness for the Examination.
Final BECE 2021 sample questions for Basic Design and Technology (Pre Tech Skills)
NOW SOLVE THE FOLLOWING OBJECTIVE TEST QUESTIONS
1. Which of the following options suggest a dot in nature?
A. a cube of sugar
B. a grain of sand
C. footpath lane
D. Veins of a leaf
2. The B range of pencils are the
A. finest
B. hardest
C. smoothest
D. softest
3. Mounting an exhibition enables the dressmaker to
I. show her handiwork
II. attract customers
III. increase her income
IV. show her generosity
A. I, II and III only
B. I, II and IV only
C. II and IV
D. III and IV only
4. Brass is made of
A. copper and tin
B. copper and zinc
C. lead and tin
D. lead and zinc
5. The basic stitch which starts all crocheted articles is
A. chain
B. cross
C. loop
D. stem
6. A glass is best used to serve
A. cream
B. drinks
C. ice-cream
D. yoghurt
7. Which of the following is inexpensive to use in the rural area?
A. Coal pot
B. Electric cooker
C. Gas cooker
D. Kerosene stove
8. Which of the following materials is used in the production of cement
A. Gypsum
B. Bauxite
C. Slurry
D. Stones
8. ………is not a cutting tool?
A. Hack saw blade
B. Shovel
C. Chisel
D. Flat file
8. A …….. has a v-shaped cutting edge and a …….. has  flat cutting edge
A.  Spade / Shovel
B. Shovel /Spade
C. Hammer/spade
D. Chisel / Shovel
9. What is the standard weight of a bag of portland cement?
A. 200 kg
B. 20 kg
C. 50 kg
D. 90 kg
10. Which of the following is not a type of joint for fixing parts of furniture
A. movable joints
B. unmovable joints
C. Temporary joints
D. permanent joints
11. In oblique drawing one side of the object is inclined at an angle of
A. 30°
B. 45°
C. 60°
D. 90°
12. In a circuit diagram, current flows from
A. neutral to negative
B. neutral to positive
C. positive to negative
D. negative to positive
13. Select a neutral colour from the options below
A. blue
B. orange
C. red
D. white
14. The safest way of keeping one's daily sales is by
A. depositing it at the bank
B. giving it to mother for safe keeping
C. keeping it in an envelope
D. putting it under the sewing machine
15. An adhesive is used for
A. joining surfaces together
B. scaling against moisture
C. providing safety against fire hazard
D. providing surface decoration
16. Which of the following is a ferrous metal?
A. Brass
B. Bronze
C. Lead
D. Steel
17. The most suitable timber for decorative works is
A. odum
B. ofram
C. mahogany
D. wawa
18. Polyvinyl acetate is also called
A. animal glue
B. white glue
C. resin glue
D. contact glue
19. Making a round hole in a piece of metal is termed
A. boring
B. chipping
C. drilling
D. chamfering
20.0An exhibition of only specific items from a specific industry at a trade fair is termed
A. General exhibition
B. Specialized Exhibition
C. Mixed Exhibition
D. unique Trade Fair
21. Brass is to ( copper + zinc) as bronze is to …………………….
A. lead + tin
B.brass and tin
C. copper + tin
D. copper and lead
22. ………………..is a laying tool for checking the height of a wall.
A. trowel
B. float
C. gauge rod
D. spirit level.
Use the sketch in figure 5 to answer Questions 23 and 24
24. The sketch shows a
A. 4 course wall
B. 5 course wall
C. 6 course wall
D. 7 course wall
25. The method for future continuation of the wall shown is
A. block indent
B. bonding
C. racking back
D. toothing
26. Electrical parts are covered with plastic materials for
A. insulating against shock
B. outside decoration of parts
C. protection against rust
D. improvement in conductivity
27. Turpentine is a type of
A. abrasive
B. adhesive
C. aggregate
D. finish
28. Files are cleaned by using the
A. file card
B. hacksaw blade
C. scriber
D. chisel
29. Which of the following components stores electrical charge?
A. diode
B. switch
C. resistor
D. capacitor
30. The type of material used to strengthen joints in woodwork is known as
A. adhesives
B. abrasives
C. sanding sealer
D. wax polish
READ: Likely BECE 2021 Social Studies Questions – Must Solve |
READ: Final BECE 2021 sample questions for Social Studies
We hope these Final BECE 2021 sample questions for Basic Design and Technology (Pre Tech Skills) have been useful.
Post Publications || Join us on Whatsapp || Post Disclaimer
---
SEND A STORY: Do you have a story for us or need a promotion/advertisement? Submit them via our email admin@ghanaeducation.org
DOWNLOAD OUR>>> MOBILE APP
JOIN OUR EDUCATION NEWS-GROUP (WHATSAPP)
Join one of our Whatsapp/Telegram Groups for current Ghana Education Service News Updates:
JOIN ONLY ONE... THANKS
TELEGRAM PAGE >>> [JOIN]
Group 1 >>New Group> [JOIN]
Group 2 >>New Group> [JOIN]
TELEGRAM PAGE >>> [JOIN]
Only websites that give us a URL backlink can repost our content on their sites.
---
The information contained in this post is for general information purposes only. The information is provided by GhanaEducation.Org and while we endeavour to keep the information up to date and correct, we make no representations or warranties of any kind, express or implied, about the completeness, accuracy, reliability, suitability or availability with respect to the website or the information, products, services, or related graphics contained on the post for any purpose.
||About Us|| Contact Us
---