9 exam hall safety precautions to avoid examination failure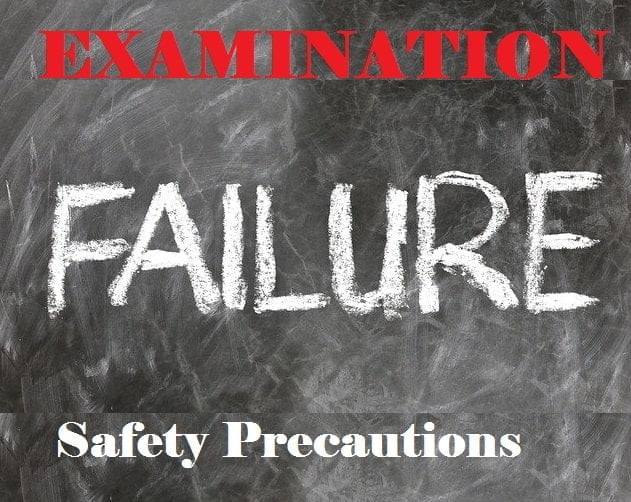 Nearly all students can avoid examination failure if they do the right things in the examination hall. This can be achieved through simple exam safety precautions.
You can avoid examination failure by doing the following as they increase your chances of excelling in the examination.
Before you start writing, before the invigilator says start work, to the examination period proper till the end there are safety exam precautions that need to be taken. Do not leave anything to chance.
#1. Find your seat as soon as you enter the hall where the examination will take place. Take a very good look at your surroundings and look out for the main clock in the exam hall. Check the time against your personal time (Always go to the examination hall with your wristwatch.)
#2 Adjust your time to match that of the main clock in the examination hall if you confirm it is right, and yours is wrong.
There is nothing worse than being told that the exam finishes at 12.30 and then being told to stop writing at what you think is 12.25 simply because your watch is 5 minutes behind the exam hall clock.
#3 Should in case you feel your seating position is not helping you, tell an invigilator who will do all that is possible to help.
A typical example is in case you are sitting by the window and the sun's rays are affecting you or the desk you have been provided is weak and wabbling. In the examination hall, ensure you are happy and ok with the service provided however, do not go about challenging the invigilator.
Ensure you get acceptable help within the laws of the examination to deal with whatever is irritating you. The earlier the better because such irritations can affect your concentration and distract you from the task at hand.
#4 During examinations, we all get nervous sometimes. The moment you feel some nervousness, or panic, start taking deep breaths and stop thinking about the exam for a while.
Allow yourself to calm down. You can calm down by also pressing your toes down in your shoes and relaxing them gradually or slowing. You can calm down by reminding yourself of some of the recent great successes you achieved or a fun-packed programme you attended recently. These positive feelings will soon override the panic and make you feel well in the examination hall.
#5 Right at the start of the examination, check whether you have been provided with the correct number of question papers. Check for the instructions for the examination and read them carefully. Do not assume you know it already.
#6 Ensure you know the number of questions you are required to attempt. When the same examination has subsections, also check how many questions you are to answer from each section.
#7 Check the time allotted for the entire examination. Many people get so used to doing past papers that they invariably assume that they know exactly what they have to do and don't bother reading the instructions.
The above does not help. Do well to cross-check to be sure the examination instructions have not been changed.
Often, the examination paper provides instruction on how many questions are there and the number to answer. Check this out and be sure.
#8 Look at and read all the questions until the last one. Often, students miss the chance to read the last question on the back page of the paper.
#9 When asked to start work, jot down all the relevant points and facts from your revision. I recommend that you go to the first page or last page of your answer booklet, draw two lines across it before you write down these points. By doing this, you are communicating with the invigilator that those are not part of your answers. This strategy is good for writing anything you learned in the last few minutes before you entered the exam. This is advised because, in some examinations, students may be instructed not to write on the question papers.
ALSO READ: MORE EXAM & STUDY TIPS
Do not do the above until you are told to start work.
You see, these basic safety exam precautions are ignored by many and it hurts to know you made any of these mistakes in the examination hall. You can imagine how it feels to know there was a question on the last page you can answer, yet you did not turn to that page. It will hurt not to read instructions, walk out of the examination hall only to realize question one was compulsory.
This is why it is worth mastering these safety exam precautions to help you avoid the examination failure they may contribute to. This article can be summarized as follows.
If you are unhappy with your seating, get it changed
If you feel nervous breath deeply
If you feel unwell, tell an 

invigilator

Check that you have the correct paper
Make sure you understand the instructions
Check there are the correct number of questions
Keep improving on your examination passing strategies and success will smile at you in your BECE, WASSCE, or whichever exam you are preparing for.
Post Publications || Join us on Whatsapp || Post Disclaimer
---
SEND A STORY: Do you have a story for us or need a promotion/advertisement? Submit them via our email admin@ghanaeducation.org
DOWNLOAD OUR>>> MOBILE APP
JOIN OUR EDUCATION NEWS GROUPS (WHATSAPP)
Join one of our Whatsapp/Telegram Groups for current Ghana Education Service News Updates:
JOIN ONLY ONE... THANKS
TELEGRAM PAGE >>> [JOIN]
Group 1 >>New Group> [JOIN]
Group 1 >>New Group> [JOIN]
Group 1 >>New Group> [JOIN]
TELEGRAM PAGE >>> [JOIN]
Only websites that give us a URL backlink can repost our content on their sites.
---
The information contained in this post is for general information purposes only. The information is provided by GhanaEducation.Org and while we endeavour to keep the information up to date and correct, we make no representations or warranties of any kind, express or implied, about the completeness, accuracy, reliability, suitability or availability with respect to the website or the information, products, services, or related graphics contained on the post for any purpose.
||About Us|| Contact Us
---