Facts & Lies (Myths) about 2021 BECE results pass aggregate and result checkers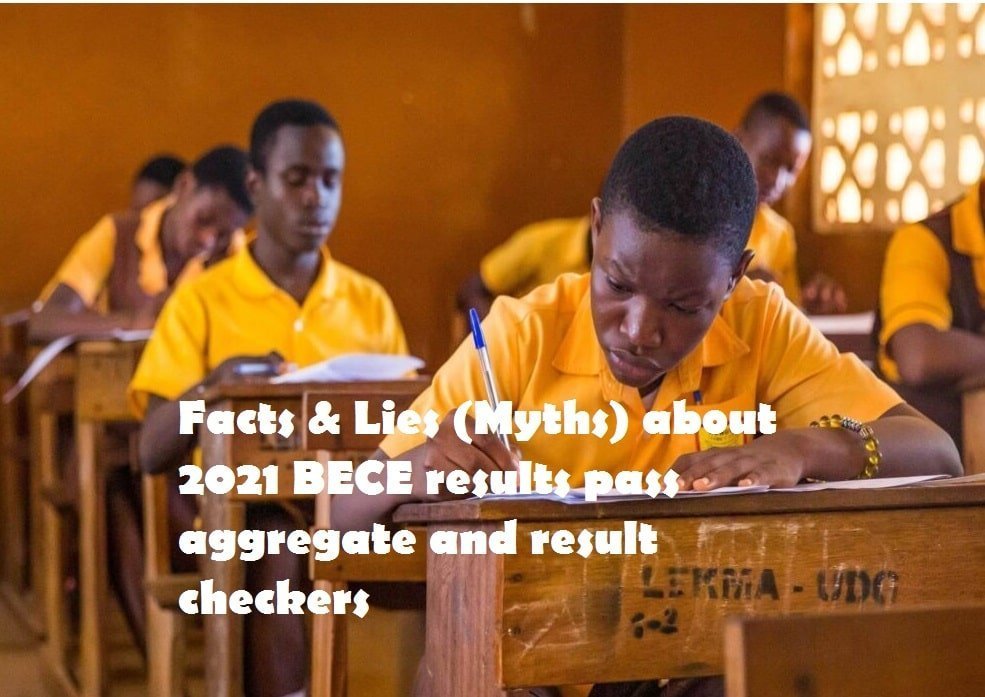 Ghanaeducation.org presents facts & lies (Myths) about 2021 BECE results pass aggregate and the result checkers to help candidates and parents calm their nerves.
The 2021 BECE results are out and students and guardians are checking results, however, there are hidden facts you need to know about the BECE result checkers to avoid mistakes, the 2021 BECE results pass aggregate and lies or myths out there about the results.
Facts & Lies (Myths) about 2021 BECE results pass aggregate and result checkers
Fact #1: Candidates can not use the result checker to access the same result more than three times. This means the result checker has a limited number of times it can be used to check the same result. After checking the result three times, you would need to buy a new checker.
Fact #2: Fake result checkers are circulating in town, and you may be scammed. Always buy the result checker from the right sources or buy it yourself using the momo.
There are students who believe that their results can be changed. Hold it there and keep reading.
Myth 1# The results can be changed:
This is very untrue, scammers and fraudsters promise candidates who do not do well that they can alter their results for a fee. Whatever result they give you cannot be found on the WAEC system or result portal. To this end, WAEC has cautioned all stakeholders to be wary of fraudsters who promise to upgrade results for a fee.  Candidates are to note that WAEC results are secured and can be authenticated.
Myth 2# The results online will change in a few days into something better.
Some students believe that the results on their portal after they have checked will change. This belief is often held by those who are disappointed in their performance. No matter how many times you go back to the café to check the results, the value will be the same. Stop believing this lie. If any of your colleagues tell you his or her result has changed, it means the person is not been sincere and is hiding his or her real aggregate from you.
Is Aggregate 25 the Pass Mark for 2021 BECE? 
Dr. Yaw Osei Adutwum whiles granting an interview on Pure 95.7 FM monitored by GhanaEducation.Org in 2020 disclosed that "the past administrations introduced the cut-off point which was aggregate 25 to contain enrollment in Senior High Schools." Since 2017, the aggregate 25 PassMark has been scrapped. This means candidates should not be too worried if they scored grades below aggregate 25.
Read more on this topic here: 
How to retrieve lost 2021 BECE result checker serial and pin
Some students and parents buy result checkers online and misplace the card. If you have a challenge like this, read to find out how to retrieve the result checking card.
1. Visit the serial and pin recovery portal https://recoversms.waecgh.org
2. Enter date
3. Enter the mobile phone number you used to buy the BECE result checking card.
4. Enter the Mobile Money Transaction ID that was provided by the merchant when you bought the card.
5. Click on the captcha to confirm the verification.
6. Click on recover. Be patient as the system loads and displays your lost pin.
We hope this article on Facts & Lies (Myths) about 2021 BECE results pass aggregate, results, and the result checkers have helped you.