Final 2022 BECE Home Mock For BECE Success: Register Now!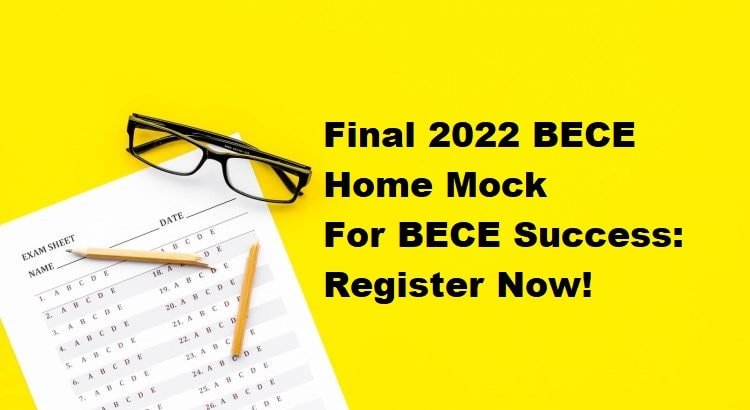 Ghana Education News, your reliable source of BECE Mock for assessing candidates from their homes, is organizing the Final 2022 BECE Home Mock For BECE Success. Pass your BECE with a mock from us. All parents who register their wards from 21st SEPTEMBER 2022 to 23rd September 2022 get our July and August Mocks and Marking Schemes for free to help their candidates.
The examination is the final mock for candidates and the 5th in succession since the first one was organized in May 2022.
Through the May to August mocks, Ghana Education News has maintained an enviable examination standard that has been built on ethical principles, customer service, value for money, and a conscious effort to help candidates get ready for the October 2022 BECE to be administered by WAEC.
Questions have been set by examiners and experienced teachers since May 2022, and we continue to maintain high standards even as we get ready for the final exam scheduled for Saturday 24th, and Sunday 25th of September 2022.
The mock examinations cover ONLY CORE subjects. Our examiner's reports for each candidate in the last four mocks have helped candidates and parents identify the strengths and weaknesses of candidates in each subject. With suggestions offered for improvement, we have seen a study improvement in student scores.
READ: Best Brain August 2022 Mock Questions for October 2022 Candidates
KEY REASONS WHY YOUR WARD MUST TAKE THE MOCK
Why You Must Register your ward for Ghana's Best BECE Home Mock for Success
The mock results come with a detailed examiner's report on each subject and may be narrowed to specific subjects and issues. Recommendations made by the examiner are also added for parents to help ensure improvement and the readiness of the candidate.
The examiner's report reveals a lot of good and bad sides of your ward's answers and performance, which typical mocks organized by schools do not reveal.
Our recommendations and suggestions for improvement go a long way to help get the candidate ready for the BECE with confidence.
Questions are standard and may be tougher to get the best out of the candidate.
It helps candidates to practice more and to improve their performance and preparation.
September 2022 BECE Home Mock Timetable
Saturday 24th September 2022 
9 am to 11:00 – Social Studies
2:00 pm to 4:00 pm –  Integrated Science
Sunday 25th September 2022
1:30 pm to 3:30 pm – Mathematics
4:00 pm to 6:00 pm, English language.
BECE HOME MOCK FULL EXPLANATION AUDIO
We encourage you to patiently listen to this audio before getting in touch to pay.
How much does the Final 2022 BECE Home Mock For BECE Success cost?
GHS99.00 for candidates who will sit our mock for the first time or for those who are not on our database. New candidates get our July and August Mocks and the marking schemes for free upon registration to aid in their revision. 
GHS65.00 for candidates who have sat our mock before or are in our database.
Note that payment for the Mock is online, and the payment page looks like the image below.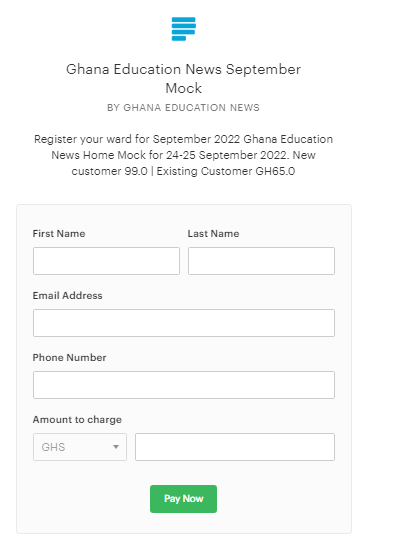 How do I pay for the Mock?
Click on the PAYSTACK image below (You can now pay ONLINE using PAYSTACK to pay safely or the link below.
Go to PAY FOR MOCK to make payment online. After paying, you will be directed to a link to chat with us on WhatsApp.
We look forward to a successful final BECE Home Mock and BECE.
[wp-rss-aggregator]