It is official: Date for merging NIA Numbers with SSNIT Nos Out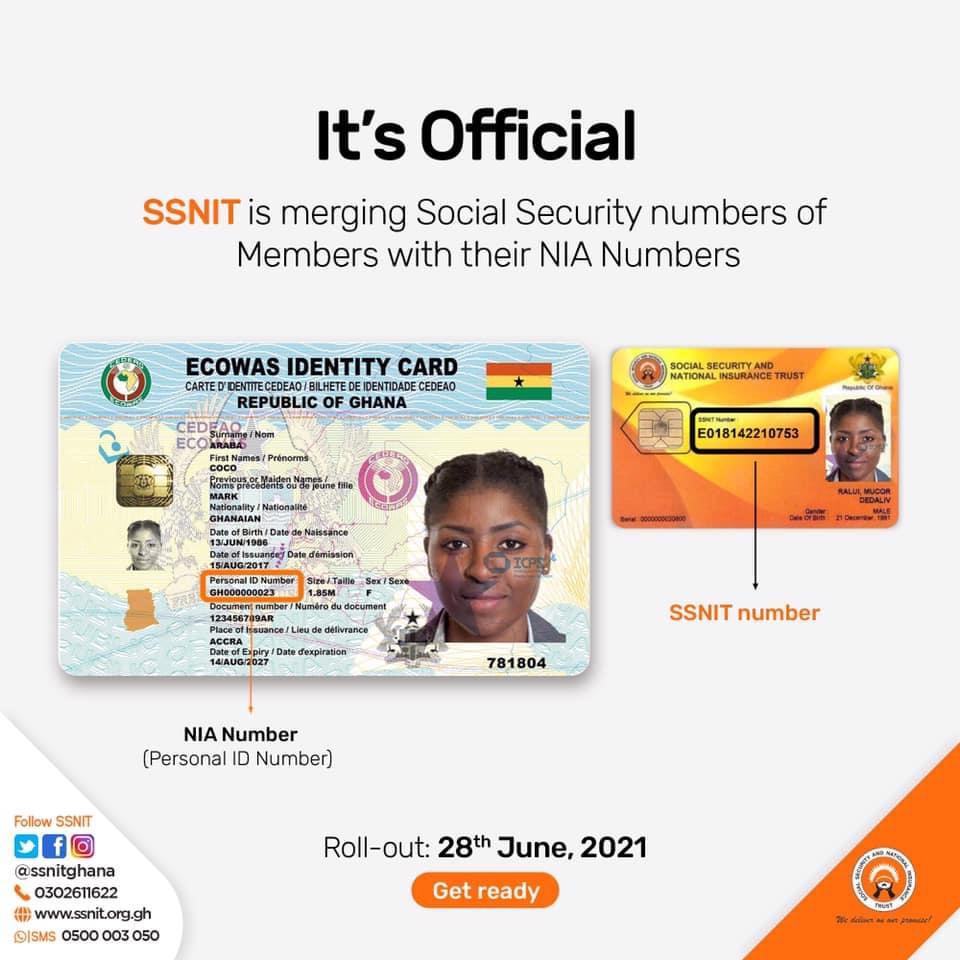 The government of Ghana through its digitization drive will officially merge the Social Security and National Insurance Traut (SSNIT) numbers with the National Identification Authority numbers
Date for merging NIA Numbers with SSNIT
The date for merging the two Cards is June 28th, 2021.
This implies that, from June 28th this year, the NIA Numbers on the Ecowas Identity Cards will the valid as Social Security numbers.
SSNIT from the above date will begin to use the NIA Numbers of members as the means of identifying contributors and in respect of pensions. The merging of the two numbers should not cause any tension among Ghanaians who have not merged the two ID numbers or do not have one of them because the process of merging the two identification numbers will continue until December 31, this year.
However, from January 1, 2022, SSNIT contributors will no longer use their scheme numbers but will transact all business with SSNIT with their Ghana Card. Those who are yet to merge their NIA Numbers to replace SSNIT number have to be proactive as the countdown start on June 28th
The merger is in compliance with Regulation 7 (1) of the National Identity Register Regulations, 2012, LI 2111, and a directive from the National Pensions Regulatory Authority (NPRA).
Read: How to Link and Verify your TIN / Ghana Card Number
A similar merger is being done by the Ghana Revenue Authority to enable taxpayers to use their Ghana Card numbers as their Tax Identification Numbers (TINs) however, the date for the rollover is yet to be announced.
Now that you know the Date for merging NIA Numbers with SSNIT numbers, take the necessary steps to ensure you are not left behind.
Post Publications || Join us on Whatsapp || Post Disclaimer
---
SEND A STORY: Do you have a story for us or need a promotion/advertisement? Submit them via our email admin@ghanaeducation.org
DOWNLOAD OUR>>> MOBILE APP
JOIN OUR EDUCATION NEWS GROUPS (WHATSAPP)
Join one of our Whatsapp/Telegram Groups for current Ghana Education Service News Updates:
JOIN ONLY ONE... THANKS
TELEGRAM PAGE >>> [JOIN]
Group 1 >>New Group> [JOIN]
Group 1 >>New Group> [JOIN]
Group 1 >>New Group> [JOIN]
TELEGRAM PAGE >>> [JOIN]
Only websites that give us a URL backlink can repost our content on their sites.
---
The information contained in this post is for general information purposes only. The information is provided by GhanaEducation.Org and while we endeavour to keep the information up to date and correct, we make no representations or warranties of any kind, express or implied, about the completeness, accuracy, reliability, suitability or availability with respect to the website or the information, products, services, or related graphics contained on the post for any purpose.
||About Us|| Contact Us
---