Kwame Nkrumah died with Ghana's Dreams 49 Years Ago Today
Kwame Nkrumah died with Ghana's Dreams exactly 49 years ago today on 27th April 1972.
He dies at exactly 8:45 am in a hospital in Bucharest. Since his death, what has Ghana achieved better than he had succeeded in bringing on board as Ghana's first president?
He headed the country and lead the CPP to gain independence in 1957 until he was overthrown by a coup in 1966.
Many are of the view that Osagyefo Dr. Kwame Nkrumah died with Ghana's dreams of leading Africa and helping liberated it.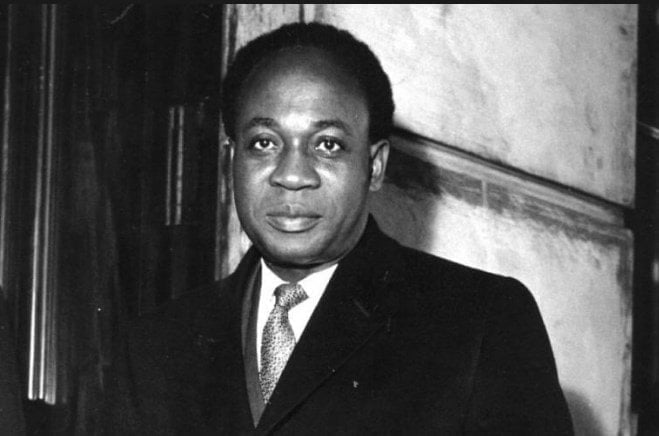 He died with all the hopes and aspirations of a nation stuck in his vision. A nation that was becoming the beacon of hope for Africa and the benchmark of African emancipation slowed down. 
Ghana and for that matter Ghanaians love funerals. No wonder we left him to die, and you went ahead to organize a state funeral. Can this explain to some extent why some Ghanaians invest more in funerals than education and in saving others?
A section of the Ghanaian people hold the view that deception and lies were orchestrated to overthrow Osagyefo Dr Kwame Nkrumah but decades later the same people are doing what they complained about.
It was during the era of Nkrumah that Ghana was on the path of industrialization. Nkrumah was determined to build countless industries to ensure Ghana grows, eats, and adds value to what she needs.
Kwame Nkrumah died with Ghana's Dreams Today But These Are His Legacies For Ghana
In the area of secondary education, he is credited with Mfantsiman Girls' Secondary School, Ghana National College of Cape Coast, Ofori Panyin Secondary School, Techiman Secondary School, Winneba Secondary School, Swedru Secondary School, Apam Secondary School, Dormaa Secondary School, Tema Secondary School, Oda Secondary School, and the Labone Secondary School.
Teacher education was key on his agenda to help provide the needed educators for Ghanaian schools. He built strategic Colleges of Education such as Kwadaso College of Education, and Atebubu Training College. Other colleges that were birthed under his leader were Berekum Training College, Fosu Training College, and the Enchi Training College.
He championed the building of the country's manpower by ensuring tertiary education was not off his radial. He is credited with the transformation of the University of Ghana (then University College of Gold Coast affiliated to the University of London) to a full-fledged university to award its own degrees and became their first chancellor.
But he went ahead to build all the top universities in Ghana today. They include the University of Cape Coast (UCC), Kwame Nkrumah University of Science and Technology (KNUST), Institute of African Studies, Kwame Nkrumah Institute of Economics and Political Science (now the south campus of UEW), Ajumako School of Languages (now under UEW), Kumasi Technical Institute (now a University) and Accra Polytechnic (now Accra Technical University).
His desire to transform Ghana at a fast pace saw the massive industrial infrastructural development and the springing up of key industries and manufacturing firms. They include
Abosso

 Glass Factory

Zuarungu

 Meat Factory

Wenchi

 Tomato Factory

Kade

 Match Factory

Akosombo

 Textiles Limited
Kumasi Shoe Factory

Pwalugu

 Tomato Factory

Asutuare

 Sugar Factory

Komenda

 Sugar Factory
Kumasi Jute Factory

Nsawam

 Cannery, Brick and Tile Factory

Tarkwa

 

Bonsa

 Tyre Factory

Bolgatanga

 Meat Processing Factory

Bolgatanga

 Rice Mill Factory

GIHOC

 Fibre Products Company, etc.
The question is where are these factories today? We destroyed them for political gains. Is that it?
Kwame Nkrumah's successes as the leader of Ghana are countless, and what you have read is just the tip of the iceberg.
More stories about Ghana >>> Go to Ghana Stories/News
The works of Kwame Nkrumah speak volumes and no government or leader of this nation can match him. Not yet… Kwame Nkrumah died with Ghana's Dreams 49 Years…Do you agree? leave a comment
Please follow and like us:
Post Publications || Join us on Whatsapp || Post Disclaimer
---
SEND A STORY: Do you have a story for us or need a promotion/advertisement? Submit them via our email [email protected]
DOWNLOAD OUR>>> MOBILE APP
JOIN OUR EDUCATION NEW GROUPS (WHATSAPP)
Join one of our Whatsapp/Telegram Groups for current Ghana Education Service News Updates:
JOIN ONLY ONE... THANKS
TELEGRAM PAGE >>> [JOIN]
Group 1 >>New Group> [JOIN]
Group 6 >>New Group> [JOIN]
Group 3 >>New Group> [JOIN]
TELEGRAM PAGE >>> [JOIN]
Only websites that give us a URL backlink can repost our content on their sites.
---
The information contained in this post is for general information purposes only. The information is provided by GhanaEducation.Org and while we endeavour to keep the information up to date and correct, we make no representations or warranties of any kind, express or implied, about the completeness, accuracy, reliability, suitability or availability with respect to the website or the information, products, services, or related graphics contained on the post for any purpose.
||About Us|| Contact Us
---