History About Kwame Nkrumah's First Car, Checkout It's Price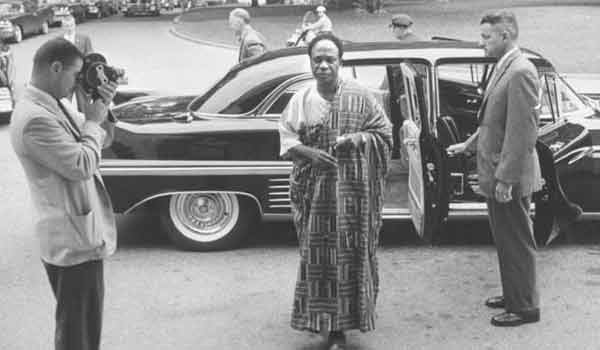 The legacy of Kwame Nkrumah, Ghana's first Prime Minister and President, remains in the hearts of Ghanaians. Here is the history about Kwame Nkrumah's first car.
It is not only his good works that continue to linger in the hearts and minds of Ghanaians. One thing that reminds Ghanaians of him is his expensive vintage Cadillac.
History About Kwame Nkrumah's First Car, Checkout It's Price
The vintage Cadillac was Osagyefo Dr Kwame Nkrumah's first official vehicle.
It was manufactured by General Motors in the USA but was sent to Bulgaria for Bulletproofing and was worth about US$ 69000.
After Nkrumah's reign there was no trace of the vehicle, however, reports indicate that it was later discovered in October 2021 by a former staff driver; Johnny Botchway, who had served at the Flagstaff House in 1957.
The reports further indicate that the vehicle was initially found in Togo with several bullet marks on the windshield and all other windows of the vehicle.
It was later conveyed to Nkawkaw where it was discovered by Mr Botchway, who subsequently reported the incident to the Ghana Museums and Monuments Board (GMMB).
READ: Today in History: Dr. Kwame Nkrumah was overthrown in a coup d'état (Pictures)
It was then retrieved and brought to the National Museum. It currently sits in the car park of the National Museum.