How to process 2021/2022 NSS posting after printing Appointment letter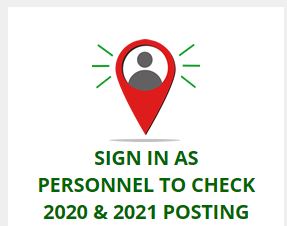 How to process your 2021/2022 NSS posting is an important process to know after printing the 2021/2022 NSS Appointment Letter.  The real work and processing begin. This is where many service personnel struggle and begin to give up. 
This write-up based on previous experiences of service personnel will provide you with the best information to ensure you are sure of the exact steps to take after printing your 2021/2022 NSS Appointment Letter.
What's Next after Printing your 2021/2022 NSS Appointment Letter?
How to process your 2021/2022 NSS posting
STEP 1: Take the 2021/2022 NSS Appointment Letter to the organization you 

have been posted

 to.
It's time to take your appointment letter, complete with the User Agency form, and get it signed by the organization's head, head of the department, or HR director, along with the official company stamp, to the organization you've been assigned to (user agency).
Let's get there as Not only have you been posted, but you're also at risk of being bounced.
STEP 2: Apply for the Regional Registration Appointment
To schedule a regional registration appointment when your letter has been approved, go back to the NSS website, log in and select Regional Registration Appointment from the dashboard You'll be prompted to make an appointment for your Regional Registration, also known as manual registration, by picking a day and time that works for
The regional zonal registration centres won't be able to assist you if you don't book online. So do the needful.
STEP 3: Visit the regional zonal centre or NSS office in the region you 

have been posted
Afterwards, travel to the regional zonal centre, which is the NSS office in the region to which you were posted, on the given day and time, so that you may be enrolled in If you are going to work in the public sector, make sure you have your E-zwich card as well as your signed form, a valid national ID, a passport Prepare yourself in advance to avoid any surprises.
STEP 4: Visit NSS portal, reprint appointment letter
There is a Regional Acceptance Number that will be issued to you after your registration (RAN). So you need to reprint your appointment letter. Visit the NSS website (this time the letter your print will have your RAN). It's as simple. Do well to print three copies o the letter. 
Sending one of the newly printed letters to the NSS District Office. Again send another one to the organization you were posted to and keep the third one for your records.
CAUTION: You 

can be

 rejected by the organization you 

were posted

 to. What do you do if this 

happens

 to you? First keep calm, no stress and do the following.
READ:
If the firm to which you were assigned rejects you, simply collect a release letter from them and head to the NSS office to be reposted. If you haven't been posted at all, you should visit the NSS office.
We have no doubt that this post on how to process your 2021/2022 NSS posting has been very useful to you.
READ: Some African Proverbs and their meanings
Source: Ghanaeducation.org
Post Publications || Join us on Whatsapp || Post Disclaimer
---
SEND A STORY: Do you have a story for us or need a promotion/advertisement? Submit them via our email admin@ghanaeducation.org
DOWNLOAD OUR>>> MOBILE APP
JOIN OUR EDUCATION NEWS GROUPS (WHATSAPP)
Join one of our Whatsapp/Telegram Groups for current Ghana Education Service News Updates:
JOIN ONLY ONE... THANKS
TELEGRAM PAGE >>> [JOIN]
Group 1 >>New Group> [JOIN]
Group 1 >>New Group> [JOIN]
Group 1 >>New Group> [JOIN]
TELEGRAM PAGE >>> [JOIN]
Only websites that give us a URL backlink can repost our content on their sites.
---
The information contained in this post is for general information purposes only. The information is provided by GhanaEducation.Org and while we endeavour to keep the information up to date and correct, we make no representations or warranties of any kind, express or implied, about the completeness, accuracy, reliability, suitability or availability with respect to the website or the information, products, services, or related graphics contained on the post for any purpose.
||About Us|| Contact Us
---