Examination malpractices in schools ahead of WASSCE 2022 exposed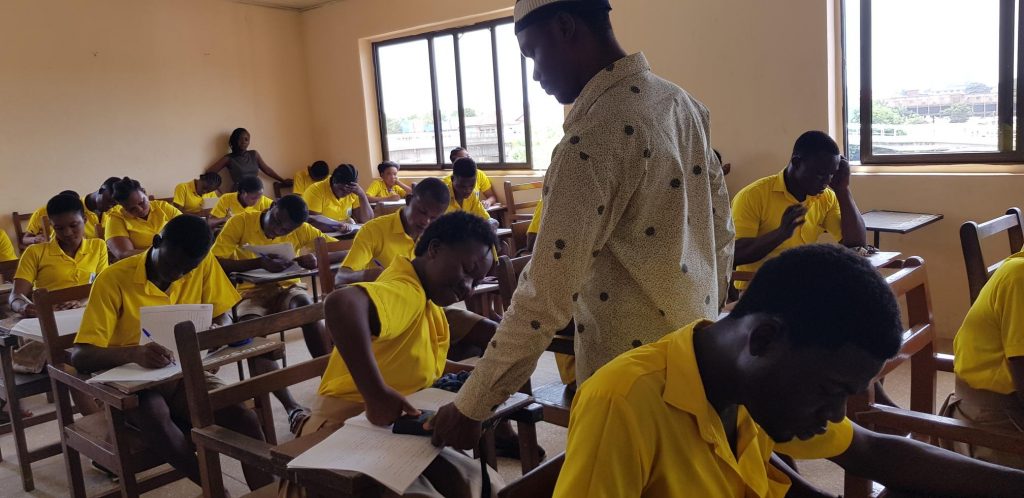 A Corruption Watch investigation has uncovered grand schemes existing in some second-cycle institutions for assisting candidates to cheat in the West African Senior School Certificate Examination (WASSCE).
The investigation, conducted in the Ashanti and Bono regions of the country before and during the conduct of the 2021 WASSCE for School Candidates, revealed that some schools had instituted special levies which they charge students in return for help to solve examination questions.
Corruption Watch discovered at All For Christ Senior High/Technical School (SHTS) and Duadaso Number 1 Senior High/Technical School, both in the Bono Region, that the said levies are put in a pool and used to compromise teachers and invigilators to solve questions for students in the examination hall.
All For Christ Senior High/Technical School also charged special fees to award unearned continuous assessment marks to unqualified persons whom they register as school candidates to allow them to retake the WASSCE.
Head of Public Affairs at the West African Examinations Council (WAEC), Agnes Norkor Teye-Cudjoe, disclosed to Corruption Watch that at the All For Christ Senior High/Technical School, WAEC's "investigative team on the ground detected and reported some incidents of malpractice.
"So we have reports on malpractices that occurred at All for Christ," she said.
Africa Education Watch: Examination malpractices in schools ahead of WASSCE 2022 Exposed
Meanwhile, the Africa Education Watch has called for a full-scale investigation into the operations of this examination malpractice at Duadaso SHTS to identify all staff involved and Impose the necessary sanctions.
In line with Section 42(b) of the Pre-Tertiary Education Law, withdraw the approval of All for Christ SHTS, a private SHTS which has gained prominence for being a
major hub for examination fraud in the country and make public the findings of their investigations."
It also called for investigations into the 2021 WASSCE results of all candidates of All For Christ SHTS, taking into account the fresh evidence provided in the Corruption Watch documentary.
Responses
In a two- page response letter to Corruption Watch, the Headmaster of All For Christ Senior High/Technical School, Mr Owusu Gyaase, denied that the school charged fees for continuous assessment marks or engaged in examination malpractice.
But the headmaster of Duadaso Number 1 Senior High/Technical School, Mr Peterson Aning did not offer a response to the Corruption Watch team in spite of earlier assurance that he would do so.
The investigation shows that school authorities, teachers, parents and security officials were all complicit in the school-based schemes that allow students to cheat at
examination halls.
READ: BECE 2021 students involved in alleged irregularities published by WAEC
In addition, the content of some secretly recorded audio-visual materials indicates the involvement of some unidentified top officials of WAEC who allegedly helped school authorities to perpetrate malpractices, as well as escape sanctions.
Corruption Watch discovered syndicated schemes for cheating before and during the WASSCE at All For Christ Senior High/Technical School and Duadaso Number 1 Senior High/Technical School.
The schools are located about 90 kilometres apart but they employed similar strategies to assist their candidates to cheat, especially during the conduct of core subjects.
All For Christ Senior High/Technical School is a popular private second-cycle institution located at Kato, a suburb of Berekum, while Duadaso Number 1 Senior High/Technical School is a state-funded institution located at Duadaso Number 1,a cashew growing community near Sampa.
Background
In July 2021, Corruption Watch received tip-offs about the intention of some schools and individuals to perpetrate examination malpractice during the 2021 WASSCE.
Consequently, in September, the Corruption Watch team set out to investigate the potential examination malpractices, paying special attention to orchestrated efforts by some school authorities to assist candidates to cheat in examination halls.
The team also focused on the role of racketeers in the leakage of some question papers.
Before the 2021 WASSCE, there were clear indications that malpractices were going to move a notch higher as some school authorities were prepared to facilitate examination malpractices in their schools.
In the course of the examination, WAC confirmed that it was aware of some of the school-based schemes.
SOURCE:Graphic.com.gh
[wp-rss-aggregator]