I Am The Only One To Break The 8 For NPP – Kennedy Agyapong To Break The 8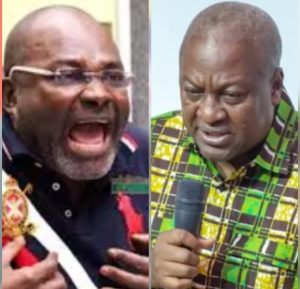 Breaking of the eight (8) is one of the political keywords or slogans adopted by the New Patriotic Party NPP ahead of the 2024 elections. The story of who led the New Patriotic Party into the December 2024 elections is still a mystery until November 2024. Kennedy Agyapong to Break the 8 For the New Patriotic Party, is the recent campaign we are hearing about all over the country and on all social media spaces. It looks as if Honorable Kennedy Agyapong is gaining much love and support for his presidential ambition.
Following the withdrawal of Honorable Kwadwo Alan Kyeremanteng, the competition in the coming presidential elections by the New Patriotic Party (NPP) is now between the Vice President of the Republic of Ghana, His Excellency Dr. Mahamudu Bawumia and Honorable Kennedy Agyapong. Both parties are anxious for the presidential primaries to take place to see who will be the winner and the leader to lead the New Patriotic Party NPP into the 2024 Elections in December.
The campaign group of His Excellency the Vice President of Ghana, his Excellency Dr. Mahamadu Bawumi is working effortlessly in other to prove a point. On the other hand, the group on the side of Honorable Kennedy Agyapong is not giving up soon until the game is over.
Addressing the media in a recent update, Honorable Kennedy Agyapong spoke boldly ahead of the NPP's New Patriotic Party Presidential Primaries as he appealed for votes from all delegates across the country.  According to Honorable Kennedy Agyapong, this is the time and it is now for the New Patriotic Party (NPP) to break the eight (8) with him. He stated that he is the only candidate who can help the New Patriotic Party to break the eight (8) in December 2024. Therefore, delegates should give him the power through their votes in December for him to become the Presidential candidate for the New Patriotic Party in 2024.
Breaking the eight 8 simply means, the NPP will stay in power for more than two terms (eight 8 years). In this fourth Republic, both the National Democratic Congress NDC and the New Patriotic Party NPP have not been in power for more the 8 years. Therefore, the NPP desires to break the stay in power for more than two terms (breaking the eight).