How to save your WhatsApp from Hackers
Protecting your WhatsApp from Hackers is becoming a basic necessity for security reasons. Using the popular chat app WhatsApp and protecting your privacy from attacks from hackers should be a concern to everyone on WhatsApp.
The attacks are real. This is why you have to secure your Whatsapp account. Due to WhatsApp's popularity as a messaging app, there are always attempts by groups and individuals to access your account without your approval.
HOW TO SECURE YOUR WHATSAPP ACCOUNT
To secure your WhatsApp, you will require a six (6) digit PIN.
To set it up,
Open WhatsApp, then tap the three dots located at the top right corner of your screen.
Hit "Settings" > "Account" and then pick "Two-step verification"
Hit "Enable," and then pick your six-digit PIN.
HOW TO SAVE YOUR WHATSAPP FROM HACKERS
1. Go to WhatsApp setting
2. Click on Account
3. Click on Two-step Verification
4. Click Enable
5. Choose your own Six Digit Password after you enter the same password
6. Enter your Email to save this Account.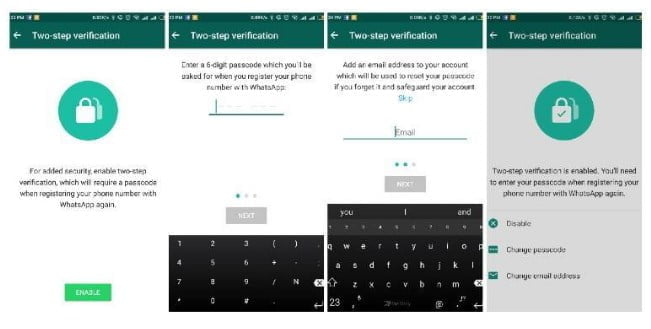 Note that, your password must be kept a top secrete however, do not forget it.
Keep your Whatsapp Password very safe and remember that you cannot use your WhatsApp if you forget the Six Digit Password. If you are worried about intruders, secure your WhatsApp account with the six-digit verification now.
ALSO READ: New WhatsApp Policy: What changes and why it is a worry
Please keep your password off Head always Don't forget your password else you can't use your WhatsApp again.
Tips on how to prevent Whatsapp from getting hacked
To remain a safe user of Whatsapp, do the following to stay off the radial of potential hackers
Log your WhatsApp account off from every computer under the WhatsApp Web if you access the app on your computer. Practice this all the time.
 Never leave your phone unattended when you are out.
Lock the apps on your phone and prevent access by unauthorized persons.
Don't use wifi services you do not trust, especially free Wifi. They can make you vulnerable. Hackers can easily have access to your MAC address which will allow them to access WhatsApp chats.
Deactivate WhatsApp if you feel it has been hacked and email at support@whatsapp.com. They will provide some security and delete the account if not accessed for 30 days.
Use the 2 step verification explained above to increase your security.
Install Applock to help you lock your WhatsApp. This app can be downloaded on the google playstore.
Post Publications || Join us on Whatsapp || Post Disclaimer
---
SEND A STORY: Do you have a story for us or need a promotion/advertisement? Submit them via our email admin@ghanaeducation.org
DOWNLOAD OUR>>> MOBILE APP
JOIN OUR EDUCATION NEW GROUPS (WHATSAPP)
Join one of our Whatsapp/Telegram Groups for current Ghana Education Service News Updates:
JOIN ONLY ONE... THANKS
TELEGRAM PAGE >>> [JOIN]
Group 1 >>New Group> [JOIN]
Group 6 >>New Group> [JOIN]
Group 3 >>New Group> [JOIN]
TELEGRAM PAGE >>> [JOIN]
Only websites that give us a URL backlink can repost our content on their sites.
---
The information contained in this post is for general information purposes only. The information is provided by GhanaEducation.Org and while we endeavour to keep the information up to date and correct, we make no representations or warranties of any kind, express or implied, about the completeness, accuracy, reliability, suitability or availability with respect to the website or the information, products, services, or related graphics contained on the post for any purpose.
||About Us|| Contact Us
---