JUST IN! Bank Of Ghana Has Stopped Providing FX Supports For Importers Of Some Goods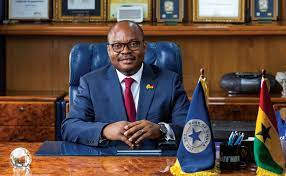 News trooping in is that the Bank of Ghana is no more providing foreign exchange support for the importation of some goods. The goods include rice, poultry, vegetable oil, toothpicks, pasta, fruit juice, bottled water, ceramic tiles, and other non-critical goods. The Bank of Ghana. been the central and head of all banks in the country, has directed all the other commercial banks to also cease providing foreign exchange support for the importation of these goods.
Earlier today, Gabby Otchere Darko made this tweet as a form of an announcement. Reporters at 3news.com have also gotten confirmation from insiders of the Bank of Ghana.
This means that one of the measures the President announced in his Address to the Nation on the Economy has been implemented.
"The government will, in May 2023, that is six (6) months from now, review the situation. We must, as a matter of urgent national security, reduce our dependence on imported goods, and enhance our self-reliance, as demanded by our overarching goal of creating a Ghana Beyond Aid.
"Much as we believe in free trade, we must work to ensure that the majority of goods in our shops and marketplaces are those we produce and grow here in Ghana.
"That is why we have to support our farmers and domestic industries, including those created under the 1-District-1-Factory initiative, to help reduce our dependence on imports, and allow us the opportunity to export more and more of our products and guarantee a stable currency that will present a high level of predictability for citizens and the business community", President Nana Addo said in his Address to the Nation on the economy.