List Of All Public Holidays In Ghana And When They Are Celebrated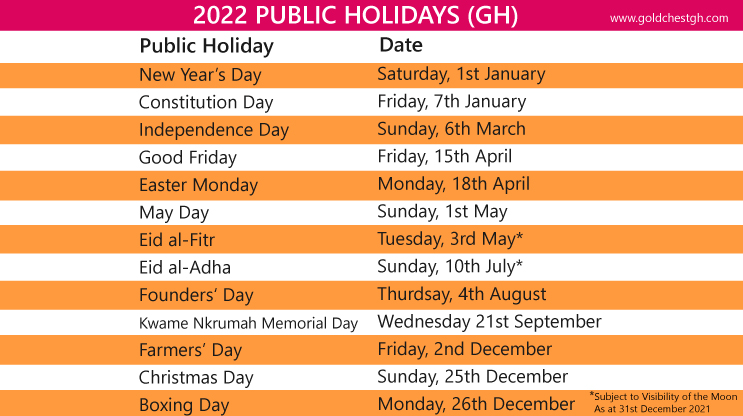 Holidays are a a part of every nation. They are usually meant to commemorate happenings that have a part in the history of the nation or globally or heros of the country. Holidays can also serve as rest periods for workers and students. This article will present the list of all public holidays in Ghana and when they are celebrated.
In 2023, Ghana has 13 public holidays. Ghana added 2 new holidays in 2019: Constitution Day which is celebrated on 7th January and Founders' Day on 4th August. The 25th May AU Day and the 1st July Republic Day are no longer holidays in Ghana.
Note: When a public holiday falls on a Saturday or Sunday in Ghana, the next Monday is usually declared a holiday and celebrated.
READ: Top 5 Tourist Sites In Ghana You Should Visit
List Of All Public Holidays In Ghana And When They Are Celebrated
New Year's Day – 1st January
Constitution Day – 7th January
Independence Day – 6th March
Good Friday – Mostly first Friday, April
Easter Monday – Mostly Monday after Good Friday, April
Eid al-Fitr – Mostly depends on when Ramadan ends, mostly in April
May Day/Workers' Day – 1st May
Eid al-Adha – Mostly changes, depends on visibility of the moon.
Founders' Day – 4th August
Kwame Nkrumah Memorial Day – 21st September
Farmers' Day – 1st December
Christmas Day – 25th December
Boxing Day – 26th December