Manasseh Azure Sends A Bold Message To NPP Following Alan's Resignation From The Party.
Alan Kwadwo Kyeremanten Resigned From The New Patriotic Party To Go As An Independent Candidate In the December 2024 General Elections.
The majority of the media houses in Ghana broadcasted the press conference held by Honorable Kwadwo Alan Kyeremanten to declare his next move in his political career. His words are now known and they are spreading on all political platforms. Manasseh Azure sent a message to the New Patriotic Party following the decision of Alan Kwadwo Kyeremanten to form his political party known as Movement For Change (MFC).
The former minister of trade and industry Honorable Alan Kwadwo Kyeremanten who served under the tenure of his His Excellency Nana Addo Dankwah Akuffo Addo has now parted ways with the New Patriotic Party NPP as he is going into December 2024 elections as an independent candidate. One of the most talked about secrets has to do with the logo for the Movement For Change (MFC) founded by Alan Kwadwo Kyeremanten. The party used a butterfly as their logo and many people are talking about the brain behind such a decision.
Aside all other issues, it looks as if the New Patriotic Party NPP is now shaking after Kwadwo Alan Kyeremanten spit out some dirty words about the New Patriotic Party and some issues which caused him to quit the Elephant Party to form his own political party now termed as Movement For Change (MFC).
With this, many people are saying that NPP will be affected greatly in the coming elections and hence they will lose the presidential seat. However, the story is not the same to Manasseh Azure Awuni. According to the investigative journalist, the New Patriotic Party NPP is not going to be affected that much following the resignation of Kwadwo Alan Kyeremanten from the Elephant Party to the Butterfly Party.
Manasseh Azure intoned that the perception of people most especially the National Democratic Congress NDC is not what is likely to reflect in the December elections.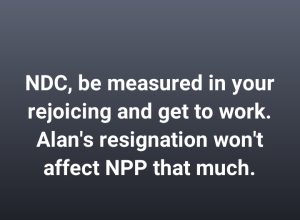 "Alan's resignation won't affect NPP that much". – Manasseh Azure sends Message To NPP. This could be a word of encouragement or advice or either NPP or the NDC