More Resources to be Allocated to Primary and Pre-School Infrastructure- Government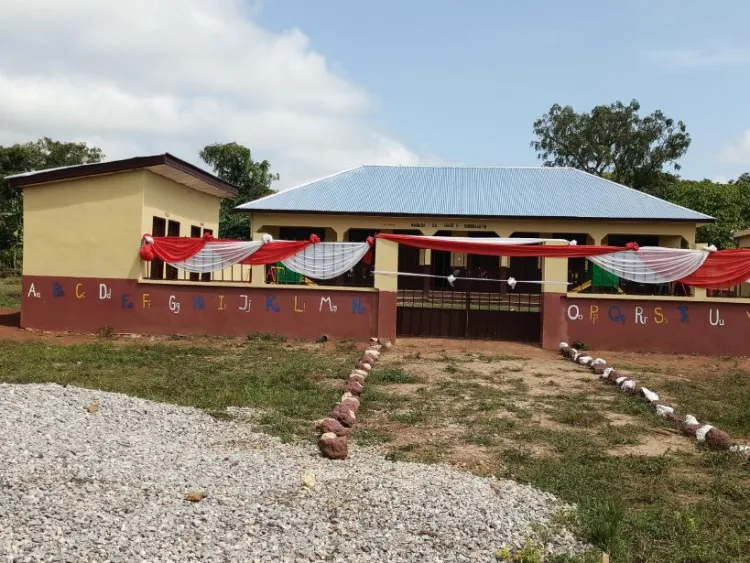 Mr. Justin Bayor, the Head of Programmes of ActionAid Ghana, has urged government to allocate adequate resources and to prioritize the development of primary and pre-school infrastructure in educational planning and implementation.
Mr. Bayor made the statement at a ceremony to commission a girl-friendly kindergarten facility for the Namasa D/A 'B' Basic School, a community in the Tain District of the Bono Region.
The project, which cost Ghc450,000, includes a two-unit classroom block, office space, a mechanized borehole, toilet and urinal facilities, as well as furniture, learning materials, and a recreational centre.
Namasa D/A Basic 'B' School was established by ActionAid Ghana in 2019 as a solution to the overcrowding issues faced by Namasa 'A'.
Implemented under ActionAid Ghana's child sponsorship programme, the initiative aims to provide every child with access to quality education by creating a conducive learning environment where young minds can flourish and pursue dreams.
Mr Bayor explained that the provision of model kindergarten facilities in various communities across the country was part of a larger advocacy effort to improve learning outcomes and promote a safe and effective teaching and learning environment at the public basic education levels.
He said the facilities served as valuable models for informing the conception and implementation of pre-schools and other educational institutions.
Mr. Bayor said recognizing the challenges faced by Ghana's formal education system at its very foundation stated that ActionAid's advocacy work consistently highlighted the urgent need to prioritize the provision of kindergarten infrastructure in educational planning and implementation.
MORE STORIES FOR YOU:
Mr. Gabriel Antwi, the Bono Regional Director of Education, emphasized the pivotal role of education as the cornerstone for socio-economic development of its citizens.
He also acknowledged the government's unwavering commitment to enhancing public pre-schools, ensuring the acquisition of necessary resources in terms of quality and materials.
Mr. Antwi urged parents to devote themselves to the training and education of their children by providing those children with all the basic needs for learning to expedite their educational to achieve their desired aspirations.
He encouraged students to prioritize their studies and dedicate themselves to learning for the sake of their future success.