New Admission Deadlines For KNUST, UG, UEW, UCC, AAMUSTED For 2022/2023 Academic Year
Following the release of the 2022 WASSCE results, most public universities have extended their admission deadline to enable more applicants to apply and also make some changes in their portals.
Below is the new admission deadline for the following public universities.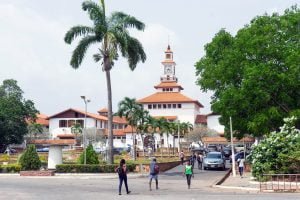 Kwame Nkrumah University Of Science and Technology(KNUST)
KNUST's new admission deadline is Friday, 9th December, 2022. Admission is currently ongoing for undergraduate students.
University of Cape Coast(UCC)
UCC's new deadline on admission has been extended to Friday, 9th December, 2022. This is same as KNUST.
Akenten Appiah Menka University of Skills Training and Entrepreneurial Development(AAMUSTED)
AAMUSTED new admission deadline is now 30th December, 2022.
University of Education, Winneba(UEW)
Admission Deadline is 30th December, 2022 for undergraduate students.
University of Ghana(UG)
Admission Deadline for University of Ghana is on 6th December, 2022(Tuesday).
Also, management of all these public universities have issued a statement to all 2022 WASSCE Applicants who have applied to their various universities. According to them, all 2022 applicants who have bought admission forms are advised to visit the University's website and log in to their various application portal.
The purpose of this exercise is to help applicants review the accuracy of entries such as their names, index number, and dates of birth.
Also they applicants can change or review their program selections in their portals.
This comes after the West African Examination Council (WAEC) released the provisional results for the 2022 West Africa Secondary School Certificate Examination (WASSCE).
In a statement on Thursday, WAEC said the results relate to only Ghanaian students who took part in the exams this year.
According to the examination body, candidates can access the results on its website.
However, some 8,486 candidates who were reported by the Ghana Education Service for vandalising school property and engaging in other illicit acts will not be able to access their results.
"The affected candidates are advised to visit their schools for their results", portions of the statement said.
Performance Statistics
In all, a total number of 422,883 candidates, comprising 203,753 males and 219,130 females from 977 schools sat for the exams.
Meanwhile, the Council says "the entire results of 117 candidates have been withheld pending the conclusion of investigations into alleged cases of impersonation detected during the examination".
For such candidates, WAEC says their results "may be cancelled or released based on the outcome of the investigations".
WAEC also intimated that the scripts of candidates from 179 schools in certain subjects "are being scrutinised for reported cases of collusion".
In a related development, the subject results of 3,845 candidates have been cancelled for sending foreign material into the examination hall.
This is in addition to the entire results of 518 candidates which have been cancelled for sending mobile phones into the examination hall, WAEC said.