2021 BECE candidates give reasons why they need Apor (AUDIO)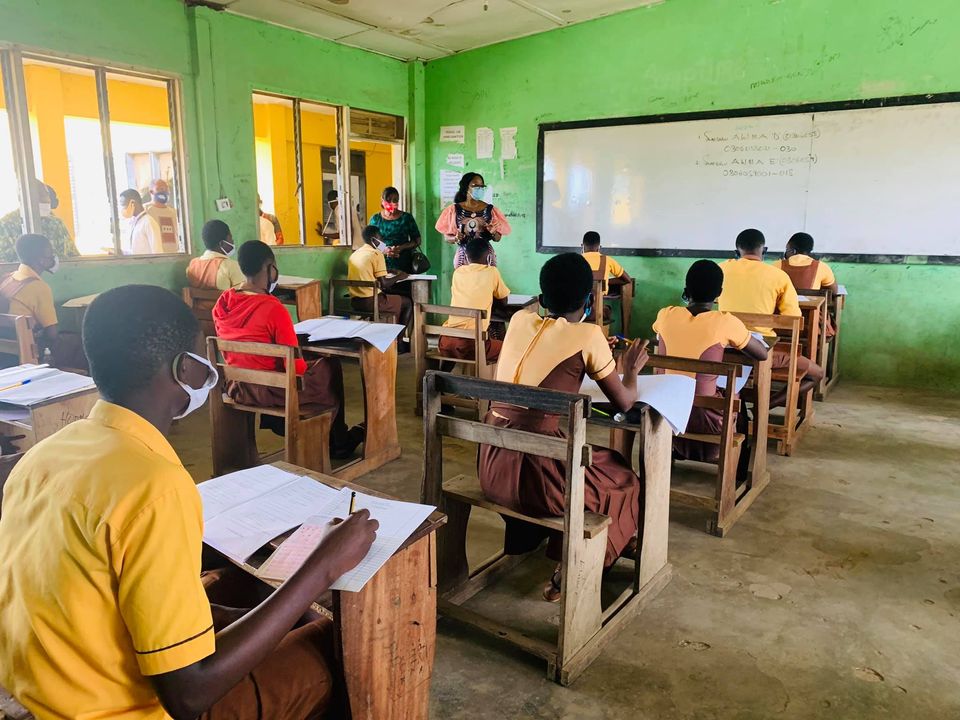 Ghana Education News| BECE 2021 candidates give reasons why they need Apor ahead of the exam. There is an audio attached to this article. It is just one of the many calls we continue to receive from JHS 3 students.
The lazy attitude of Junior High School Students and their poor preparation towards their examination (BECE) is compelling many candidates to find illegal alternative ways to help them pass the basic school-leaving examination.
In our last write-up, titled 2021 BECE candidates hunting for Apor already, it is alarming, it was obvious that Junior High School form three students were burnt on getting access to their November 2021 examination questions through crook means.
Days after the publication, students continued to call for assistance. One of the BECE candidates in his conversation with us attempted to secure WAEC's questions to help him and his colleagues prepare for the examination. However, it turned into an advice and counseling section for him.
Which Subjects Do BECE candidates want leaked questions for?
It turned out that Mathematics and Integrated Science are the most sought-after leaked questions.
The student disclosed that he was a candidate for the 2021 BECE. It turned out that, he was not ready to learn or study very well but rather get leaked questions to make it easy for him to pass the examination.
Why are BECE candidates seeking leaked BECE questions or Apor?
Per the conversation with the candidate, students preparing for the examination are looking for apor because often the topics in the curriculum they learn are not examined by WAEC in the final examination.
"You see, sometimes, we learn but what we study is not examined," the student said. Ghanaeducation.org probed by asking if the student was looking for those questions to be administered so that he will learn just that and he confirmed it was the reason why he was seeking for the apor. Is this an indication that teachers are unable to complete the curriculum for our candidates to pass the examination or it is just that our candidates are not ready for the examination?
Ghanaeducation.org once again put on record that, it does not deal in apor and does not encourage students to look for it to aid them in preparing for and or passing their examination.
The Editor of Ghanaeducation.org Wisdom Hammond, while speaking to the apor searching student advised that students should not call the education portal Ghanaeducation.org because the portal does not deal in apor.
He added that the education portal instead encourages students to learn very well. "If you learn well, you will pass and when learning, do not learn just some portions, learn everything".
He said often "candidates wait till it is two or one month to the examination before they get serious with their studies; students try to learn the entire course at the last hour which does not help them in any way."
BECE candidates who pass the examination study well from the beginning of the Junior High School education in Form One to Form Three, he added.
He reechoed the advice that Ghanaeducation.org does not deal in apor. I don't encourage any student to look for apor because when I was writing my BECE and WASSCE, I never looked for leaked examination questions but I wrote the examinations and passed.
READ: Let's work together to reverse poor BECE performance – Ag MCE
Mr. Hammond advised the 2021 BECE candidate to ensure that when he ends the call, he should study hard and believe in himself, go to the exams hall to write the exam and he will pass.
READ:
FULL AUDIO: LISTEN
If all our Junior High School teachers get dedicated to their work of preparing our students and if all our students learn to be self-reliant, follow instructions, get disciplined and study very well, there will be no need for them to look for leaked examination questions ahead of the BECE.
Source: Ghanaeducation.org
Post Publications || Join us on Whatsapp || Post Disclaimer
---
SEND A STORY: Do you have a story for us or need a promotion/advertisement? Submit them via our email admin@ghanaeducation.org
DOWNLOAD OUR>>> MOBILE APP
JOIN OUR EDUCATION NEWS GROUPS (WHATSAPP)
Join one of our Whatsapp/Telegram Groups for current Ghana Education Service News Updates:
JOIN ONLY ONE... THANKS
TELEGRAM PAGE >>> [JOIN]
Group 1 >>New Group> [JOIN]
Group 1 >>New Group> [JOIN]
Group 1 >>New Group> [JOIN]
TELEGRAM PAGE >>> [JOIN]
Only websites that give us a URL backlink can repost our content on their sites.
---
The information contained in this post is for general information purposes only. The information is provided by GhanaEducation.Org and while we endeavour to keep the information up to date and correct, we make no representations or warranties of any kind, express or implied, about the completeness, accuracy, reliability, suitability or availability with respect to the website or the information, products, services, or related graphics contained on the post for any purpose.
||About Us|| Contact Us
---