Ntim Fordjour 's attack on Mahama backfires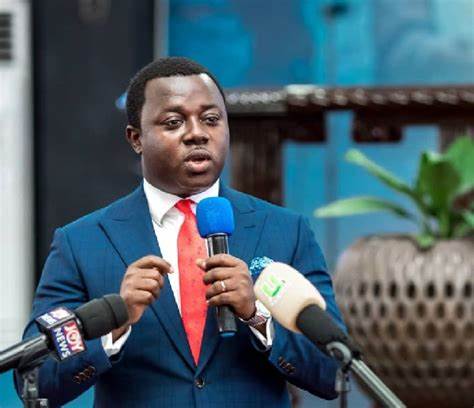 Ntim Fordjour 's attack on Mahama backfires as X users fight him
In a recent social media post on November 18, Deputy Education Minister John Ntim Fordjour launched a scathing attack on former President John Dramani Mahama's education policies, sparking a heated online debate. Fordjour criticized Mahama's proposal to abolish licensure exams for teachers if elected president in 2024, describing it as a plan lacking vision.
Accusing Mahama of becoming an expert in canceling policies, Fordjour specifically pointed to the Free Senior High School (Free SHS) policy and alleged threats to cancel it. He claimed, "He only cancels and threatens to cancel good policies at every opportunity. He canceled allowances for nursing and teacher trainees. He's threatened to cancel Free SHS."
SHARE YOUR COMMENT ON THE POST Ntim Fordjour 's attack on Mahama backfires as X users fight him.
However, the minister's remarks did not sit well with social media users, leading to a barrage of criticism. Many challenged Fordjour to provide evidence supporting his claim that licensure exams are a game-changer for education. Some users also accused him of spreading misinformation about Mahama's stance on Free SHS.
ALSO READ: UG Medical Centre Hits Major Milestone Performs First-Ever Surgery On Beating Heart In Ghana (ghanaeducation.org)
Ato Kwamena (@AtoCsiks) tweeted, "A minister who is a liar and a pastor tweaaaa Sofo moko," expressing disappointment in the minister's statements. Abdul Hameed (@sayhameed) urged Fordjour to respect himself and not let criticism from others affect him. KWABENA (@BARIMA171804782) questioned the lack of data proving the positive impact of licensure exams on education quality.
JohnBosco Akortia (@kwame_akortia) challenged Fordjour to identify one positive impact of the teacher licensing policy on ordinary teachers since its inception. Ebenezer Shiatey Tetteh (@ESTetteh) criticized the deputy minister for confusing the terms "cancel" and "review," emphasizing the importance of accurate language in educational discussions.
The backlash highlights the sensitivity of education policies and the need for evidence-based discussions. As the debate unfolds, it remains to be seen how policymakers will respond to the concerns raised by both Deputy Minister John Ntim Fordjour and the social media users challenging his assertions.
SHARE OUR POST ON Ntim Fordjour 's attack on Mahama backfires as X users fight him.
Teachers Updates and Credible teacher-focused news – Ghana … (bing.com)